Each year a selection of LGBTQ+ identified filmmakers are supported as part of the BFI NETWORK @ Flare Mentorship in partnership with BAFTA.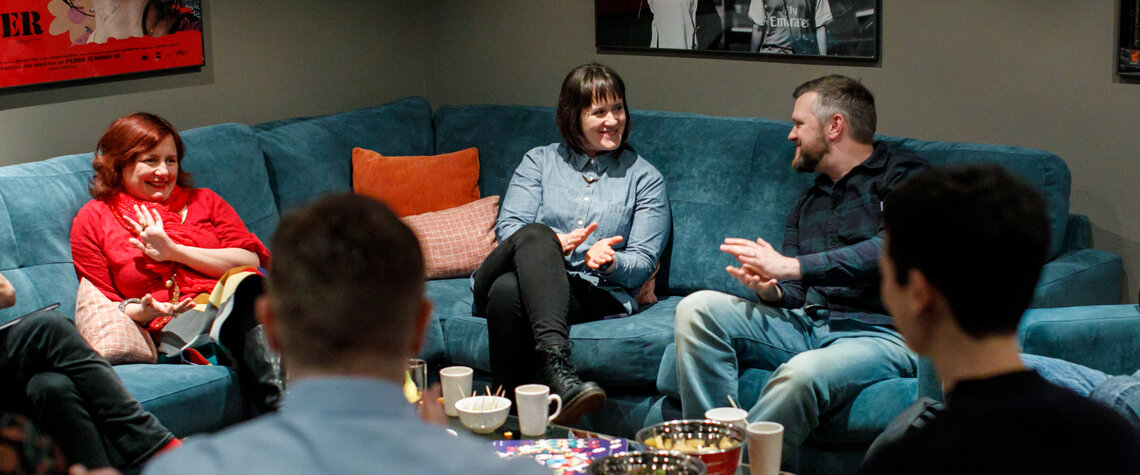 Supporting LGBTQ+ identified filmmakers who want to keep developing their careers in film
After three very successful years, the 2018 mentorship programme is offering six emerging LGBTQ+ identified filmmakers based in the UK the opportunity to develop industry knowledge, professional connections, their passion for cinema and an overview of LGBTQ+ features entering the marketplace.
Meet our 2018 Mentees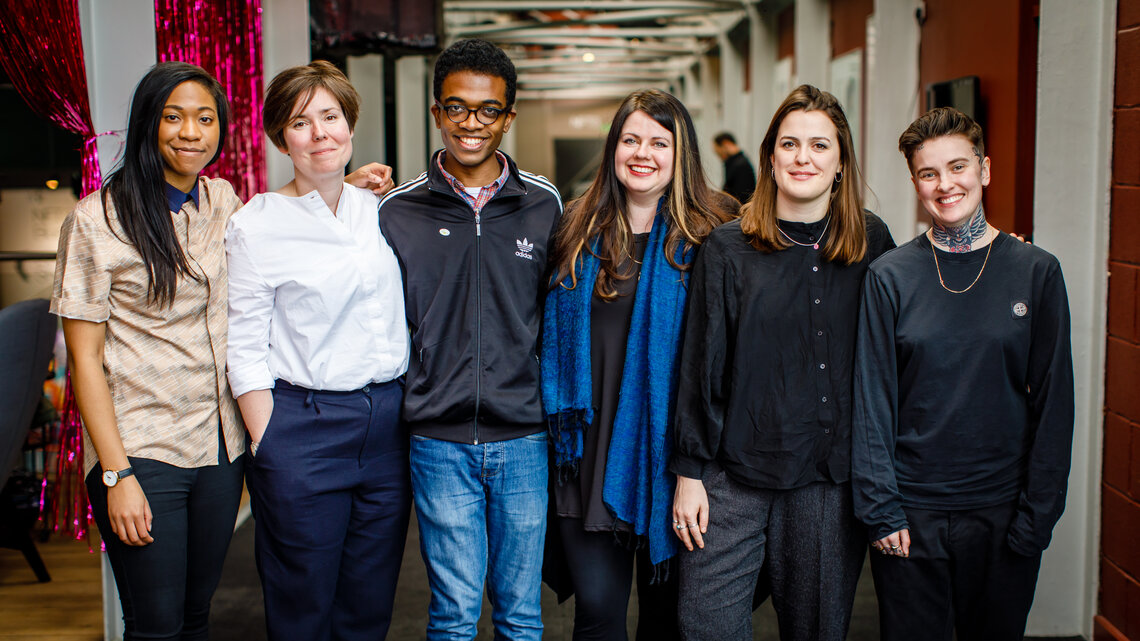 Pictured left to right: Nosa Eke (writer-director), Georgi Banks-Davies (director), Matthew Morgan (writer-director), Lindsey Dryden (director-producer), Sorcha Bacon (producer), Emily McDonald (documentary director-producer). 
Our mentees will receive:
A minimum of four one-to-one meetings with your mentor, a senior figure in the UK film industry
Roundtable with senior industry figures exploring the current global market environment for LGBTQ+ films
Access to a bespoke programme of industry talks and events during BFI Flare: London LGBT Film Festival (21 March - 1 April 2018)
Delegate pass and access to the viewing library for BFI Flare and BFI London Film Festival, and ticket to BFI Flare Opening Night film and party on Wednesday 21 March 2018
Access to monthly BFI Flare-branded screenings at BFI Southbank
The Festival will also promote their work by publishing a news story with filmaker profiles for the BFI Flare website and social networks, as well as offering the option to have their short films available on the password-protected BFI Flare industry viewing portal. 
Find out more about the individual filmmakers at the BFI >
The BAFTA mentors
With thanks to this year's mentors: Olivier Kaempfer (Parkville Pictures exec producer, Appropriate Behaviour, The Miseducation of Cameron Post), Lucy Cohen (BAFTA-nominated director, Kingdom of Us), John Cameron Mitchell (writer-director, How To Talk To Girls at Parties, Hedwigh and the Angry Inch), Wayne Yip (director, Doctor Who, Utopia) and Mary Burke (senior development & production exec, BFI Film Fund).
Find out more about our mentors at BFI NETWORK.
Programme information
Eligibility Criteria
You will have written, produced or directed a short film which has screened in the official selection or been selected for one of BAFTA's qualifying film festivals
You will be developing a feature film project
You will be a UK resident
Location
Although the mentorship will be based in London, this is a UK-wide programme. There is some bursary support available to offset travel costs for participants living outside of Greater London.
Programme Details
You will be assigned a mentor who is a senior figure in the film industry working in production, or sales and distribution. You will have at least four formal meetings with your mentor, and will be given support on how to get the most out of the experience. Rather than being a project development scheme, the programme strengthens professional networks and offers a space for discussion and better understanding of opportunities and challenges for LGBTQ+ filmmakers in the UK and in the global marketplace. 
To start the mentorship off at the festival there will be a collective gathering at a roundtable session at BFI Flare 2018 with senior figures in the film industry. This will be a Q&A exploring industry facts about LGBTQ+ content in UK film and in the global marketplace, and a discussion of the participants' projects. 
Selected filmmakers will then be paired with a mentor and meetings will be facilitated throughout 2018. Further meetings may also occur at the discretion of mentor/mentee. At the end of 2018 all mentees and mentors will have an exit interview, which will inform an article on the current global landscape for LGBTQ+ filmmaking. The article will be published on the BFI website.
Key Dates
BFI Flare: London LGBT Film Festival
Please note that attendance at the festival is a key part of this programme's content so please do speak to us about any time conflicts.
Our 2017 Mentees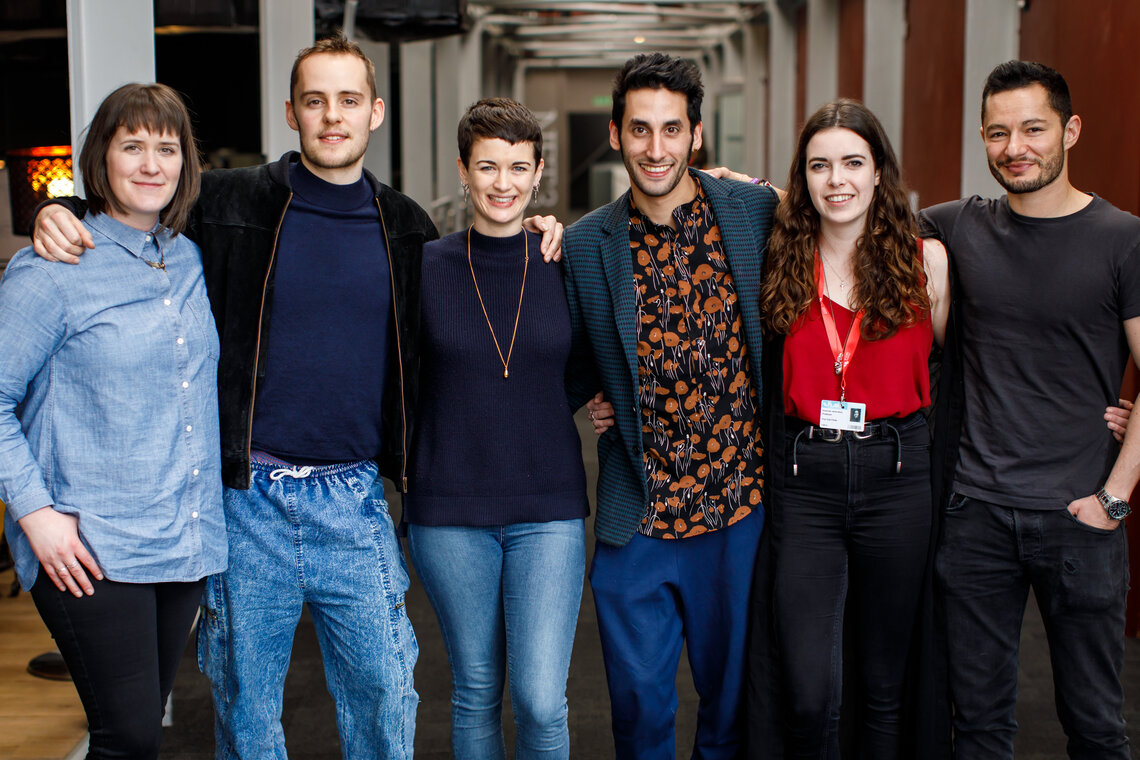 Pictured left to right: Gillian Callan, Harry Lighton, Georgia Oakley, Amrou Al-Kadhi, Savannah James-Bayly, Jake Graf
To learn more about last year's filmmaker mentees go here. Last year's mentee-mentor partnerships were as follows:
Amrou Al-Kadhi was mentored by Russell T Davies, writer and creator (Queer as Folk, Cucumer, Banana, Tofu)
Gillian Callan was mentored by Sara Hardy and Blue Ryan, prolific documentary filmmakers and founders of Gold Star Productions
Jake Graf was mentored by Bharat Nalluri, director (Tsunami, Miss Pettigrew Lives for a Day)
Savannah James-Bayly was mentored by Mike Goodridge, former CEO of Protagonist Pictures
Harry Lighton was mentored by Tom Harper, director (War and Peace, Peaky Blinders, Cubs)
Georgia Oakley was mentored by Desiree Akhavan, writer-director (Appropriate Behaviour)
To read more about last year's filmmakers experience throughout the festival please click here.