27 June 2013
The British Academy of Film and Television Arts (BAFTA) in Wales, has today announced Go! Candy by A Sitting Duck Ltd (Wales Interactive Ltd), as the winner of the British Academy Cymru Award for Games supported by Cyfle.
About Go! Candy

A game developed for the iOS platform in which players must guide Candy the Magic Dinosaur through an epic adventure collecting apples, stars and various power ups whilst at the same time, dodging the evil birds and other various who work for Candy's arch enemy, Megasaur 64.

Watch a demo of the game >
About A Sitting Duck Ltd (Wales Interactive Ltd)
Based in Cardiff Wales, A Sitting Duck is a creative animation company that has made a popular series online and a large following for its star character "Candy The Magic Dinosaur". The team are working on several mobile projects at the moment and are looking to other platforms outside iOS including Microsoft.
Based in Pencoed Technology Park, Bridgend, Wales Interactive is a developer and publisher of video games and interactive entertainment products for a worldwide market. Their core team has over 20 years games development experience and has worked on an array of published products for PC, Mac, iOS and Android platforms, as well as being an official developer for Playstation.
Presentation of the Award
Hosted by BAFTA Cymru as part of the Wales Games Development Show and Digital Cardiff Week, the Awards were presented by Ian Livingstone CBE. Often considered one of the founding fathers of the UK games industry, Ian co-founded iconic games company Games Workshop in 1975 and co-created the best-selling role-play games book series, Fighting Fantasy, to name just two of his achievements.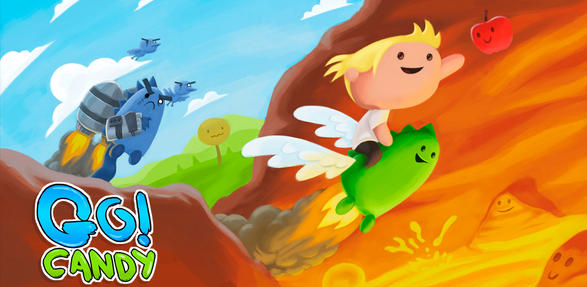 ---
Commendations
There were also four commendation certificates presented during the evening to acknowledge excellence within the categories: Technical Achievement, Sound & Music, Artistic Achievement and Game Design.
Nominees and Winners
British Academy Cymru Award for Games
Nominees:
Cirkits: Toy Robot Racing – Cohort Studios
Go! Candy – A Sitting Duck Ltd (Wales Interactive Ltd)
Vectrex – Rantmedia Games
Winner:
Go! Candy – A Sitting Duck Ltd (Wales Interactive)
---
Game Design Commendation
Nominees:
Go! Candy – A Sitting Duck Ltd (Wales Interactive Ltd)
Cirkits: Toy Robot Racing – Cohort Studios
Vectrex – Rantmedia Games
Winner:
Go! Candy – A Sitting Duck Ltd (Wales Interactive Ltd)
---
Artistic Achievement Commendation
Nominees:
Super Combombo – Wales Interactive Ltd
The Stride Files: The Square Murder – Wales Interactive Ltd
Vectrex – Rantmedia Games
Winner:
The Stride Files: The Square Murder – Wales Interactive Ltd
---
Technical Achievement Commendation
Nominees:
Vectrex – Rantmedia Games
Go! Candy – A Sitting Duck Ltd (Wales Interactive Ltd)
The Dambusters - Hyperspace
Winner:
Vectrex – Rantmedia Games
---
Sound & Music Commendation
Nominees
Go! Candy – A Sitting Duck Ltd (Wales Interactive Ltd)
Cirkits: Toy Robot Racing – Cohort Studios
The Dambusters - Hyperspace
Winner:
Go! Candy – A Sitting Duck Ltd (Wales Interactive Ltd)
---