17 November 2021

With Tim Hunter, BAFTA's executive director of learning, inclusion policy and membership

In the second of our special features on BAFTA 195 Piccadilly (here's part 1 and part 3), Tim Hunter reveals what the redevelopment means for BAFTA's crucial Learning activities (as well as the name of his old teddy bear)... Interview by Toby Weidmann
---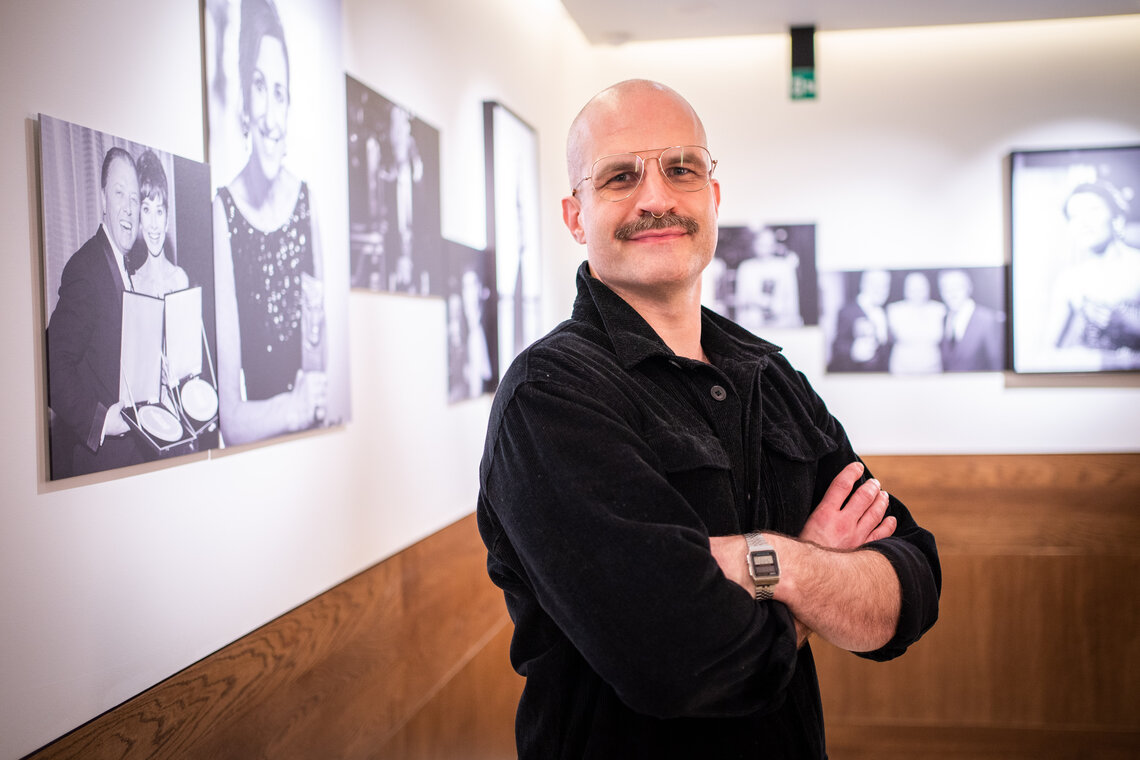 BAFTA/Scott Garfitt
It has been used to describe the BAFTA 195 redevelopment, but what does 'centre of excellence' mean to you?
A meeting point for the industry, where people can make connections and everyone feels welcome. A place to engage with interesting programmes but also meet someone you might be inspired to work with in the future.
What was your first thought upon entering the building? 
Other than 'wow!'... It's a strange mix of familiar and yet unfamiliar... We've gone through such a period of uncertainty, but to see this very real space manifest during that time, something that you can touch and see and experience, it reminds me that things are possible. It feels like spring in a way.
Name one film, game or television show you've devoured this past year. 
The Real Housewives of Beverly Hills – to my shame...
What are you most excited about people experiencing when they return to BAFTA 195?
Probably the members' space, the Richard Attenborough Rooms. I hope it will be considered the place to go... Networking is increasingly important in our programme, because I think we all have missed that opportunity to have those chance encounters. The space lends itself very well to that. I hope more members will see themselves and their work reflected, too, in terms of the exhibitions, the facilities and the programming. Hopefully, it embodies a set of values that members will feel very proud to be a part of, especially as an organisation that's advocating for change and driving inclusion.
How will the building help BAFTA fulfil its mission?
We have dedicated space for our Learning programme for the first time. We've created a photographic exhibition to showcase the breadth of BAFTA's work and to best communicate our revised set of values. So those are very tangible things.
But there's also the reality of having this purpose-built space to generate the important income that comes from private hire. That income creates greater opportunities for us to do more work outside of London. It allows us to engage learners in different ways... We're currently developing a tentpole event model, where we'll be introducing new nationwide initiatives, delivered mostly online, which culminate in celebratory events at BAFTA 195. People who participate in these programmes will be invited to mix with the industry at BAFTA, as a validation of both their talent and their place in the industry...
We're also launching a new tier of membership for people at the start of their careers. They can join BAFTA at a lower rate and take part in a programme of activity that's tailored towards supporting them to develop their skills, achieve their potential and contribute to the industry.
What song is guaranteed to get you on the dancefloor?
'Into the Groove', Madonna.
BAFTA's Learning programme supports the talent pipeline, covering Children and Young People, New Entrants, New Talent and the Industry. Tell us a little more.
For Children and Young People, it's about hitting as large and wide an audience as possible. Research has shown that early interventions are very important in young people imagining a career that's unfamiliar to them or their community. That's where the private hire income [from the building] is so important, because it allows us to go to where the young people are. We can go into schools and showcase careers, as well as highlight the skills that are most valuable to help them thrive, which unwittingly they might not know they already possess.  
As you move through the groups, the physical aspect of BAFTA 195 becomes much more important. For instance, the Industry end of the programme is much more about having a space to meet new people and hear from experts.
What was the name of your childhood teddy bear?
Alfred, or Alfred the Great to give him his Sunday name.
What message would you like to send to members?
We're entering a new era at BAFTA. We have long held an ambition to drive change within the industry and now we have a physical headquarters to help us do that. How the members use this space and engage with others here will play a big part in that... We want their membership to represent an active contribution to making the industry more inclusive.
As we open our doors gradually before the grand reopening next year, I'd also like to ask members to bear with us. We're busy recruiting and training staff, as well as learning all of the technological improvements that the building affords us, to ensure our in-person events and screening programme can run at the level we expect and members deserve. A project of this size has to be opened gradually – we're still getting our heads around everything ourselves, learning the space and how best to use it. It will be fully open soon enough.
---
The Richard Attenborough Rooms on the fourth floor of BAFTA 195 are now open to members Mon-Fri 12-5pm, serving teas, coffee and pastries. Please limit numbers to you and one guest at this moment in time. 
Take a Seat at BAFTA 195 Piccadilly and support the next generation of talent in film, games and television. Find out more here or contact Georgie Neve, Fundraising Manager: [email protected].
Part 1 of this interview series, with executive head chef Anton Manganero and front of house manager Graham Lloyd-Bennett, is here.