30 November 2021

With Pauline Campbell, BAFTA's Head of Property, and chief architect and interior designer, Renato Benedetti, founder and design director of Benedetti Architects

The third instalment of Q&As about BAFTA 195 Piccadilly (here's part 1 and part 2) sees Pauline Campbell (below) and Renato Benedetti (bottom right, with Carla Sorrentino) discuss the nitty-gritty details of the redevelopment...  Interview by Toby Weidmann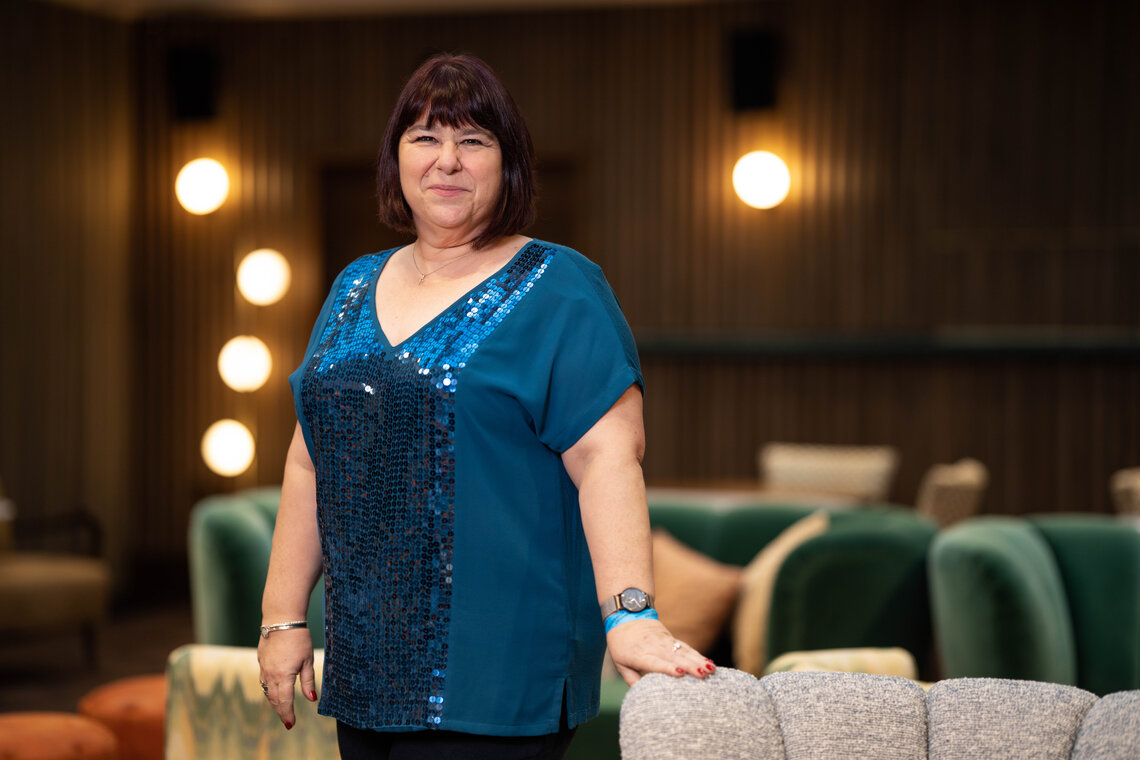 BAFTA/Scott Garfitt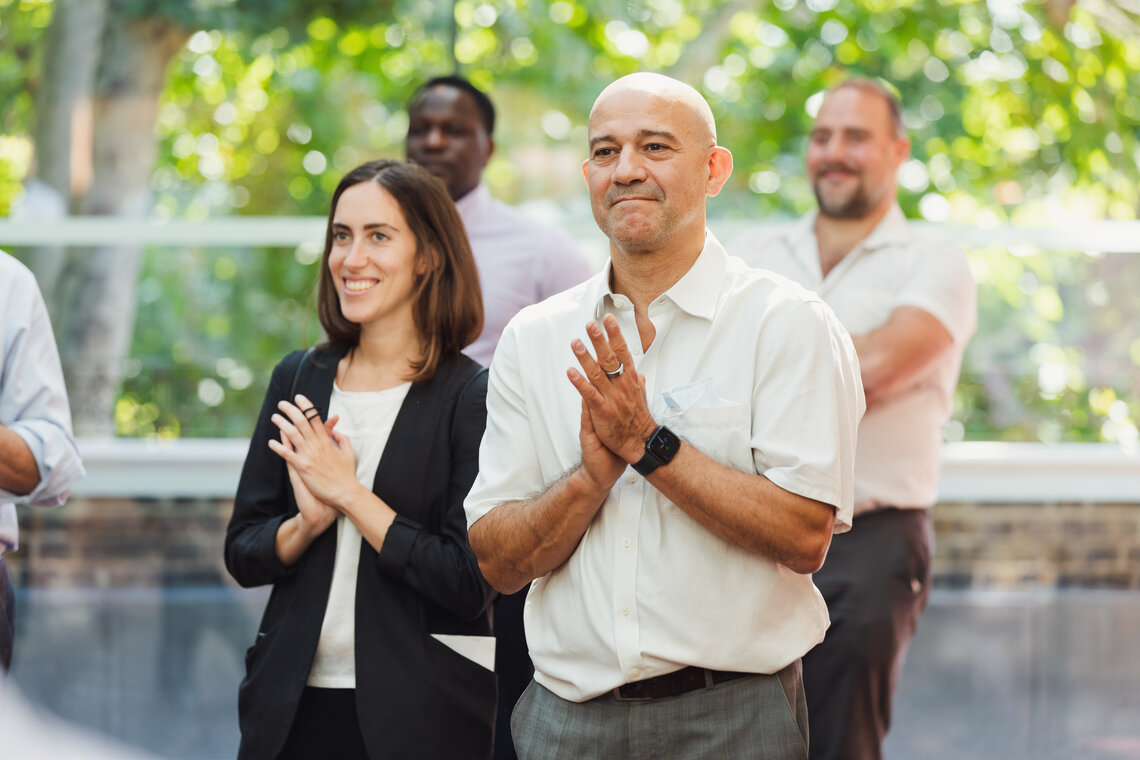 BAFTA/Jordan Anderson
---
BAFTA: What was your initial thought when you heard BAFTA wanted an 'international centre of excellence'?
Renato: It was excitement. As an architect, what you want is a client with ambition. When we started work on it, BAFTA hadn't begun fundraising yet and were still at the early stage of envisioning what they wanted, but what they did know is that they wanted something really special. And the spirit of that has been retained all the way through. It's been a tough road, seven years, and there's been a lot of ups and downs, but I think what they have now is something really, really special.  
Pauline: We've never had somewhere we can use as a centre of excellence and a members space and an events space and a place where we can bring the industry together. So it was about time. 
What were some of the challenges you faced? 
Pauline: The biggest challenge for me was trying to include everything that we wanted to achieve in the limited footprint of the actual building. We were trying to extend our footprint without having any more space to do it in. 
Renato: Early on, I thought planning would be a huge challenge but, in fact, it wasn't... It went through on the nod. Everybody just loved it. It was the least challenging planning process of any complicated project we've ever done. 
How did you try to incorporate the legacy of the building into creating something new? 
Pauline: I'll use the David Lean Boardroom as an example. Under the Princess Anne Theatre, we discovered the floor of the original Royal Institute of Painters in Watercolours. So we had it cleaned, cut and reshaped and used it as the floor of the boardroom. There's also a credenza [a sideboard – ed.] that uses the marble from the walls of the 1930s and 1976 iteration of the building, when BAFTA first occupied it. And then the rest of the room is brand new. So that's four eras incorporated into one.  
Renato: When we were shortlisted for the ideas competition, we crawled all over the building and found this forgotten beautiful 1883 plasterwork around these two giant rooflights. The rooflights had been blocked off when BAFTA moved in for the simple reason of preventing natural light getting into the Princess Anne Theatre. We had a very real excitement about how best to use them. The only way was to keep the PAT where it was but raise the historic plasterwork up three metres, which allowed us to create a new storey... By intervening in a pretty innovative way, we've lovingly restored this very historic fabric for people to enjoy again... And BAFTA has a whole new floor. It was win-win.  
What practical thing are you most excited about people experiencing? 
Renato: Dolby Atmos and Vision. It's simply phenomenal and probably the best cinematic experience in the country. And, because of the partnerships with BAFTA, it always will be.  
Pauline: There's £3m of AV technology in this building, which means we truly are the home of the moving image. And that's thanks to our partners – Dolby, Christie, QSC and ETC, who all came onboard and said let us showcase what we can do... That's a legacy I feel very proud to have left in the building. 
Tell us about a feature of the building that's easy to miss. 
Renato: On the second floor, the handrail of the stair disappears into a curve that needed to be there to make the staircase function and allow access to the PAT. The handrail goes in at an angle and finishes perfectly in a very sculptural shape. It's my favourite tiny little detail that only an architect would notice. It's very elegant.  
Pauline: For me, it's about the inscriptions on the backs of the seats in the Princess Anne. They are lasting dedications where you can endow a seat and have it inscribed for yourself or gift it to a loved one or to anyone you want. Even me, if you like. [Laughs] A phenomenal array of people have already taken a seat and the dedications are really beautiful – some are moving, some really funny, I could spend an age reading them all. They really are beautiful. But you have to be in the theatre to see them. There are still seats available, so if you would like to take a seat you'd be in great company. [To support the Take A Seat fundraising campaign, see below – ed.] 
Tell us a little about accessibility.  
Pauline: We engaged Peter Connell Associates, who are experts on inclusive design, and they provided an accessibility review. We also had a disability advisory group go over the building and provide us with a thorough review, giving us access to a wide range of views and experiences, to help us create an inclusive, welcoming and accessible environment for all. We really have put in a massive amount of thought and consideration into it.  
There are hearing loops in the main public spaces. There's a system called Dolby Fidelio in the theatres, which does audio description and hearing assistance. We've flattened all of the lips and trips and small steps throughout the building. We've put in beautiful wooden floors that are easier to glide across. We've put tactile treads on top of stairs. We have widened all of the doors, so they are at least a leaf and a bit wide. We can remove the whole of the front row of seats in the Princess Anne and Run Run Shaw theatres. There's a new stage lift in the PAT. There's a stair climber up to the roof terrace. The lifts now open in the right direction, so they open in the manner that you go in. All of the tables in the members space are at the right height to be comfortable for wheelchair users. The reception desk is the compliance height for wheelchair users. There's also a hearing loop system in reception.  
In terms of hidden disabilities, we can now kill off the sound and lighting around the building, room by room, so for people who are neurodiverse, if they have sensitivity to sound or light, we can make it quiet. We can get rid of ambient noise too.  
We also hope we've made the building more accessible to the person walking down the street, who sees our front door and thinks, 'I'll pop in and ask BAFTA about how to get a job in the arts.' That felt intimidating to do before because the doorway was so hidden and discreet.  
Renato: We did all we could regarding accessibility and future-proofing by designing in flexibility, because that makes it robust. It's hard to predict every eventuality, but if you design in flexibility you have the chance to deal with the unexpected. 
Sum up BAFTA 195 in three words.  
Pauline: Stressful. [Laughs] When I think about the project, I'd say: collaborative, professional and joyous. 
Renato: I'll give my answer in a timeline: exciting, collaborative and legacy. 
What one message would you like to send to members? 
Pauline: Come and use the spaces. Come see what we've built. It's spectacular. 
Renato: Enjoy! Enjoy! Enjoy! It's been an amazing project. It's been challenging and hugely stressful, but it's also always been enjoyable. So, please enjoy!  
-- 
The Richard Attenborough Rooms on the fourth floor of BAFTA 195 are now open to members Mon-Fri 12-5pm, serving teas, coffee and pastries. Please limit numbers to you and one guest at this time. 
Take a Seat at BAFTA 195 and support the next generation of talent in film, games and television. Find out more at https://www.bafta.org/about/fundraising/take-a-seat or contact Head of Fundraising Lucy Plaskett: [email protected]