11 January 2022

With Kevin Price, BAFTA's chief operating officer and company secretary, and Lucy Plaskett, head of fundraising

The penultimate instalment of our Q&As about BAFTA 195 Piccadilly sees BAFTA's chief operating officer and company secretary, Kevin Price, join head of fundraising, Lucy Plaskett, to reveal why the redevelopment was not just a necessary investment but a vital one... Interview by Toby Weidmann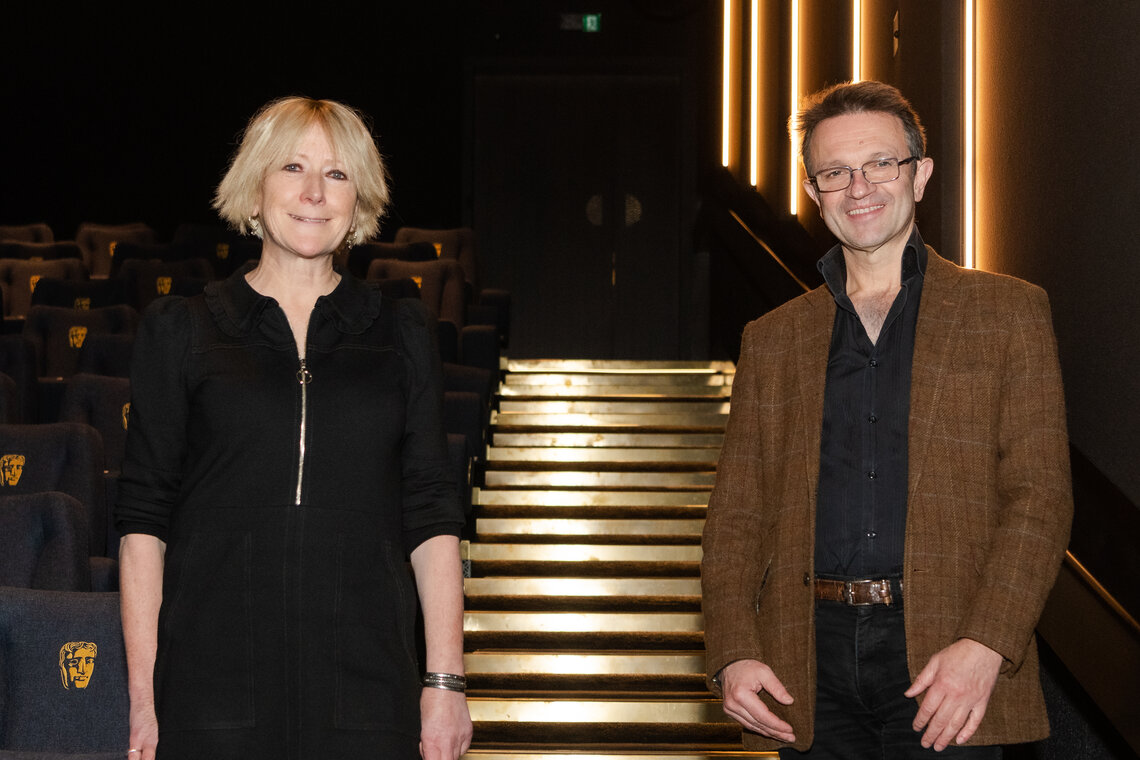 BAFTA/Alecsandra Raluca Drăgoi
Let's dive straight into it: why was the redevelopment of BAFTA 195 needed?
Kevin: Simply put, the old lease was set to run out in 2023. In 2009, even though it was years away, we decided to take a serious look at what we should do for the next phase of BAFTA's existence because it was a big question... Should we move? Should we build a new home? Should we stay in central London?
Lucy: A key driver was to give us our first ever dedicated learning space. BAFTA does so much work all year round to find and support the next generation of talent, but we've never really had our own space to do it. By adding a whole new floor, we've given ourselves the space to increase capacity, install the best technology and create the revenue to massively enhance our learning, inclusion and new talent work.
Kevin: When we looked at all of the options, we concluded that 195 Piccadilly was actually a very special asset for BAFTA. It needed a lot of work; the plumbing, the electrics, all the boring behind-the-scenes stuff were poor... But we've done this so BAFTA can have an amazing building to deliver all of its charitable programmes for the next 45 years [the length of the new lease – ed.].
How were Benedetti Architects and contractor Knight Harwood selected?
Kevin: We started off working with Deloitte, who were our original advisors. Deloitte was instrumental in those early years, helping us work out our strategy... They got us to the stage of deciding that we would redevelop 195. Then we needed to appoint an architect. This was around 2014, an expert in the field helped us draw up a shortlist and we saw, I think, six potential architects. We chose Benedetti [because] we felt they were the best fit and would be empathetic to what we were trying to do, they really 'got' BAFTA. Knight Harwood were brought onboard in about 2017. The appointment of a building contractor was probably the most important decision we made, bearing in mind the project ended up being delivered through a pandemic. They were brilliant.
Lucy: I'm really struck every time I walk round the building by details I hadn't noticed before... I think [Benedetti] has done an amazing job of making it a contemporary, creative space while keeping true to the heritage of the building.
How do you expect BAFTA 195 to be used differently to before?
Lucy: The new dedicated learning space will be really transformative in terms of the programmes we can run and the things we can do. It really is going to be the central hub for our UK-wide and global work... I think there are 19 different usage combinations, which allows us to have the members' area and run our learning programme without them competing for space.
Kevin: I'd just like to add that one of the main things we wanted to do was to ensure BAFTA 195 is a well-run, comfortable and accessible building for all. Naturally, we focused on the technology – which will earn it major recognition – but we also wanted to make it feel open and welcoming, while also being fit for purpose... This building has been designed with accessibility in mind, to ensure that the needs of our visitors can be accommodated wherever possible... I think you have to walk around it to really get the feel of it. It is such a great place. It just feels contemporary, modern and pleasant.
How is the fundraising going?
Lucy: We've raised £29.6m of the £34m, so 87 per cent of the target figure... I can't stress enough how incredibly generous and supportive all three of our industries have been, as well as individual donors, trusts, foundations and also the Mayor of London, who supported BAFTA as a creative hub for the screen industries... I'd like to thank all of our donors and supporters for their belief in the reach and impact of our work... One of the lovely ways that members can help raise the final amount is to endow a seat in the Princess Anne Theatre, which sits at the heart of the building and at the heart of what BAFTA does, because of all the events we hold there... The endowment can celebrate yourself, or your company or someone you admire. And that's something that will be there for 20 years.
Kevin: The fundraising campaign has been really successful – we're working hard to raise the final amount but we're nearly there. 
Why is this one of the most significant periods in BAFTA's history?
Kevin: There's no doubt this is the biggest project BAFTA has ever undertaken. It was incredibly risky but the final result has been so pleasing and, frankly, successful. This is a legacy that will underpin BAFTA for the next 45 years, and that's amazing... It's a massive investment in BAFTA's future and it's for the benefit of everyone.
Lucy: Crucially, it's a massive investment in the creative future of film, games and television. That's what this is supporting... BAFTA is the only organisation that does what it does. We're the only one supporting film, games and television globally. What BAFTA 195 gives us is this global hub, because we can host events live here and broadcast them all round the world. It massively increases our reach and that's increasingly important as we look to further our work in North America and Asia.
Finally, sum up BAFTA 195 in three words.
Kevin: I want to use 'contemporary'. I keep using the word 'asset', but that's because I trained as an accountant. And 'home'.
Lucy: I would say 'challenging', because a global pandemic wasn't on anyone's agenda at the start of this. 'Inspiring', because I think it's going to be a really inspiring place. And 'fun', because it's important for places to be fun. It's a very creative space – a place of ideas and energy.
--
The Richard Attenborough Rooms at BAFTA 195 are open to members Mon-Fri, 08.00 - 17.00 with a limited breakfast and lunch menu. Please limit numbers to you and one guest at this time. 
Take a Seat at BAFTA 195 and support the next generation of talent in film, games and television. Find out more at https://www.bafta.org/about/fundraising/take-a-seat.
For all fundraising enquiries, please contact Lucy Plaskett: [email protected]