BAFTA's internship and placement schemes provide a range of exciting opportunities within our unique organisation.
Interested in applying for one of BAFTA's internships? New vacancies will be announced on bafta.org/jobs and on Twitter and Facebook. In the meantime, read on to find out what it's like to work as a BAFTA intern, according to those that know best. Here they share tips for applying for a role and struggle to identify their favourite films.
Current Interns
---
Jonny Lincoln
Learning and Events Intern
Febuary 2015 - Present 
Job before BAFTA: Management consulting analyst (ex-suit!). Also interned with a media production company.
Favourite Film: The Cook, the Thief, His Wife & Her Lover or The Deer Hunter
Favourite TV programme: Game of Thrones, No Offence
Favourite part of the job:  Working with a team of passionate people who I can talk to about films (every day), and getting to constantly learn within my job!
Interests outside work: Watching stuff, theatre, photography, planning travels, seeing friends, eating out
There was a Learning and Events element to all my previous roles, so getting to work in an organisation dedicated to this attracted me. I've always been passionate about film and the creative arts, but didn't know how my practical skills and experience would translate. As a career-changer, a role at BAFTA offered me the chance to gain an insight across Film, Television and Games and fully realise the vast options and directions available in the creative industries.
My role covers all things that assist the Learning and Events team in the delivery of their events. Office side, I compose the weekly mail-out newsletters, create online screening and event content, manage ticket sales and guest lists, coordinate travel for guests and get to assist with ah-hoc tasks such as research and editing. Beyond this, I get the chance to work our bigger events and assist with the running of full-day forums; liaising with our guests and delegates in a customer-facing role, and supporting with the production and coordination of the event.
My highlight: Getting to 'tux up' and attend the Television Awards with the team.
Aspiring interns: It can be a tough industry to get your first role in, especially if you don't have a creative background. Show how your existing experience translates to the specific tasks of the role offered, and be positive, passionate and resilient! Also don't be scared to show your personality, it's actually encouraged!
---
Past Interns  
James Arden
Communications Intern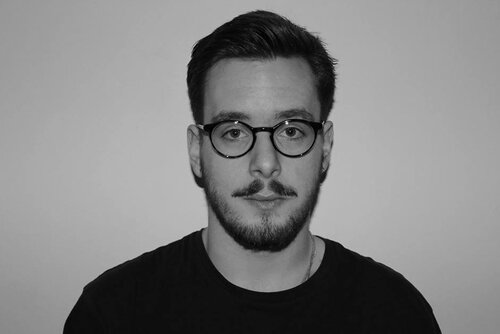 March 2015 - June 2015
Job before BAFTA: Studying a Masters Degree in Digital Film Production at the University of York, directing music videos and working on the P&P/production side of film festivals including Raindance, LUMA and Aesthetica Short Film Festival.
Favourite Film: Blow Up
Favourite TV programme: Mad Men
Favourite part of the job:  Working with great people in an increasingly important and constantly changing field. Digital communications is only just getting started.
Interests outside work: Filmmaking, escaping to Brighton or Yorkshire, finding weird shows in Soho. The usual.
I was following BAFTA closely and waiting for an internship to open up at the right time. The work BAFTA does for the film, television and games industries is invaluable and I wanted to be a part of it. When I saw an opportunity open up, I thought I could bring a unique set of skills to the position whilst having the chance to learn much more about digital communications, so I applied straight away.
There's a lot of scope for different activities in my role. I spend time on all our social media platforms (specialising somewhat in Instagram, which is great). I also publish press releases, write copy, update and post content on BAFTA Guru... the list goes on. I've even managed to squeeze in a bit of filming with the production team. 
My highlight is definitely attending Christopher Nolan's lecture. It was fantastic to hear him speak in person. The Members bar is also a lovely destination for a drink after work.
Aspiring interns: if you've got other interests that don't necessarily directly fit with the role, don't hide them. Show your range of skills and find ways to use them within the role. Have a CV full of great content, but make it look stylish too. Also don't listen to me at all - be yourself.
---
Danielle Rayner
Communications Intern
August 2014 - February 2015
Job before BAFTA: Studying English Language & Literature at King's College London, interning in PR and communications, and doing work experience in TV production at Studio Lambert, ITV and the BBC.  
Favourite TV programme: Homeland/ Breaking Bad
Favourite part of the job:  Having the opportunity to work with such lovely, creative people in a really fluid and interesting role.
Interests outside work: Tea-drinking, heading back up North to visit family, performing, and exploring London…speak-easy's, silent discos and all.
I'd just graduated from King's and came across the job on Twitter! I knew straight away that I'd love the role - it not only enables me to fuse my previous working experience with my long-standing interest in the creative industries, but also provides me with the opportunity to work for a dynamic world-renowned charity. On researching for my application, I found out about BAFTA's initiatives that encourage the work of budding creatives (Breakthrough Brits, BAFTA Rocliffe New Writing Forum, Young Game Designers etc.) and couldn't believe that I hadn't heard about them before. I was excited to get involved with promoting these initiatives as part of the comms team. 
My job is to assist the communications team with formulating, editing and publishing written and visual content for the BAFTA.org, BAFTA Guru, BAFTA 195 and YGD websites, and for all of BAFTA's social media platforms. It's a really varied role! I can usually be found writing articles, live-tweeting at an event, organising and undertaking interviews with BAFTA winners, creating images on Photoshop, or uploading website content. We're also just about to launch our very snazzy new BAFTA websites so I've been doing some website migration & copy writing/formatting too. 
My highlight so far: Getting to listen to Emma Thompson's words of wisdom at her Screenwriters' Lecture.
When this internship comes to an end, I'm certain that I'd like to keep working in the TV and film industry, but not sure yet in what capacity. I'm still learning & exploring so will see what happens...! 
If I had to give advice to people applying for internships/jobs, I'd say… tailor your CV for each role, do lots of research about the company, let your personality shine through in your application, and get a friend or family member to do a practice interview with you (always embarrassing but really productive).
---
Emma Reidy
Communications Intern
BAFTA/John Maloney
January 2014 - July 2014
Job before BAFTA: Studied English Literature & Theatre at the University of Leeds and completed an internship with The Huffington Post.
Favourite films: Little Miss Sunshine.
Favourite part of the job: Genuinely enjoying every day of work with a brilliant team & having the chance to work at events involving some of the biggest names in film & TV.
Interests outside work: I can usually be found at a gig, learning to play the guitar, reading or catching up with friends.
I came across the internship vacancy on Twitter, and saw an opportunity I simply couldn't pass up. I believe the organisation has a lot to offer aspiring creatives and I wanted to be a part of that. The role itself was a perfect way for me to draw from the work experience I had and learn new skills in an industry I knew I would enjoy.
My role varies daily which I love. Some days I'll be creating original content & updating the websites and other days I'll be live-tweeting at a BAFTA event, researching for the marketing team & editing copy. I am also involved with previewing BAFTA Guru content and assisting in the promotion of videos & articles via social media.
My highlights include working at events that I want to attend anyway! Listening to Paul Greengrass discuss his experiences as a director gave me an interesting insight into the film industry. I also enjoyed Greg Daniels' Comedy Masterclass and finding out about the writing process for my favourite TV comedy The Office US.
My internship has opened up many possibilities and I'm grateful to have had such an exciting start to my career since leaving university. I have thoroughly enjoyed communications in the creative industries and am eager to continue developing in a similar role.
Aspiring interns: if you really want an internship with BAFTA, it's not enough to explain why you'd fit the role - you need to demonstrate a genuine interest for the organisation itself. Work really hard to put your personality on paper & make yourself stand out against the hundreds of other applicants. Good luck!
---
Liz Rainsberry
Archive Assistant (University placement)
BAFTA/John Maloney
August 2013 - August 2014
Job before BAFTA: Studying music, specialising in composition and screen music, at university.
Favourite films: Difficult question! Too many of those to decide properly, but if I had to choose, my favourite film would be Princess Mononoke, and my favourite game would be Sword and Sworcery.
Favourite part of the job: Getting to attend masterclasses led by highly regarded screen composers.
Interests outside work: Composing music, playing video games, watching films, composing music, spending time with friends and family. Did I mention composing music?
I applied for an Archive Assistant role as part of my university's placement scheme. The reason why I was intrigued with BAFTA was because I had long been interested in the art of the moving image, especially the music, sound, and practical aspects of film and video games. I was specifically attracted to the Archive and Heritage side, because I have worked, and have also been generally interested in researching, project management and planning.
My duties primarily involved the digitisation of BAFTA's archive material, and converting journals and video tapes into digital formats, for both internal and external use. I also got myself involved in administrative roles to support the Archive and Heritage department, such as creating and maintaining databases, researching and writing online features for the Heritage page, and supporting photography at various events and photo shoots.
I have had many a highlight in my job - a few included being able to attend the BAFTA Film Awards, and the chance to work at the BAFTA Inside Games showcase and awards ceremony; that was followed by working on a couple of online features regarding video games. Those experiences in particular I felt humbled to have been a part of, and it was wonderful to be given those opportunities.
After my time at BAFTA, I will be heading back to university to complete my degree. And then after that, I would ideally like to freelance as a composer for a variety of mediums, including films and video games, but ultimately, I am open to many opportunities as long as I stay working in the creative industries!
Advice that I would give to people applying for either an internship or a job is to make sure your skills shine through in your CV and portfolio; prioritise them and demonstrate what you can do. Show that not only you have the skills, but you also have some personality in your work. Research thoroughly into the role. Think about not only what you hope to gain from the role, but mostly what the organisation can benefit from working with you. Also, just generally 'being brave' helps.
---
Nicola Wedgwood
​
Awards & Events Production Intern
BAFTA/John Maloney
October 2013 - May 2014
Job before BAFTA: I worked in television and live events before quitting my degree in order to work full time in the industry. I then managed to land myself a role at BAFTA whilst working as a production runner on a TV quiz show.
Favourite films: Back to the Future, Blues Brothers, Thoroughly Modern Millie.
Favourite part of the job: Working with an amazing team in the office and having access to the BAFTA members club.
Interests outside work: Catching up with friends and family whilst occasionally attempting to learn to drive. Last summer I qualified as a Skipper so some friends and I chartered a couple of sailing yachts in Croatia for a week in July. As you do.
I initially came into contact with BAFTA when I worked as a runner for the Television Awards in 2013 on behalf of Whizz Kid Entertainment. I then realised that BAFTA also run learning events and lectures aimed at widening audience participation in the arts, which is a huge passion of mine. When the advert for the internship appeared on their website I knew I HAD to apply. You can imagine my excitement when I was told I'd got the job!
At the moment we're in the run up to both the Children's and Film Awards, which means attending meetings, planning logistics for the day of the awards and sorting the all-important paperwork - including inviting the nominees to the award ceremony. I also make the shiny gold envelopes for the winner's announcements, which usually end up with me wandering around the office covered in glue and bits of gold leaf whilst looking a tad dishevelled.
I'd say the highlight so far is being given the opportunity to work on an interview with Daniel Radcliffe. Other than this I'm looking forward to the various awards we have coming up - the buzz you get on the night from working on the red carpet and the event itself is amazing.
After my internship I'd love to continue working for BAFTA in an awards and events production capacity, or perhaps go back to working in television with the aim of stepping up to researcher level. Either way, I'd love to have a long and illustrious career in television and live events.
The advice I'd give to others is to be brave and put yourself out there. Don't be afraid to make use of your contacts - you never know where one job may take you. Also be sure to ask for help if you need it! As for making mistakes, I've made tonnes of these along the way, but they have made me a lot better at what I do now, so try not to worry and just enjoy whatever it is you're trying to pursue.
---
Thomas Walker
Learning & Events Intern
BAFTA/John Maloney
September 2013 - December 2013
Job before BAFTA: Technician & FoH at British Film Institute.
Favourite film: Withnail & I.
Favourite part of the job: When your hard work pays off attending a great sold out BAFTA film event.
Interests outside work: Writing, playing and recording music. Photography & Film.
BAFTA is a prestigious, international institution that is constantly contributing to arts and education. So after working at the British Film Institute, it was important to me to continue to aim high as 'pride in the job' was ingrained in me from an early age. It's wonderful to have the opportunity to work for and represent such a highly respected organisation.
Interning for Learning & Events is about being part of the team that co-ordinates the fabric & logistics of the events calendar. I work to support preview screenings, Masterclasses, A Life In Pictures events and the international educational event program. All this involves booking travel & accommodation for talent and staff, co-managing the members and public box office, researching for event guest lists, picking film clips for public show reels and helping to host BAFTA events at 195 Piccadilly. It is a hugely rewarding and interesting job.
So far my highlights have been 'Tom Hanks - A Life In Pictures' and the 'Breakthrough Brits' launch night. These were great fun to work on and high profile both in media coverage and in attendance. Working hard should always be a given at any level but when you are involved in putting together events on this scale for someone like BAFTA, there is a real sense of job satisfaction.
When my internship draws to a close, I aim to pursue a career in film & education event management and production, potentially crossing over into music touring & events.
My advice for people applying for jobs and internships is; it's tough out there. Not only is it predominantly all about timing, you have to shine through both in person and on paper so experience is everything. Push yourself and never underestimate the old fashioned face to face, over the phone and hand written letter values because in the age of the internet, these largely forgotten customs really count.
---
Olivia Dean
Communications Intern
BAFTA/John Maloney
June 2013 - December 2013
Job before BAFTA: English Literature student at university and had previously interned at Progressive Digital Media.
Favourite TV Programme: Friends!
Favourite part of the job: Live-tweeting from behind the scenes at events and seeing film stars up close!
Interests outside work: Netball, reading, writing, and exploring London.
I applied for the Communications internship because it required skills that I already had but offered experiences and learning opportunities that I knew I would enjoy. I also felt that I would enjoy the range and sheer variety of different tasks that would be involved.
On a day-to-day basis, the role focuses on digital tasks. I help to run the social media outlets in the form of creating/monitoring Facebook posts, tweeting, creating Tumblr posts on Photoshop, Pinterest boards. I also help out with uploading new videos and podcasts to the BAFTA Guru site and promoting them via social media. In regards to events, I am involved with live-tweeting, writing up events for bafta.org and follow-up blog posts. I also help create web pages and undertake research tasks for the marketing team and help to proofread some written content.
So far my highlights have been Tom Hanks's A Life in Pictures event which, as a huge fan, was an amazing experience and a privilege to be involved in, and Tony Gilroy's Screenwriters' Lecture which, as a writer in my own time, was inspirational to say the least.
After my internship I would like to work in a creative environment, maybe for a magazine, a television or film production company. I have really enjoyed the balance of producing and promoting content so would look to continue developing in that area. The advice I would give to people applying for internships or jobs is to create a portfolio of the work you have done and take it to interviews with you. I find it calms me down to know I have something to show rather than just relying on being really eloquent in a nerve-wracking situation. It also gives the interviewer some 'evidence' of what you're capable of, which I think helps!
---
Georgina Cunningham
Production Intern
BAFTA/John Maloney
September 2012 - December 2012
Job before BAFTA: I was studying Broadcast Production at Ravensbourne. I was then lucky enough to be given a place on the Productions team as an intern only a couple of months after I graduated.
Favourite film: All of the Harry Potter series.
Favourite part of the job: Working with some really lovely people and yummy food at 195 Piccadilly.
Interests outside work: Watching films, spending time with friends and family, photography, going to see live bands and visiting exciting new places.
When I began to look into a little more about BAFTA and the other projects they work on, I discovered that they are involved with a lot more than just the Film Awards. I was attracted by the variety of different content and events they produce, and also the support and opportunities they offer towards rising talent.
Every day is different as a Production Intern: organising shoots by creating call sheets, sending confirmation letters to crew, ordering any staging or props we may need, sending out POs... On the day of filming I will help the crew to unload the equipment from the van, make sure we have all of the relevant paperwork and that the crew are catered for and help to set up any equipment. Other things include archiving, organising folders, delivering tapes and prop-making.
I'd say the highlight of my time has been working on the Screenwriters Lecture Series. I've had the chance to meet some amazing people and learn so much.
I hope to eventually continue into production coordinating for BAFTA and hope that the experience I have gained through this internship will help me to achieve this.
The advice I'd give to anyone looking for an internship would be to make sure you have a strong, well thought-out CV. Be persistent and try not be become disheartened if you don't succeed first time; keep trying. Make sure you are keen and eager to learn. Most importantly: be yourself!
Georgina now works full time as BAFTA's Production Assistant.
---
Georgina Norton
Archive and Fundraising Intern
BAFTA/John Maloney
June 2012 - October 2012
Job before BAFTA: Studying Ancient History at university followed by internships at a theatre charity and an actors agency.
Favourite film: Gone With The Wind.
Favourite part of the job: Getting to go to the members club and film screenings, but I'm looking forward to the Awards season!
Interests outside work: Watching films and TV shows, both highbrow and low, cultural jaunts and making my way around London's food markets.
I was attracted to BAFTA primarily by the shiny gold mask, but I also thought the role looked really interesting.
I split my week between the fundraising and archive departments. Fundraising days are spent doing research into new funding opportunities, writing proposals and helping coordinate fundraising events. BAFTA is currently preparing to upload its photography collection onto an online database so my archive duties consist of editing and tagging photos from past awards and events. BAFTA's unique access to talent over the years makes for some incredible photographs and some of the outfits provide a lot of amusement.
Highlight so far of my time here? A great Friday afternoon spent at a drinks reception and Q&A with Imelda Staunton.
Recently I've been extremely lucky and am stepping in to cover the maternity leave for the Assistant to the Chief Operating Officer. I don't really have a post-BAFTA plan but I certainly hope to stay working in the creative industries, in any position that comes my way.
When writing applications I think it's just as important to show you have personality and enthusiasm as well as the required skills.
After her internship, Georgina joined BAFTA full time as Executive Assistant to the Chief Operating Officer.
---
Joe Cunningham
Communications Intern
BAFTA/John Maloney
April 2012 - October 2012
Job before BAFTA: I was carefully dividing my time between hunting for jobs and writing freelance articles for a variety of film websites and magazines.
Favourite film: Back to the Future 1-3. I will not hear bad-mouthing of the excellent sequels.
Favourite part of the job: Entry into the screenings and Q&As at 195.
Interests outside work: Watching films. Talking about films. Writing about films. Podcasting about films. Watching some more films…
The Communications Internship felt like something that I would enjoy and that I could potentially do well at, but would also help me develop and learn some new skills in the process. Plus, who doesn't want to work at somewhere as prestigious as BAFTA?
There's a lot of social media, and creating a social media plan that allocates how and when digital content can be promoted. I'm always preparing and uploading content onto BAFTA's four main websites, and then promoting that content. There are also meetings to attend, minutes to take, and the occasional exciting event to live-tweet from.
I get a perverse enjoyment out of seeing the Google Analytics graph slowly rise every month, and seeing the amount of Twitter followers edge closer to 100k.
I'm hoping to keep writing and that as part of my day job. The internship has given me a great insight into another side of the film industry, and it has also developed my knowledge of content management systems, social media and understanding analytics, which are all vital when writing for an online audience.
Advice: be passionate and really want the job. Make sure there are no glaring errors in your CV and application, and take time to find out about the position. Decide what you think you could gain from the internship, and what BAFTA could gain from choosing you.
---
Rob Jones
Learning & Events Intern
BAFTA/John Maloney
November 2011 - April 2012
Job before BAFTA: I studied English at university, and then the Digital Economy (which, as far as I can tell, is fancyspeak for "stuff with computers"). I've occasionally worked at the Edinburgh TV Festival, alongside Nottingham's tremendously excellent GameCity.
Favourite film: Bill and Ted's Excellent Adventure.
Favourite part of the job: Being surrounded by so many friendly, intelligent and interesting people whose passion shines through in their every deed, constantly motivating you to do your best. (Can I say that? Is it too mushy?)
Interests outside work: I write magazine pieces every so often, usually about videogames and film, and sometimes code together little games and other bits of interactive nonsense. I'm trying to teach myself touch-typing but my fingers stubbornly refuse to change their ways, and I once helped build the world's most incredible spice rack.
I was attracted to BAFTA by the mix of media it covers: my nerdy twin passions are telly and videogames, but I never expected I'd be able to find work that allowed – nay, encouraged – me to indulge them equally. More than that, though, I wanted to be an active part of an organisation that drives excellence in the creative industries by finding inventive ways to get absolutely everybody involved in them.
My job is to support BAFTA's events programme: keeping the website up to date with all the latest events, publicising them, and keeping a steely eye on the email. I also create guestlists, book travel, and assemble the regular newsletters. Still, if variety's the spice of life, this internship's a real vindaloo – one minute you're shepherding celebrities around backstage, the next you're co-ordinating the hunt for Britain's best young videogames designers, and then suddenly you're fielding audience questions to Ralph Fiennes.
The highlight so far is the Children's Awards, definitely. Glamour, excitement, and more free chocolate than I could responsibly consume.
Career plans aren't my forte, but I'd like to continue working for organisations and events that take these brilliant creative industries that we have in this country, and channel them towards inspiring the public and encouraging new talent to cast off their shackles of fear and get stuck in making the next generation of great stuff.
Twitter is a great place to start looking for internships and informally asking for advice - it's an easy way to be part of an industry network. Even if (like me) you're mostly just stood on the fringes licking a Calippo, you still might pick up some useful tidbits of info.
---
Oliver Ray
Communications Intern
BAFTA/John Maloney
September 2011 - February 2012
Job before BAFTA: Studying Philosophy at university.
Favourite film: The Lady Vanishes, The Mark of Zorro, Some Like It Hot, Kind Hearts and Coronets, Kiss Kiss Bang Bang, Stephen Poliakoff.
Favourite part of the job: The team I work with (partly because I'm a bile-inducing sycophant, but mostly because it's true...apart from John who forced me to do this page) and getting to go to BAFTA Members' screenings. It is a wonderful way to see a film.
Interests outside work: Writing, violin, walking around London, breathing.
Before this I was studying philosophy at university, which is three years of working out precisely how stupid you are, but feeling vaguely self-important whilst doing so.
I applied to BAFTA inspired by a love of film, but principally because it was paid. I had two interviews during which I sweated profusely, but they seemed not to notice.
As Communications Intern I assist our Online Editor in creating and delivering web content. I also help to manage BAFTA's social media presence (on the Facebook, the tweety and suchlike). On some days I might work on an event and occasionally I get involved in production or PR. The purlieu of the communications team is broad and changing continually, so who knows what I'll be doing next week?
There are many good things about this job but highlights must include seeing content I have helped to create being used by thousands of people, being able to attend the members' screenings and occasionally touching (appropriately) people off the telly.
After BAFTA, I hope to continue existing as comfortably as possible.
Tips for aspiring interns: do your research. And don't take advice from incumbent interns. We are devious and not to be trusted.
---
Lisa Rasch
Production Intern
BAFTA/John Maloney
January 2011 - June 2011
Job before BAFTA: Junior Producer for an ad agency in Soho.
Favourite film: Atonement.
Favourite part of the job: Getting to go to the members club and go to screenings, especially when there's a Q&A with a director, writer, producer or actor afterwards.
Interests outside work: Watching films, reading scripts friends have written (and horse riding, but I don't get to do much of that in London).
I always used to check bafta.org to try and get involved in events such as the Rocliffe New Writing Forum. One day I saw there was an internship up for grabs - I almost didn't apply as I thought I wouldn't have a chance: luckily, I did!
Each day is different as the Production Intern. If we have shoots to organise I'll be making call sheets and booking equipment; if we're shooting that day I'll be travelling to the location with the Production Manager, helping unload equipment and making sure the crew is catered for. If there's a big event coming up we might do a recce with the director and technical crew. It's always fun to hear people's ideas being banded around! On other days I'll be catching up on admin doing music cue sheets and POs.
The highlight so far has to be the Film Awards. It was great to see everyone dressed up. Even though I was working pretty hard, being there when the winners came off stage to be interviewed was a great feeling. Getting to go to the afterparty was pretty cool too…
After BAFTA I hope to work in the film industry or in television dramas. I've met a lot of successful people whilst here and it has given me the confidence to pursue my dream of working in film – and it's definitely given me skills I'll use in the future. My advice for anyone looking for an internship would be to be yourself: personality is the most important thing to bring to work every day.
---
John Maloney
Communications Intern
February 2011 - July 2011
Job before BAFTA: Studying English at university before helping make a film about a local cinema's 100-year history.
Favourite film: Probably something by David Lynch. Mulholland Drive. Or Harmony Korine... or Persona...
Favourite part of the job: Being part of a relaxed, open-minded team. Also, working at events I'd choose to attend even if I wasn't working - always a good sign.
Interests outside work: Producing music, writing. Cycling around central London. Experimenting with HDSLR video. Definitely not drinking, like some interns. I'm a professional.
Before this, I'd been using the filmmaking resources on bafta.org. Lectures by David Lynch, Q&As with Quentin Tarantino. I set up an update alert on the jobs page, and applied without thinking I'd even get an interview...
As Communications Intern I spend most of my time managing BAFTA's web presence with the Web Editor. It requires both a future-facing technical aptitude and a good old-fashioned editorial sensibility: I do a lot of website updating and video processing, but also a lot of editing and original copywriting. I also interact with the online world via our social media platforms, and talk self-reflexively on staff info pages.
My highlight so far is the Video Game Awards. I worked with the communications team in the press room, frantically tweeting winner announcements and monitoring the webcast stream. I was almost oblivious to the fact that Sir Ben Kingsley was hovering a couple of feet away.
After BAFTA I hope to work in new media journalism or content creation, using emerging technology creatively and imaginatively. Reading that sentence has made me realise how much I'm subconsciously influenced by The Social Network.
Tips for aspiring interns: an application is an opportunity to show what you can do, not just describe what you can do. Think hard. Try and make your name stand out - there are so many ways to reach potential employers these days.
---
David Mayes
Learning and Events Intern
BAFTA/John Maloney
September 2010 - April 2011
Job before BAFTA: Studying English and Film at university before working at a film studio for a bit.
Favourite film: The Good, The Bad and The Ugly (but only if you put a gun to my head).
Favourite part of the job: Some of the best minds in the industry screen their films and TV shows and talk about their careers where you work. Also, there's normally cake in the kitchen.
Interests outside work: Writing comedy - just generally writing for competitions, etc. That is basically all I do out of work. Apart from drink, which probably isn't appropriate here.
I applied for the intership inspired by a general love of film and an interest in all parts of the production process, but specifically screenwriting and directing - I'd seen a lot of the Life in Pictures/Rocliffe/Serious Screenwriting stuff on the site which drew my interest.
As the Learning and Events Intern my job involves working in the office putting together guestlists; managing events on the website and newsletters; working at events, screenings and talks; liaising with talent; making clip reels... The highlight so far has been working at the Martin Scorsese Life in Pictures event and watching one of the greatest living directors talk for two hours about films.
After BAFTA I hope to stumble over a suitcase full of money so I never have to work again.
Alternatively, I'd like to do something creative, perhaps in event production as I like the idea of bringing information to people who don't have it readily accessible. So events with an informative slant that present transferable knowledge that can be applied practically. Throughout this internship I've been able to work closely with people who produce events with this slant, so I've gained a lot of knowledge through doing.
Internships are about gaining knowledge so don't be put off if your CV isn't crammed with impressive nuggets. Try and present your skills in a way that makes you appealing to your potential employer. Do your research as well: go on the website, run a Google news search. It doesn't take much time and it stops you looking stupid.