At BAFTA, we recognise the importance of our environmental responsibilities. While we realise we have a lot more to do, we are continually exploring new ways of improving environmental efficiency.

In June 2010, BAFTA signed up to the 10. The project's aim was for participants to reduce energy usage by 10% in 2010, and it is ongoing.
At 195 Piccadilly we achieved an actual 4.35% reduction in the year to the end of May 2011, but this is within the context of our events business expanding by more than 25% over the same period.
---
Some of the ways we're trying to reduce our energy usage:
BAFTA has a long-standing, company-wide recycling programme that covers our administrative offices as well as our members bar and function facilities at 195 Piccadilly.
In early 2010, we decided to make as much of our lighting energy-efficient as we could. By the middle of 2011 over 90% of our bulbs were energy-efficient at 195 Piccadilly and at our administration offices.
As a result of a free audit by the Carbon Trust, we are aiming for further significant reductions in the year to May 2012 through the extension of our Building Energy Management System (BEMS) at 195 Piccadilly.
Where possible, we aim to work with suppliers who have sustainability policies in line with our own.
---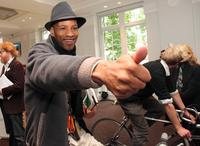 BAFTA/J.SimmondsIn the wider world, BAFTA is an active participant in several industry green initiatives. In 2010 we partnered with the UK Film Council to host a very successful event called Greening the Screen, whose aim was to guide the film and television industries on 'going green without going into the red'.
In late 2010 we became an official supporter of Albert, a carbon calculator designed specifically to help television production companies monitor (and subsequently reduce) their carbon footprints.
Coming up in November 2012, we have another Greening The Screen event, which explores the simple, achievable and affordable steps that can be taken to reduce the carbon footprint of film, TV or games production.