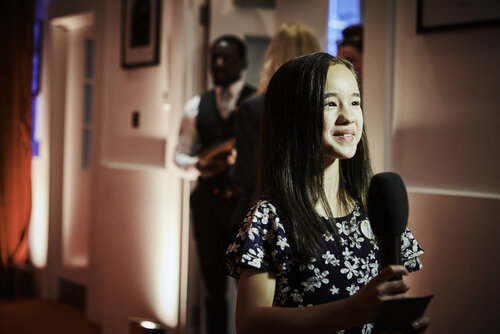 BAFTA/Hannah TaylorBAFTA inspires, providing unique opportunities to those wishing to discover more about the moving image arts. Sometimes this means providing people with the chance to explore new work through our nominations; sometimes it's about helping them discover a creative talent they never knew they had.
A wonderful example of this came via our UK search for a Young Presenter aged between seven and 14 as part of our BAFTA Kids programme. The inaugural winner of the competition was Tianna, aged 12, who was picked from hundreds of entries by a jury of some of the leading presenters in children's television.
BAFTA Kids discovered a talent in Tianna and it has inspired her to continue in this line of work. I don't know if I can thank you enough for the amazing journey we have had - Nancy, Tianna's Mum
Her prize included a once-in-a-lifetime chance to present our behind-the-scenes coverage at the Children's Awards, as well as present an award. Among the guests she interviewed were presenters Lindsey Russell (Blue Peter) and Andy Day (CBeebies) and YouTube star Caspar Lee. Tianna's BAFTA experience isn't over either – she has attended several BAFTA Kids events since.
Here's what Tianna had to say about her experience so far:
"I decided to enter the competition because I hadn't done presenting before and I thought I'd give it a go. I thought it would be really good experience and the prize looked amazing. I just wanted to try it. I can't believe I won... It was great to be at the Awards. Using the microphone made me feel like a real presenter. I liked meeting all the people. They were all really friendly."
You can watch Tianna's special behind-the-scenes report from the Children's Awards here.