Team in focus: Anton Manganaro, Head Chef
Food is at the heart of the BAFTA 195 experience. Find out more about our Head Chef Anton Manganaro
BAFTA 195 Piccadilly Head Chef Anton Manganaro is passionate about British produce and carefully selects local suppliers to create fresh, seasonal dishes. His menus change seasonally to capture the essence of British cuisine, reclaiming and redefining classic dishes for a modern audience.
Anton relishes in meeting clients and working with them to develop their menus at specially arranged tastings - a complimentary service available to every client who is hosting an event with us.
The dining experience at BAFTA 195 is not just about great food but also eye-catching presentation that ensures every guest is excited by their experience at our table. 
Anton Manganaro started his culinary career at the Royal Garden Hotel with David Nichols and has since worked with notable chefs including Gunther Schlender, Paul Gayler, Gary Rhodes and Anton Mosimann. He worked together with Paul Merrett for five years, achieving a Michelin star at Interlude and The Greenhouse. 
After 25 years in the industry, Anton is keen to pass on what he has learned to college students and offers training opportunities to future culinary talent with his team in the BAFTA kitchen.
---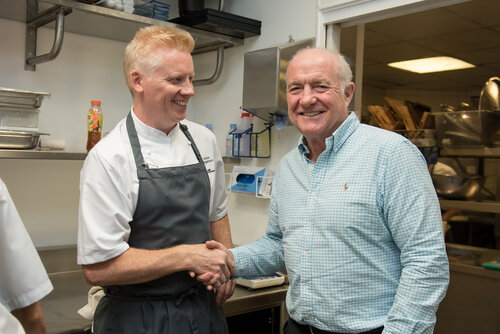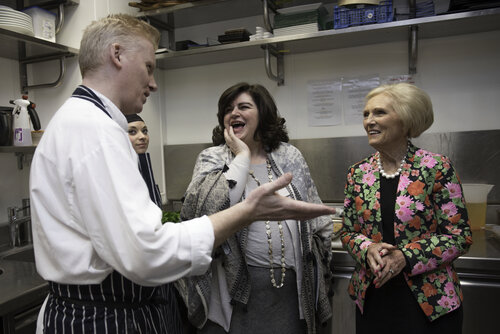 John Nguyen/JNVisuals
Anton and BAFTA 195 in the press...
On 22 June 2016, Anton worked alongside top names in British cuisine for a special evening in aid of Freedom from Torture.
Saturday Kitchen's Paul Merrett and Atul Kochhar, as well as the Hakkassan Group's Tong Chee Hwee, chocolatier William Curley MCA and Duck and Waffle's Dan Doherty served up a smorgasbord of global street food for guests to enjoy with an auction and an evening of comedy from Ian Hislop and Jeremy Hardy.
---
Other press coverage 
---