10 August 2018
BAFTA / Rosie Jones
41 events and 45 speakers gather to celebrate over 8 days
Highlights include event with Rhys Ifans
The British Academy of Film and Television Arts in Wales, BAFTA Cymru have celebrated the end of a successful third year of hosting a celebration of Welsh film and television in a cinema tepee at the National Eisteddfod of Wales, Europe's largest cultural festival.
A record 3,300 members of the public engaged with the programme at Sinemaes, a 36% increase on 2017, which hosted events in the cinema tepee as well as at two fringe venues, the Wales Millennium Centre and Norwegian Church.
"Following the success of previous events and often having more interest than capacity, we worked with the Eisteddfod to relocate some of our events to nearby venues," said Hannah Raybould of BAFTA Cymru.
"The Norwegian Church hosted three big screen events – the World premiere of new music documentary from Huw Stephens, Anorac; a preview screening of the new series of BAFTA Cymru nominated drama Byw Celwydd in memory of scriptwriter Meic Povey who died earlier this year and a screening of the UK's oldest animation Jerry the Tyke, made by a Cardiff projectionist for Pathe in the 1920's with a live score from Arad Goch."
"We also took advantage of the proximity of the Wales Millenium Centre and hosted two events there - one, a discussion about the actor Paul Robeson who was a focus of the opening concert and An Audience with Euryn Ogwen Williams in the Literature Tent.
Other highlights of the week have included a Q&A with Rhys Ifans hosted by Into Film Cymru, the presentation of a special award to veteran broadcaster Euryn Ogwen Williams, packed screenings of 80's classic Superted and daily screenings of a new archive collection showing Welsh towns and cities from the 1920s to 1990s.
The main focus for Sinemaes this year was new talent and audiences were offered the opportunity to discover Welsh screen talent through a series of short film screenings including those made by students at Welsh universities, on the Its My Shout scheme, winning films from the PICS festival showing school-age creativity and more.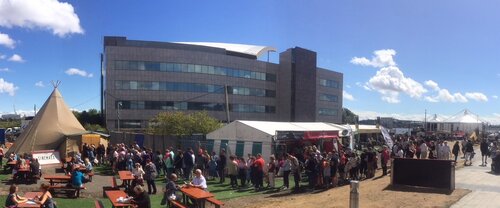 The week also offered a number of discussions – one to discuss comedy on television, another focusing on the current golden age of drama series, another looking at the development of a larger BBC archive for Wales and events celebrating the life and work of actress Iola Gregory; director/producer Richard Dic Lewis as well as an anniversary screening of Porc Pei in memory of Trefor Selway. A particular favourite was the preview of Pobol y Cwm with the cast and crew, which had to have 3 screenings to provide for demand. 
Sinemaes was created as an annual celebration of our screen heritage as well as to encourage an interest in the creative media industry career options and in 2018 we will end the week with a special Q&A with multiple BAFTA Cymru award winning director Marc Evans.
Sinemaes is coordinated by BAFTA Cymru in partnership with the following partners: