13 November 2019
Anthony Harvey/BAFTA/Shutterstock
Another busy year for BAFTA Cymru, which saw a fantastic 45% growth in membership and events which reached 6,000+ people working, or interested in joining the Welsh film, games and TV industry. We also welcomed 867 people and thousands more online to our Awards.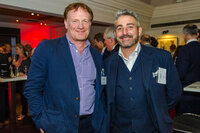 BAFTA/Laura PalmerIn January we hosted a special event to celebrate the 2018 Cymru Awards winners at BAFTA, 195 Piccadilly with Wales in London
We also hosted prebviews of feature films Ray and Liz and Being Frank: The Chris Sievey Story
---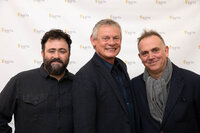 Mission PhotographicIn February we hosted a special screening of ITV drama Manhunt with Celyn Jones, Martin Clunes and others
We also hosted a screening of S4C drama 35 Awr with the writer Fflur Dafydd, producer Paul Jones and cast
---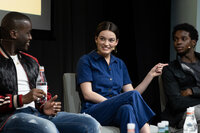 BAFTA/Mei LewisIn March we hosted the second Guru Live Cardiff with highlights including sessions focusing on Sex Education and Sherlock, with 662 tickets booked by industry career starters 
We also previewed BBC's Wales: Land of the Wild
---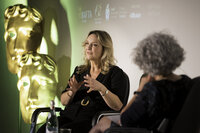 BAFTA/Matthew HorwoodIn April we hosted An Audience with make up artist Sian Grigg (listen to the Q&A here)
We also hosted a special screening of The Fight with Jessica Hynes
---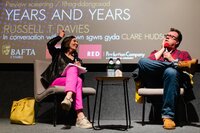 Tracey PaddisonIn May we hosted a preview of Years and Years followed by a Q&A with Russell T Davies
We also hosted a screening of Gwen in Cardiff with the cast and crew, Obey in Swansea and a documentary round table with Molly Dineen
---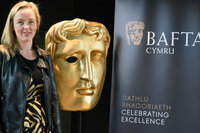 BAFTA / Booker T PhotographyIn June we hosted a preview of Pink Wall with actor/director Tom Cullen
We also hosted the Dewi Vaughan Owen keynote by Jo Pearce and a PRS mixer for upcoming directors and composers
---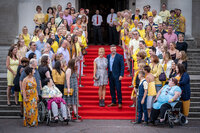 Patrick Olner/BAFTA/BBC Cymru WalesIn July we co-hosted the premiere of Keeping Faith series 2
We also co-hosted the first Women in Film and Television Cardiff gathering and a career clever with William McGregor and Hilary Bevan Jones in Bangor
---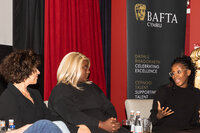 BAFTA/Darren MartinIn August we hosted the 4th Sinemaes cinema tepee in Llanrwst, welcoming 2,500 to 47 events with 50 speakers (watch the highlights here)
We also hosted the premiere of the second series of Channel 4: 4 Stories dramas
---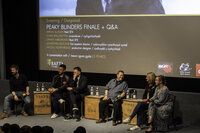 BAFTA/Polly ThomasIn September we hosted a preview of the series finale of Peaky Blinders with Welsh SFX company Real SFX offering a live presentation and Q&A with others from the crew
We also hosted a celebration of Keeping Faith/Un Bore Mercher in Carmarthen and a preview of new S4C drama Pili Pala.
To top things off we hosted An Audience with Rhys Ifans in the chamber of the Senedd.
---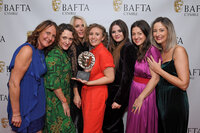 Anthony Harvey/BAFTA/ShutterstockIn October we hosted the 28th British Academy Cymru Awards which celebrated talent across 24 craft, performance and production categories as well as 2 special awards for Lucasfilm's Lynwen Brennan and drama producer Bethan Jones
We also co-hosted the Welsh premiere of BBC drama His Dark Materials (listen again on the link) with the cast and crew.
---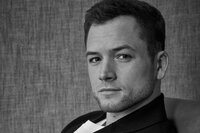 Gavin BondIn November we hosted An Audience with Taron Egerton in London
We also hosted a special screening of episode 6 of The Crown series in Caernarfon, where the episode was shot, followed by a Q&A
---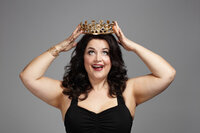 BAFTA/Jay BrooksIn December we hosted a special event celebrating comedy writing in Wales with Ruth Jones and Rob Brydon