3 December 2018
BAFTA/Iolo Penri
Another busy year for BAFTA Cymru, which saw a 12% growth in membership, new events including our first Guru Live, Cinemor cinema tipi and London Gala Dinner and so much more...we reached 7,000+ people via 119 events and welcomed 830 people and thousands more online to our Awards.
January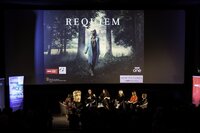 BAFTA / Lorna CabblePreview screenings for members and the public held of new projects filmed in Wales:
Britannia (Cardiff)
Craith/Hidden (Bangor)
Requiem (Cardiff) - see photos from the event here
---
February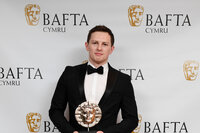 BAFTA/Polly ThomasBAFTA Kids Behind the Scenes visited Caernarfon
Jack Parry Jones, winner of our 2017 Actor Award offers two masterclasses to students in Cardiff and Swansea
---
March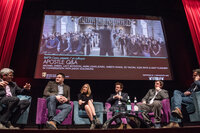 BAFTA/James GourleyWe host our first Gala Dinner at BAFTA in London, offering guests a sneak preview of new film Apostle with cast and crew and an auction of items to raise funds for our events programme.
Listen to the Apostle Q&A with Michael Sheen and other here.
Kimberley Nixon, winner of our 2017 Actress Award offers a masterclass to students in Cardiff
---
April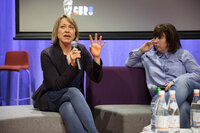 BAFTA / Mission PhotographicWe host the first Guru Live Cardiff one-day festival with 11 events, 40 speakers and 500 attendees.
Listen again to the sessions here.
We worked with Cardiff Animation Festival and Wales International Documentary Festival on events for the public and industry, adding value and extending our reach.
---
May
BAFTA/Lorna CabbleCymru Award winner Henry Hoffman offers a sold out Games Masterclass in South Wales, nominee Celyn Jones offers a masterclass and preview screening of new Wim Wenders film Submergence in North Wales.
We welcome members and their families to a preview of Show Dogs.
---
June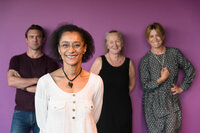 BAFTA/Mission PhotographicComedy Commissioners panel event hosted at Craft of Comedy, Llandudno and Paul Higginson from Fox discusses sales and distribution in Cardiff as part of our programme to support established industry practitioners.
We host a preview of To Provide all People, celebrating the anniversary of the establishment of the NHS, with the cast and crew.
Listen again here
---
July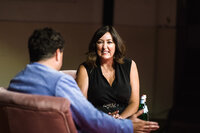 BAFTA/Polly ThomasWe host An Audience with Lynwen Brennan, CEO of Lucasfilm.
Listen again here.
The first Cinemor Cinema Tepee lands at Barry Island seafront, offering 14 free events over 3 days.
See photos here.
---
August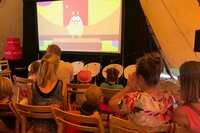 BAFTA/Hannah RaybouldThe Sinemaes Cinema tepee welcomes a record 3,300 members of the public to 8 days of screenings and Q&A discussions celebrating Welsh talent.
Watch the highlights film of the week here.
---
September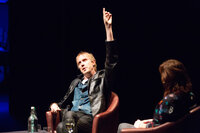 BAFTA/Iolo PenriPreview with cast and crew of new Welsh based Sky series A Discovery of Witches.
Take a look at the photos here.
An Audience with Rhys Ifans is held to a packed audience at the opening of new cinemaes in Galeri, Caernarfon. 
Take a look at the photos here.
---
October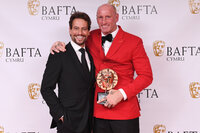 Polly Thomas/BAFTA/REX/ShutterstockThe 27th British Academy Cymru Awards welcomed 830 people to the ceremony celebrating Welsh film, games and television, with costume designer Lindy Hemming receiving the Sian Phillips Award and broadcaster Mavis Micholson receiving the Outstanding Contribution Award.
Watch the highlights from the Awards here
(and save the date now for the 2019 Awards - 13 October)
Preview of new S4C film Morfydd hosted with Q&A
---
November
BAFTA/Polly ThomasWe hosted An Audience with Luke Evans and announce the actor's new role as Ambassador for our learning and new talent work.
See photos from the event here.
---
December
Short Sighted event hosted with British Council in Cardiff offering advice to short filmmakers on festivals and audiences.
Final public event of the year hosted to celebrate Cymru Award Game winners Wales Interactive while members enjoy a special festive preview of Mary Poppins.