The recipient of BAFTA's highest honour is Scottish comedian, actor, writer and presenter Sir Billy Connolly.
Words: Neil Smith
It's lovely to be recognised and to become a jolly good fellow.
By a quirk of fate, BAFTA trophies tend to come Sir Billy Connolly's way every 10 years. It was in 2002 that the gregarious Scot received a Special Award from BAFTA, while 2012 saw him celebrated by BAFTA Scotland for his Outstanding Contribution to Film and Television. It seems fitting, then, that 2022 should bring him the BAFTA's highest honour, one he accepts with gratitude, humility and his usual good humour. "I had no idea the Fellowship existed but I'm told it's a big deal," he chuckles from his house on the Florida Keys. "So it's lovely to be recognised and to become a jolly good fellow."
Having hosted our Awards in 1995 and been nominated for one in 1998, the Big Yin is no stranger to the Academy or its activities. As he nears his 80th birthday, though, this much-loved knight of the realm is commendably clear-sighted about accolades in general. "I have a collection of shiny things that I'm very proud of," he says. "But I never set out to get them or hunt them down. I don't believe in aiming at it because if you don't get it for whatever reason you're all disappointed. Just do what you do well and you'll find yourself a fellow before you know it."
Born in a tenement flat in Glasgow in 1942, the young Billy Connolly surely had no ken that such elevation awaited him. Even back then, though, he had a talent for making people laugh, learning in the school playground it was "rather pleasant" to have an appreciative and captive audience. After leaving school at 15, he became a welder in the shipyards of the River Clyde and later helped build an oil platform in Nigeria. Yet, a passion to perform and a facility with the banjo led him to try his hand as a musician, a sideline that eventually saw him form a folk duo called The Humblebums with songwriter Gerry Rafferty.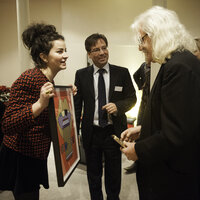 BAFTA/Andy Buchanan
The band enjoyed a measure of success, yet it was Connolly's amusing asides and humorous introductions that really tickled the punters. Small wonder, then, that when The Humblebums broke up in 1971 he chose to concentrate on comedy, combining bawdy jokes with outlandish couture that marked him out as a fresh and original talent. "I was different from everyone else which really pleased me," he says of an eye-catching wardrobe, which memorably included a set of banana boots designed by artist Edmund Smith. "I started to dress in a way that would grab people's attention and it never let me down."
Albums, tours and stage shows followed, but it took time for the comedian to make his debut in the nation's living rooms. 
"I would have loved to have been on television but they thought I was a bit outré," he remembers. "There would be stuff in the newspapers about my 'love of the lavatory', which put people off from booking me."
[Parkinson] was a huge breakthrough. It made me 10 times more famous than I was.
That all changed in 1975 when he was invited to make the first of 15 appearances on Michael Parkinson's chat show. "It was a huge breakthrough," Connolly admits. "It made me 10 times more famous than I was. I was two-thirds of the way through an English tour at the time, and the venues were half full. As soon as I went on Parky it sold out, and it stayed sold out for the rest of my career."
Another landmark appearance came in An Audience with Billy Connolly, a 1985 television special that saw a star-studded assembly reduced to tears by a now iconic routine about incontinence trousers. "That tore the arse out of the British public," says the comic. "It took the country by storm. I was talking to Peter Kay about it and he said it had made him want to be a comedian. He said it was thunder and lightning compared to everything else that was on."
By the 1990s, Connolly was everywhere – in Africa for Comic Relief, in the wilds of Canada for A Scot in the Arctic (1995) and hopscotching the globe with his popular World Tour series (1994-2005). He was also making a name for himself in the States, a role in the fifth season of Head of the Class (1990-1991) leading to him being given his own self-titled sitcom, Billy (1992).
My first film was with Richard Burton... It was the best laxative I've ever known.
Yet, there was a serious side to the UK's favourite funny-man, one that became evident as far back as 1978 and his first film role in Catholic school drama Absolution. "My first film was with Richard Burton and my first scene was with him," he explains. "It was the best laxative I've ever known."
Judi Dench would be an equally formidable co-star in 1997's Mrs Brown, in which Connolly played loyal Highland ghillie to her Queen Victoria. Before filming began on John Madden's period piece, though, Connolly made sure they were simpatico. "I wanted to meet her beforehand because I thought she wouldn't fancy working with me," he says. "But she liked me, I liked her and it's never stopped." It was for this film that Connolly received best actor nominations from BAFTA, BAFTA Scotland and the Screen Actors Guild.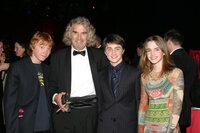 BAFTA/Sylviane Poitau
That Connolly has been able to combine his stand-up comedy and television documentaries with films as diverse as The Last Samurai (2003), Lemony Snicket's A Series Of Unfortunate Events (2004) and The Hobbit: The Battle of the Five Armies (2014) is a testament to his versatility and indefatigability. And although being diagnosed with Parkinson's disease in 2013 has obliged him to give up on performing live, this has not prevented him from making such shows as Billy Connolly: Made In Scotland (2018-2019), Billy Connolly's Great American Trail (2019) and, most recently, Billy Connolly Does... (2022). He also found time to dictate a bestselling autobiography, Billy Connolly – Windswept & Interesting (2021).
It's really important to work, to draw, to write, to walk silly for your grandchildren.
"It's really important to work, to draw, to write, to walk silly for your grandchildren," he reflects. "Doing the same thing you've always done is good for you. I don't let the Parkinson's dictate who I am – I just get on with it. I've had a very successful career and I have no regrets at all."
Neil Smith is a journalist, critic and contributing editor of Total Film magazine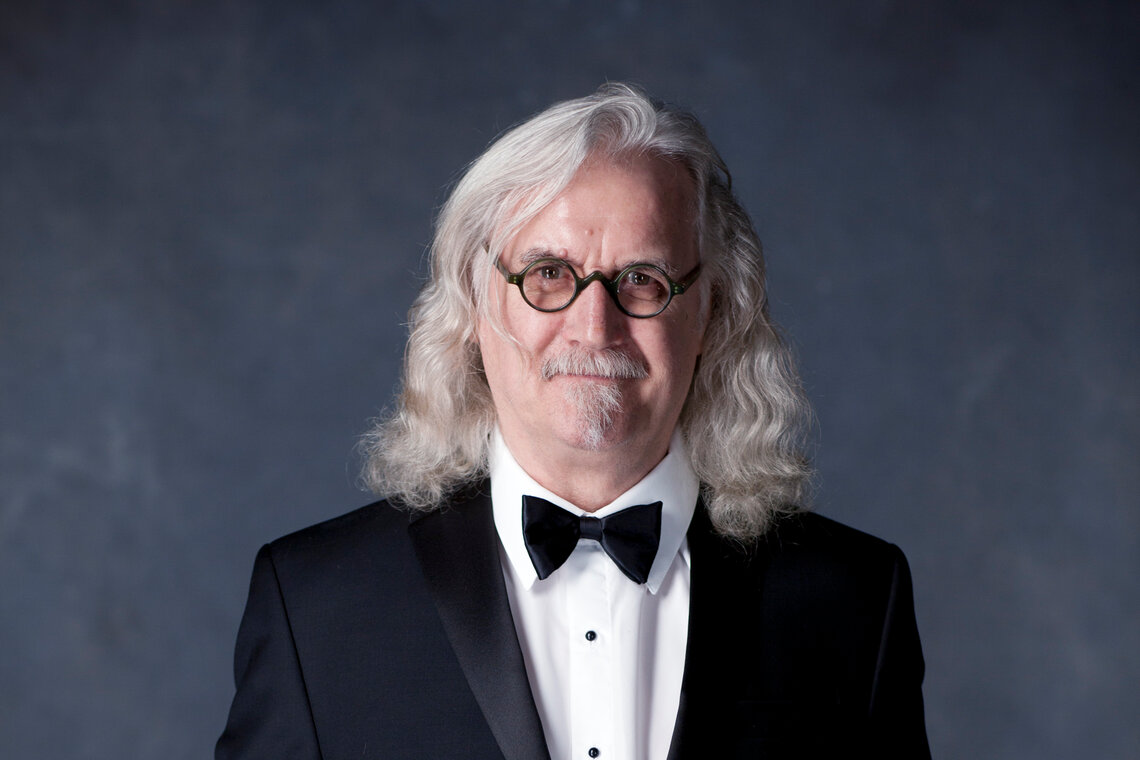 BAFTA/Sarah Dunn