24 January 2020
BAFTA/Jonny Birch
Award-winning broadcaster, conservationist, photographer and writer Chris Packham called on the television industry to make environmental productions carbon neutral within three years, to reduce television production's impact on climate change and help highlight the truth about environmental problems our planet faces during the BAFTA television lecture at London's Barbican Centre.
Over the course of his career, Packham has presented many acclaimed and popular natural history programmes, including The Really Wild Show, Springwatch and most recently 7.7 Billion People and Counting. His career has been dedicated to wildlife filmmaking, conservation and educating the public about the environment, and he has been awarded the Dilys Breese BTO Medal for "his outstanding work in promoting science to new audiences" and Wildscreen Panda Award.
Opening his lecture with a powerful dystopian story to demonstrate how climate change could shape our future, Packham then delivered a video message filmed on location in Tanzania discussing the television industry's role in climate change.
[Chris Packham's video message delivered as part of the BAFTA Television Lecture]
Packham's call to action discussed the problematic presentation of our planet as a 'paradise' in environmental and natural history TV programmes. Packham flagged how these programmes attempts at conservation had 'failed wholeheartedly', with 'between 40-50% of wildlife lost across the world', as he urged these programmes to change their presentation of the natural world.
Turning the conversation to albert, the industry-wide consortium on environmental sustainability which BAFTA chairs, Packham highlighted the positive ways albert is moving the industry in the right direction. He shared how albert 'is encouraging people to think about the impact productions are having on the environment, it's empowering them to make a difference, they've got guidelines that are set for people to use and hopefully exceed. It's a good thing". However, Packham also urged the industry to do more by setting meaningful targets to see real change, and suggested environmental television programmes set themselves a goal to be carbon neutral in three years' time.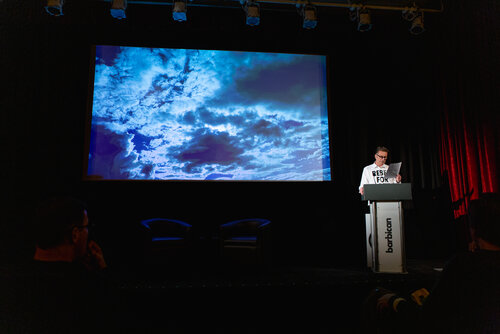 BAFTA/Jonny Birch
Touching on the subject of fake news and the dissemination of misinformation, Packham stressed the responsibility of television broadcasters to educate audiences by placing the truth at the heart of environmental journalism. Packham expressed his concern that "we've got a bit confused between impartiality and fairness, and morals and ethics. Impartiality and fairness, and right and wrong, because I was brought up to think that it was wrong to lie, and at this point in time when it comes to environmental journalism, it's dangerous to lie, because we have to tell the truth."  
However, Packham also highlighted the real-life positive impact television could have on our actions and outlook, using examples of the incredible impact of Blue Planet in bringing plastic to global attention, The One Show's campaign to bring plastic wastage in the UK to the forefront of everyone's minds and The BBC's programme about meat production.
Ending on a note of optimism, Packham added: "We need a collective force for good. We don't want division. We have to be creative and realistic in our targets. We're doing a pretty good job of ringing the bell and saying we have an emergency… The next step is to empower people to implement the solutions and we do have the solutions. That's something we need to embrace when we're making our programmes."
Listen to the full lecture below including a Q&A where Chris talks in more detail about his ideas for change