30 April 2013
BAFTA/ Jamie Simonds
In recognition of her outstanding career in television, BAFTA honoured Delia Smith CBE with a Special Award at a career retrospective tribute event on Tuesday 30 April.
Cook, author and broadcaster Delia Smith CBE was presented with a BAFTA Special Award during a tribute event on Tuesday 30 April at BAFTA's headquarters, 195 Piccadilly, in London.
The Award honours of Delia's outstanding contribution to television cookery and services to broadcasting and was presented at a BAFTA tribute event during which Delia was interviewed by Matthew Sweet. The award was presented by Victoria Wood with whom Delia co-starred in Victoria Wood's Midlife Christmas.
A Tribute To Delia Smith at BAFTA
On 30 April 2013, journalist and writer Matthew Sweet interviewed Delia Smith on stage at BAFTA for a special tribute event to celebrate her body of work in television. During the interview Delia recounted tales of her career, from starting out as a shy young woman making her first foray into broadcasting, to 40 years later when she is the UK's best-selling cookery author and one of Britain's most popular onscreen presences.
BAFTA/ Jamie SimondsThroughout the interview it was Delia's passion for education that came across most strongly. She made it her mission to teach Britain how to cook, appearing on a number of BBC programmes before being given her own show. She jumped at the opportunity to teach people through the media of television, and recounts; "When I first started, if people wanted to learn how to cook, then they had to go to night school and I thought, 'wow! why not teach them on television so that they don't have to go out on a cold, wintry night and just have it beamed into their room?' and it's a wonderful, wonderful thing to have been able to do"
"Eating and cooking good food should be part of daily life, that enriches and gives pleasure"
---
BAFTA Special Award
At the end of the interview, Delia was presented with the BAFTA Special Award in recognition of her outstanding contribution to television cookery and services to broadcasting. The award was presented by Victoria Wood who said of Delia...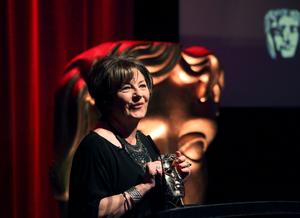 BAFTA/ Jamie Simonds"I think we can agree, that Delia Smith, with her marvelous contribution to nutrition, our happiness, to communication, to television, to democracy...she truly deserves the word national treasure, and I'm so thrilled to be able to present you tonight with your BAFTA Special Award."
Andrew Newman, Chair of BAFTA's Television Committee, said; "Delia Smith is one of the most influential voices in television cookery and has played an important role in not only pioneering the genre in television but also shaping the perception of cooking in the nation's consciousness."
I'm very proud to receive this honour from BAFTA as television broadcasting has been a huge part of my life. So thank you so much BAFTA!
---
About Delia Smith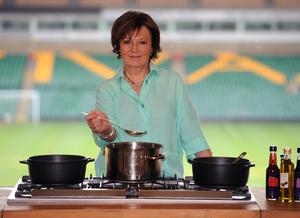 Delia Smith began her TV career in 1973 as presenter of a new BBC One series entitled Family Fare. Her first cookery book How to Cheat at Cooking had been published in 1971 and, several books later, Delia approached the BBC with the idea for their first televised cookery course. The result, Delia Smith's Cookery Course Part One, was broadcast in 1978, followed by Part Two in 1980 and Part Three in 1981.
Delia's later series for the BBC have included One is Fun in 1991, Delia's How to Cook, which ran for three series between 1998 and 2002, and Delia's Classic Christmas, which gained an audience of nearly 4 million in December 2009, and marked her first Christmas programme for nearly 20 years.
Delia Smith has sold over 21 million books worldwide. Her latest book, Delia's Cakes, was launched in February this year with an online cookery school on the Delia Online website.
---