17 May 2011
The 2011 YouTube Audience Award was won by The Only Way is Essex as voted by the British public.
The public voted in their thousands to have their say in the 2011 YouTube Audience Award. The Only Way Is Essex took away the award, beating Big Fat Gypsy Weddings, Downton Abbey, The Killing, Miranda and Sherlock.
Watch the Cast Accept their Award:
Thank you to the audience, it's delightful that you like us this much.
The Award was presented to cast and members of the ITV production team from the show who flooded excitedly onto the stage. Simon Bird, Joe Thomas and Blake Harrison, stars of the 2010 YouTube Audience Award winning show The Inbetweeners presented the Award.
On accepting the award, the production team at ITV said how delighted they were to have won and that 11 months go when they began filming the show, they never dreamed they'd be at the BAFTA Awards.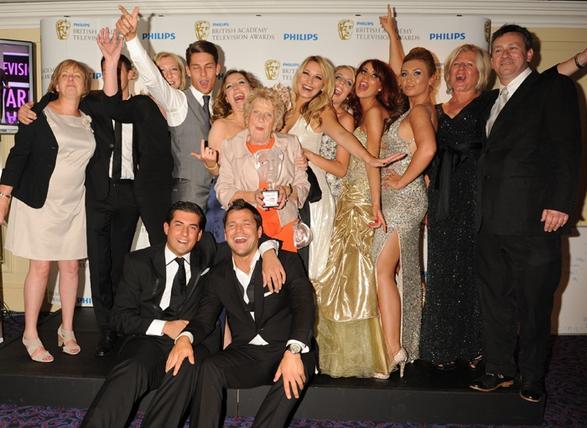 BAFTA / Richard Kendal
The Nominated Shows:
| | | |
| --- | --- | --- |
| Downton Abbey | The Killing | Miranda |
| Big Fat Gypsy Weddings | The Only Way is Essex | Sherlock |
About the YouTube Audience Award

The YouTube Audience Award is the only Award voted for by the public. It rewards the programmes that have captured audiences' imaginations and were the most watched, loved and talked about in 2010/11.
The Judging Process
A panel of entertainment journalists met on Thursday 31 March at BAFTA Headquarters. Their job was to select the six nominees from a long list comprising the highest rated shows in 2010/11 and other shows that had captured the imagination of the public. With the eligibility being between 1 March 2010 through to 28 February 2011.
The Media Panel
Andrew Billen – The Times
Emily Dean – Absolute Radio
Vicky Frost – The Guardian
Boyd Hilton – Heat Magazine
Alison Graham – Radio Times
Jane Lush – Chair, Splash Media

Neil Midgley – Daily Telegraph
Sara Nathan – Daily Mail
Andrew Pettie – The Telegraph
Colin Robertson – The Sun
Catriona Wightman – Digital Spy