28 December 2011
BAFTA/ Phil Fisk
Sir Trevor McDonald OBE was presented with the Academy Fellowship on 22 May 2011, for his highly regarded and respected career as a broadcast journalist.
Watch Sir Trevor McDonald Receive the Fellowship
More About the BAFTA Fellowship in 2011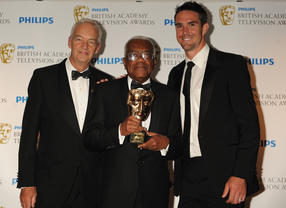 BAFTA / Richard KendalAwarded annually, the BAFTA Fellowship is the highest accolade bestowed by the Academy on an individual in recognition of their outstanding and exceptional contribution to television.
Previously honoured Fellows include Richard Curtis, David Jason, Bruce Forsyth, Sir David Frost and Dawn French and Jennifer Saunders. Last year's recipient was Melvyn Bragg.
John Willis, TV Committee Chair, said: "No journalist and presenter is better loved and respected by the audience than Sir Trevor Mcdonald. His authority and humanity has shone through all his work. He is a very worthy recipient of the Fellowship because, for many years, he has been simply the best."
This is a magnificent surprise. I am honoured and absolutely delighted to join such a distinguished list of previous recipients.

BAFTA/Steve ButlerOne of the most respected broadcasters of his generation, Sir Trevor McDonald is best known for his prolific newscasting work on ITN. Sir Trevor has anchored every ITN News programme, from News at One, News at 5.40, News at 6.30 to the flagship and BAFTA Award-winning News at Ten, and secured interviews with many of the world's highest profile dignitaries and politicians.
Born and educated in Trinidad in the West Indies, Sir Trevor's career began first as a radio reporter, news presenter and sports journalist. It was on his first major assignment that he was sent to London in 1962 to report on talks at Marlborough House, which resulted in his eventual move to the UK.
His first role on arrival was as a Producer in the BBC Overseas Regional Service at Bush House on the Aldwych, he went on to produce Current Affairs programmes for the BBC World Service and played a major part in the initiation of a number of shows such as The World Today which are still part of the BBC World Service schedule.
In the early eighties, Sir Trevor conducted the most important television interviews of the era: he was the only British television correspondent to interview Nelson Mandela following his release from prison, and later became the only British journalist to interview former Iraqi President, Saddam Hussein.
In the ensuing years at ITN, Sir Trevor's interviews with Libyan President Colonel Gaddafi, former PLO Leader Yasser Arafat, President Bill Clinton and former Secretary of State Colin Powell made the headlines and turned the news programme into an appointment to view.
From 1999 to December 2007, Sir Trevor presented ITV's bi-weekly flagship current affairs programme, Tonight, during which time he interviewed President Bush on two occasions and political figures including Tony Blair, Condoleezza Rice and Hilary Clinton.
Sir Trevor's professional success and dedication to newscasting was recognised in 1992, when he was awarded the OBE, which was followed by a Knighthood in 1999.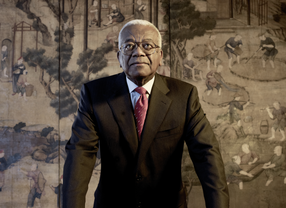 BAFTA/ Phil Fisk In 2005, Sir Trevor became the first sole presenter of News at Ten and had, by then, received more awards than any other newscaster in Britain, including BAFTA's Richard Dimbleby Award in 1998 for the year's most important personal contribution on the screen in factual television. He was named Newscaster of the Year in 1993, 1997 and 1999 and has recently topped the poll as the most authoritative and trustworthy news presenter.
Most recently, Sir Trevor has presented the documentaries Secret Caribbean and Secret Mediterranean for ITV and is about to start filming a new documentary for ITV in America.