28 December 2011
BAFTA / Richard Kendal
Comedy duo Dawn French and Jennifer Saunders were presented with the Academy Fellowship at the British Academy Television Awards on Sunday 26 April 2009.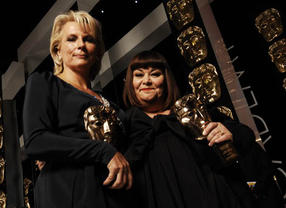 BAFTA / Richard KendalThe multi-award-winning pair met in 1978 whilst at the Central School of Speech and Drama. Although initially, they each found the other "aloof", they then started to collaborate and first came to the public's attention in the early 1980's when they performed at the London Club The Comic Strip.
Performing on British television for the first time in 1982 on The Comic Strip Presents, Jennifer and Dawn were meanwhile establishing themselves on the underground comedy scene, working with other up-and-coming comedians such as Adrian Edmondson.
Watch the Pair Accept the Award
French & Saunders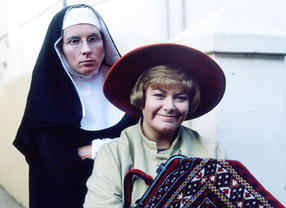 BBCThe duo were launched into the public eye in 1987 when they embarked on their programme French & Saunders which ran for more than six seasons, ending in late 2007. Beginning humbly, but soon establishing itself as a fresh and dynamic new genre of show, spoofing all those around it, the pair were making their mark on the comedy world for both their writing and performing skills.
The show, now widely seen as ground-breaking for its satires of pop culture, celebrities, Art and films, has paved the way for comedians over the years and cemented the couple as comedy icons, respected by their fans and peers alike.
French & Saunders have also achieved phenomenal success individually, with Jennifer winning an Emmy and a BAFTA for writing and playing the part of Edina Monsoon in Absolutely Fabulous. Most recently she has won acclaim for writing and starring in another two sitcoms, Jam and Jerusalem and The Life and Times of Vivienne Vyle.
Dawn French is most well known for her role as the lovable vicar Geraldine Granger in the popular comedy The Vicar of Dibley and has recently moved into films, by voicing the character of Mrs Beaver in The Chronicles of Narnia: The Lion, the Witch and the Wardrobe.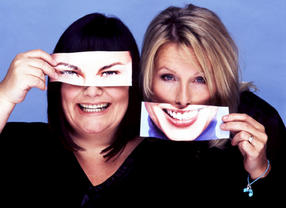 BBCThe pair have been firm supporters of Comic Relief, producing some of the most memorable sketches from over the years, most notably for Dawn's kiss with Hugh Grant and this year's comic take on Mamma Mia.
Their BAFTA Fellowship will mark the end of an era; their last ever concert and last time performing as a double act was Still Alive, which ran until the end of 2008.
It is only the second time that the Academy has presented Fellowship to a double act after Eric Morecambe and Ernie Wise were awarded the honour in 1999.
Awards History
DAWN FRENCH
1988 - Light Entertainment Performance - FRENCH & SAUNDERS (Nominated)
1990 - Light Entertainment Performance - FRENCH & SAUNDERS (Nominated)
1997 - Comedy Performance - THE VICAR OF DIBLEY (Nominated)
1999 - Comedy Performance - THE VICAR OF DIBLEY (Nominated)
2000 - Comedy Performance - THE VICAR OF DIBLEY (Nominated)
2006 - Comedy Performance - THE VICAR OF DIBLEY (Nominated)
JENNIFER SAUNDERS
1992 - Comedy Programme or Series - ABSOLUTELY FABULOUS (Won)
1992 - Light Entertainment Performance - ABSOLUTELY FABULOUS (Nominated)
1994 - Comedy Programme or Series - ABSOLUTELY FABULOUS (Nominated)
1994 - Comedy Programme or Series - ABSOLUTELY FABULOUS (Nominated)
1995 - Comedy Programme or Series - ABSOLUTELY FABULOUS (Nominated)
1996 - Comedy Programme or Series - ABSOLUTELY FABULOUS (Nominated)