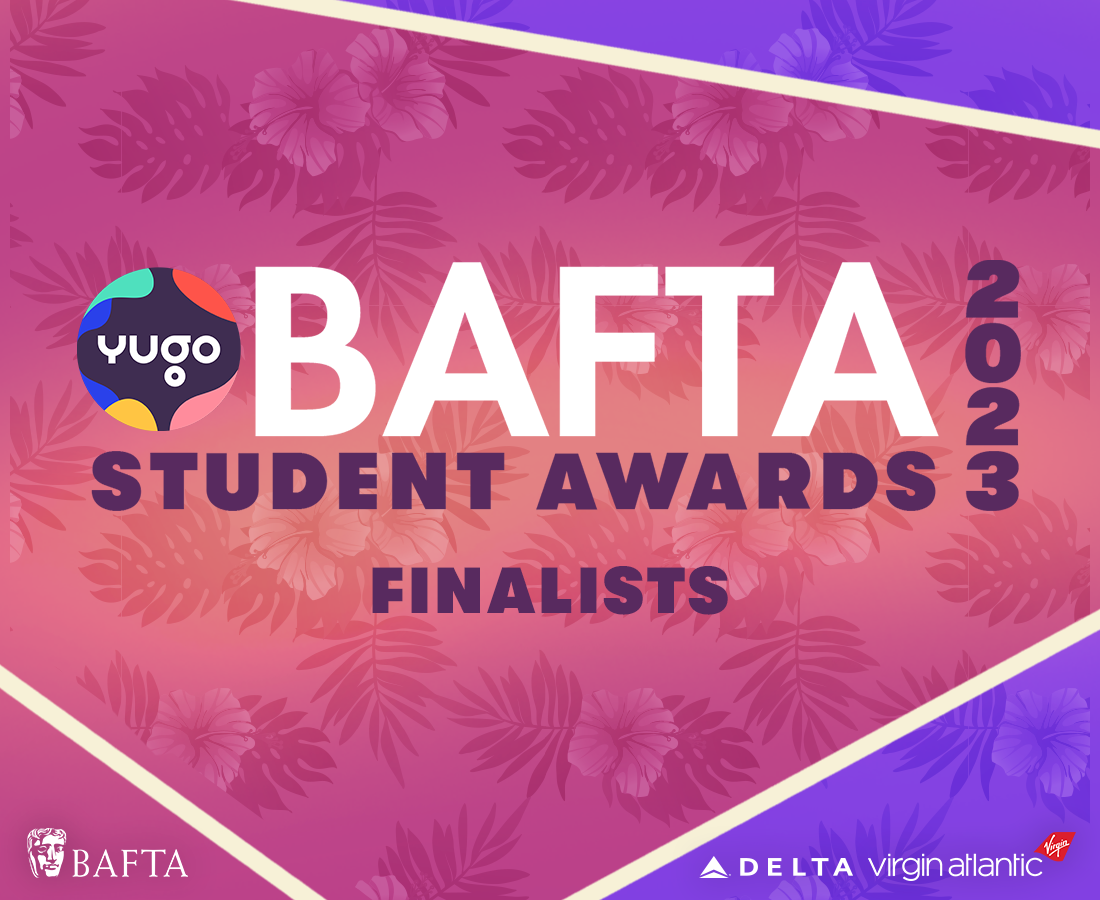 Today we announce the 15 finalists for the 2023 Yugo BAFTA Student Awards. This year, a record-breaking 754 submissions from 103 schools across 30 countries, which included projects across narrative film, animation, documentary, 360 videos, Experiential VR, VR Games and PC Games.  
The Yugo BAFTA Student Awards will kick off its week of programming on Monday, July 24 with a Finalist Welcome Lunch, followed by Membership Mixers and screenings of the Finalist films in New York and Los Angeles. 
Winners will be announced at the Yugo BAFTA Student Awards finale ceremony in Los Angeles on Thursday, July 27. 
Universities and colleges worldwide were invited to submit their best projects for consideration for six categories – the BAFTA Student Film Award for Animation, the BAFTA Student Film Award for Documentary, the BAFTA Student Film Award for Live Action, the BAFTA Student Award for Games, the BAFTA Student Award for Immersive, and the Special Jury Prize. 
 
The finalists were chosen from within the previously announced 79 shortlisted films. All directors on the shortlist are given the opportunity to apply for and join BAFTA's New Talent programs, which includes year-round access to online events. 
The Student Awards are a key component of BAFTA's extensive Learning, Inclusion and Talent programs, created to ensure that talented individuals from across the globe are offered a clear pathway to careers in the entertainment industry, uninhibited by background, demographics or personal circumstance.  
We thank our great friends and Title Sponsor at Yugo, as well as our Official Airline Partners at Delta, and Virgin Atlantic for their ongoing support.
The finalist projects are (listed alphabetically by title): 
ANIMATION
Electra
Daria Kashcheeva
Film and TV School of the Academy of Performing Arts in Prague, Czech Republic
Thaba Ye
Daria Batueva, Preetam Dhar, Merel Hamers, Hannah Judd, Mogau Kekana, Leroy Le Roux
Gobelins, France
The Tornado Outside
Maria Tomazou
National Film and Television School, United Kingdom
DOCUMENTARY
Happy
Laura Rindlisbacher
National Film and Television School, United Kingdom
I Am More Dangerous Dead
Majiye Uchibeke
University of Southern California, United States
The Road Bad & The Place Dark
Borja Larrondo, Miguel Angel Viñas
Institute of Art, Design and Technology, Ireland
LIVE ACTION
ISTINA (Truth)
Tamara Denić
Hamburg Media School, Germany
The Taster
Sophia Bierend
Film University Babelsberg KONRAD WOLF, Germany
WE WERE MEANT TO
Tari Wariebi
American Film Institute, United States
GAMES
Crab Rhapsody (Vol.1)
Albert You Liang
University of Southern California, United States
Eros Xavier's Love Solutions
Rafif Kalantan
National Film and Television School, United Kingdom
Gévaudan 1851
Guillaume Leclercq
Pôle 3D, France
IMMERSIVE
A Passage
Maximilian Villwock
Film University Babelsberg KONRAD WOLF, Germany
Body of Mine
Cameron Kostopoulos
University of Southern California, United States
Gene's Place VR
Oscar Durand, Tatiana Trebisacci, Francisco Navas
New York University, United States