In 2013 11 talented individuals were awarded bursaries by BAFTA as part of our programme of UK scholarships.
BAFTA Scholarship Programme in 2013
11 UK students received scholarships as part of the 2013 BAFTA Scholarship Programme, which assists talented people in need of financial support to study a post-graduate course in film, television or games.
Of the students selected, three received the first ever Prince William Scholarships in film, television and games supported by BAFTA and Warner Bros. These new scholarships were awarded in the name of HRH The Duke of Cambridge in his role as President of BAFTA.
Prince William Scholars in 2013:
Other new BAFTA Scholars in 2013:
Continuing Scholar in 2013:
About the Scholarships
Each BAFTA Scholar received up to £10,000 towards their course fees for a year, mentoring support from BAFTA members, and free access to BAFTA events around the UK. Read the full press release.
The 2013 BAFTA Scholarship Programme was made possible by the generous support of the Academy Circle, Kevin Burke, the Edwin Fox Foundation, the Galashan Trust, Evelina Girling, the Lowy Mitchell Foundation, Linda Shire, Rebecca Wang and Warner Bros.
---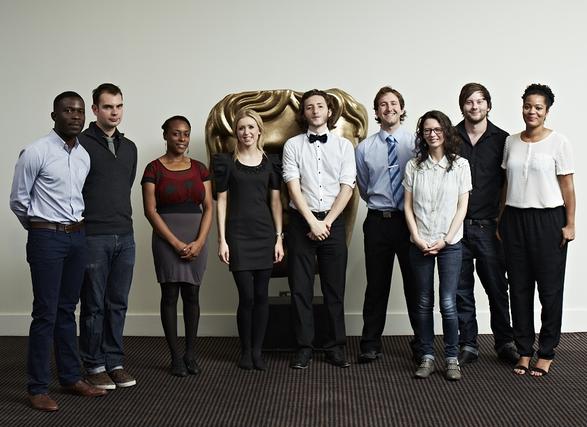 BAFTA Scholars Reception - Autumn 2013
---
Meet the Scholars
Prince William Scholarships in Film, Television and Games, supported by BAFTA and Warner Bros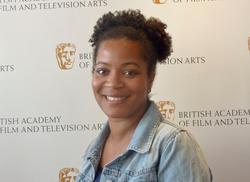 Rienkje Attoh
Rienkje Attoh from Crystal Palace in London was awarded £10,000 towards the MA Producing at the National Film and Television School (NFTS). Rienkje, aged 31, has a background in radio production and previously studied English at Goldsmiths University and Broadcast Journalism at University College Falmouth.
Rienkje says: "This is an organisation that wholeheartedly supports creativity and the nurturing of talented individuals. I feel that my skills, achievements and potential have been acknowledged and encouraged. This scholarship will not only help me financially but will give me the opportunity to meet and learn from some of the people I admire most in Film and Television. I am so grateful for the award and incredibly excited about my future."
---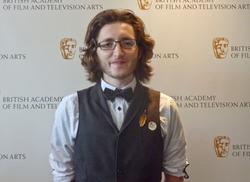 Sam Browne
Sam Browne from Ibstone in Buckinghamshire was awarded £10,000 towards the MA Games Design and Development at NFTS. Sam, aged 24, has a degree in Computer Games Design from the University of South Wales.
Sam says: "Being awarded the BAFTA scholarship has left me humbled and excited all at once. I have been given a unique opportunity with this scholarship, enabling me to keep working, building and creating the kind of games I'm really passionate about. It hasn't just opened doors for me, it's opened the door for me and I'm really eager to explore the resources that are now available."
---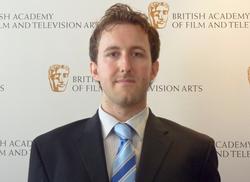 Sam Hughes
Sam Hughes from Hockley in Essex was awarded £5,900 for the MA in Postproduction with Sound Design at the University of York. Sam, aged 25, has a degree in Music Technology and Audio Systems from the University of Huddersfield.
Sam says: "It is incredibly overwhelming and exciting to be awarded this BAFTA Scholarship. The amazing amount of opportunities that are now provided with the support from BAFTA and Warner Bros will enable me to hone my skills and build a contact base that will further my career and knowledge in a field that I love. There are now so many doors open for me now that would other-wise have been unavailable. I am immensely grateful to have been given this chance by BAFTA and Warner Bros to prove myself in the world of Post-Production and Sound Design."
---
Other new BAFTA Scholars in 2013
Mawusime Blewuada
Mawusime Blewuada from Thornton Heath in London was awarded £7,500 to study the MA 3D Computer Animation at Bournemouth University. Mawusime, aged 29, has a degree in Computer Science with Image and Multimedia Systems from the University of Southampton.
Mawusime says: "I am absolutely over the moon and feel incredibly honoured and grateful to the panel to have been chosen. The funding means I will be able to completely focus on studying and course projects without worrying about financing the course. In addition to this, the industry mentor and support will be a great professional asset that I intend to make the most of."
---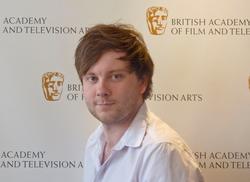 Aaron Diebelius
Aaron Diebelius from Colchester in Essex was awarded £10,000 towards the MA Screenwriting at the London Film School. Aaron, aged 22, previously gained an FdA Video Production from the University of Essex.
Aaron says: "This scholarship means the absolute world to me. It proves to me that no what advantages or disadvantages people are given hard work truly does pay off."
---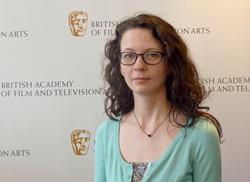 Rhiannon Evans
Rhiannon Evans from Caerphilly, south Wales was awarded £10,000 towards the MA Directing Animation at NFTS. Rhiannon, aged 33, has a degree in Animation from the University of Wales, Newport.
Rhiannon says: "It's a privilege to have BAFTA invest in me at this stage in my career. I now feel my highest ambitions are achievable with the support provided by this scholarship and that I have access to a network of experience to help me become a successful member of the British film and television industry."
Rhiannon was mentored by Morph creator Peter Lord
---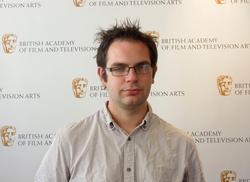 Steven Ferguson
Steven Ferguson from Cumbernauld in Lanarkshire was awarded £10,000 towards the MA Cinematography at NFTS. Steven, aged 25, has a degree in Digital Film and Television from the Royal Scottish Academy of Music and Drama (now the Royal Conservatoire of Scotland).
Steven says: "Being awarded a BAFTA scholarship is a tremendous honour - growing up BAFTA seemed to me to be synonymous with a world of film I dreamt of being part of but never knew how I could. The BAFTA scholarship will allow me to finish my studies at the National Film and Television school by alleviating the financial burden of fees and hopefully provide me a bridge into the film industry as a cinematographer."
---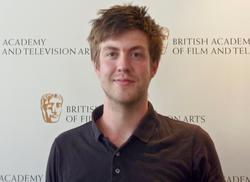 Ian Forbes
Ian Forbes from Dundee was awarded £10,000 for the MA Cinematography at NFTS. Ian, aged 25, has a degree in Time Based Art from Duncan of Jordanstone College of Art & Design, University of Dundee.
Ian says: "I feel incredibly happy to be selected for the BAFTA Scholarship. The scholarship ensures that I can continue my course in Cinematography at the NFTS, where I am very pleased to be studying. I am looking forward to developing further with my BAFTA mentor. I am over the moon!"
---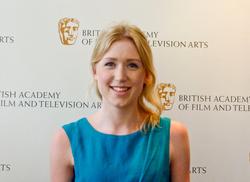 Eleanor Pitt
Eleanor Pitt from Stroud in Gloucestershire was awarded £9,000 to study for the MA Television Journalism at City University. Eleanor, aged 22, has an English degree from the University of Birmingham.
Eleanor says: "I am immensely grateful to BAFTA for awarding me a Scholarship; it means I can learn the skills to become a television journalist. Studying at City University was an unlikely prospect without this Scholarship, but now I look forward to entering the industry with experiences from the BAFTA Programme that I couldn't have imagined having access to before. This is an incredibly exciting time and I cannot wait to start my career thanks to the fantastic support of BAFTA."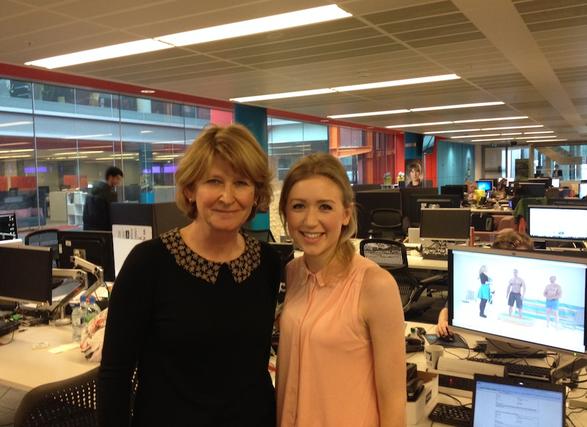 Ellie was mentored by journalist Lisa Auden
---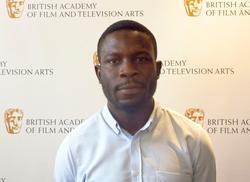 Folarin Sagaya
Folarin Sagaya from Barnet in London was awarded £7,760 for the MA in Television Journalism at Goldsmiths, University of London. Folarin, aged 32, has previously studied Biomedical Sciences at the University of Manchester, and Business and Information Technology at Aston University.
Folarin says: "It feels incredible to have been awarded a BAFTA Scholarship. I am not someone that won or was awarded things growing up so for me it is very special, especially coming from such an institution. BAFTA for me is about community, about following your dreams, and knowing that whatever your situation is, there are people out there like you who will believe in you. This scholarship on the practical side means that I can finally pursue the vision I have for myself, in terms of the course of study and the career I want to embark on. But perhaps more than that, is a sense of validation and acceptance that I am finally on the right path."
---
Continuing Scholar in 2013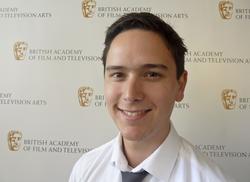 Luke Stapleton
Luke Stapleton, from Bebington in Merseyside, received a BAFTA Scholarship in 2012 for the first year of his MA Screenwriting at Liverpool John Moores University. He will received a further £2,300 to continue onto the second year of the two-year course.
---