5 February 2019

With entries to the 2019 edition of BFI NETWORK @ Flare's LBGTQ+ filmmaker mentor programme in partnership with BAFTA closing on 18 February, hear from Amrou Al-Kadhi on how the programme has supported their development in the film industry.

Find out more and apply to the scheme here.
[The programme] gave me confidence, fired up my passions, put me in front of the right people, and offered me connections that have transformed my career. It is an invaluable beacon of support for emerging LGBTQ+ filmmakers.
In 2017, I was lucky enough to be selected for the BFI NETWORK @ Flare mentorship programme, a scheme made possible for LGBTQ+ filmmakers through its partnership with BAFTA. Nearly two years on from my placement, and the instrumental things I learnt, the relationships I formed and the experiences I gained have had a lasting effect on my life. In fact, I have the programme to thank for what have been triumphs in my career ever since my time on it.
Supported by National Lottery funding through BFI NETWORK since 2017 (and Creative Skillset in 2015-2016), the opportunities offered to LGBTQ+ filmmakers through the scheme are unparalleled. After I was awarded my place, I was paired up with my mentor Russell T. Davies, a screenwriter who is nothing short of a hero to me, whose landmark TV Series Queer as Folk inspired me to believe I had a voice in this industry. As a filmmaker early in their career, having the support of someone so experienced made me feel like I had a champion, and it motivated me to push myself in an industry that can sometimes feel like an uphill struggle.  I was paired with Russell in the nascent stages of my screenwriting career, and he gave me invaluable script notes on my early writing commissions – notes so direct, detailed, inspiring and genuinely selfless that they turned my scripts completely around. It is hard to get this level of unbiased feedback in an industry where everyone is so busy with their own projects.
Writer/Performer/Director Desiree Akhavan acted as a mentor to filmmakers in both 2016 and 2017, and said this of the process: "if we don't enable each other, we'll never raise the bar for queer cinema." These thoughts were echoed by fellow mentor Mike Goodridge (former CEO of Protagonist Pictures), who said, "I felt delighted to be in a programme which left me confident that more of our stories would come to screen." Of her experience with Desiree Akhavan, mentee of 2017, Georgia Oakley, said, "over the past year Desiree has helped me make career defining decisions across all aspects of what I do from script feedback to strategy as well as giving me more confidence to believe in my own decision-making ability. Directing can be a somewhat lonely pastime, but having the support of Desiree and the BFI has changed that."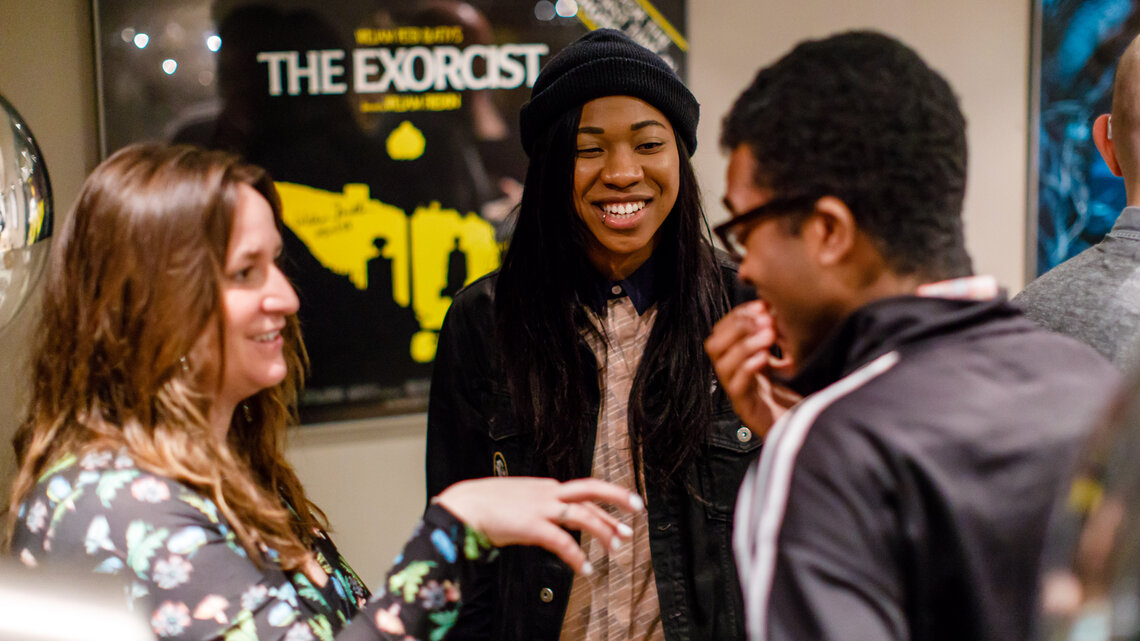 Support and collaboration is what the Flare mentorship is all about. Out of all creative mediums, filmmaking is built on collaboration more than any other. Creating a film not only requires a great deal of different talents to come together – from writers, directors and producers to cinematographers, editors and sound designers – but the development of a project and getting it through to production and then to release needs vast networks. Such networks are precisely what this mentorship offers its filmmakers access to. During my year, I bonded with fellow mentee Savannah James-Bayly, a producer of monumental vision and talents. The creative relationship we fostered led us to creating 4 short films in 2 years, and we now have a feature film in development with Film4, Layla. This mentorship programme provides an environment where LGBTQ+ filmmakers can organically develop relationships, which in many instances leads to prosperous creative partnerships. Mentee of 2017, director Harry Lighton, collaborated with producer Rachelle Constant (mentee of 2015) on his BAFTA-nominated short film Wren Boys, which played at prestigious festivals internationally, including Sundance Film Festival and BFI London Film Festival.
During the 10 days at the BFI Flare Festival, selected filmmakers have their work and ideas put in front of key decision makers in the industry – from the development and production teams at the BFI, to producers and commissioners. My short film Victoria Sin, which significantly pushed my career forward, is down to the fact that I met the NOWNESS team through a BFI NETWORK event. A whole cohort of the Flare mentees have since enjoyed successes due to similar connections. Both Rachelle Constant and Georgia Oakley have films in development through the iFeatures scheme, we also have 2016 mentee Siri Rodnes' feature to look forward to, Nine Lives, which goes into production this year, and Dionne Edwards is taking her feature script Pretty Red Dress to the Sundance Screenwriters Lab. Kayleigh Llewellyn, mentee of 2016, found many doors were opened through her mentor Abi Morgan – "As a mentor Abi was so incredibly generous with her time and expertise. She gave me invaluable professional advice, opened up her network and connections, and continues to do so long after the mentorship finished. Abi has also commissioned a new comedy drama series from me, 355 DAYS, that is being developed by her company, Little Chick, and 42 Productions. I'm excited to collaborate on this next project with her."
Being a filmmaker is often a lonely pursuit, especially when dealing with countless rejections. The Flare Mentorship programme is the most wonderful antidote to the hardships, and part of its magic was the way it completely invigorated me to keep going and to have faith in why I wanted to make film. Instead of panicking in solitude, every day we got to hear from filmmakers who had their work at the festival, and to rejoice in the power of film. Mentee of 2018 Sorcha Bacon (lead producer of Wren Boys), explained, "one of my absolute production heroes is Elizabeth Karlsen. Hearing from her about her journey into production was a total inspiration and gave me confidence that there is no straightforward way to get to anywhere, as I move from short filmmaking to features." Matthew Jacobs Morgan, also a 2018 mentee, found meeting Robin Campillo, writer/director of 120 BPM, similarly inspiring – "we had just watched the film the day before, and I think all of us were reeling from how fantastic it was, and how moved we were by it. Unlike a public Q&A, we were able to delve into the nitty gritty - an opportunity we would not have been afforded if it wasn't for the programme." Despite all the difficulties that come with being a filmmaker, the mentorship programme encourages you to keep going, to keep being inspired, and to trust that the power of film is worth it.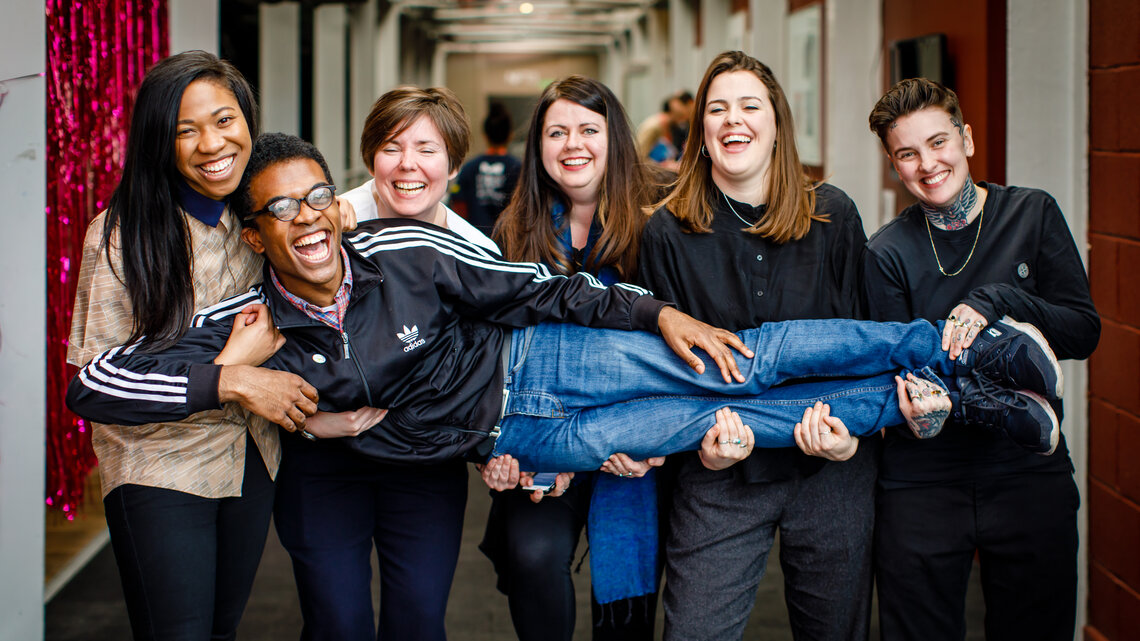 I am deeply indebted to BFI Flare, BAFTA and BFI NETWORK for my time during the mentorship. It gave me confidence, fired up my passions, put me in front of the right people, and offered me connections that have transformed my career. It is an invaluable beacon of support for emerging LGBTQ+ filmmakers looking to make that next step in their career, and I couldn't recommend the mentorship scheme more highly.
-Amrou Al-Kadhi, BFI NETWORK @ Flare mentee in 2017