31 October 2012
BAFTA surveyed young people and a selection of our membership in order to look closely at their career pathways into the film, TV and games industries.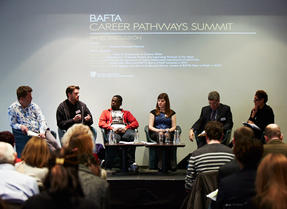 BAFTA recently surveyed 2,077 young people aged 16-24, looking at their career decision-making process and influences, and 200 BAFTA members looking at their own road to success and their advice for young people.
The research report revealed that young people are needlessly being discouraged from pursuing a career in film, television or games – with talented young people from lower socio-economic backgrounds and women at particular risk of being lost to these industries.
We have published a short report based on this research, which sets out the survey findings, their implications for the film, television and games industries, and BAFTA's role in helping to address the issues. The findings were published on 1 November 2012, the first anniversary of the BAFTA Guru learning channel, which provides filmed interviews, articles and podcasts with industry professionals to help young people and career starters gain more knowledge about their chosen craft area.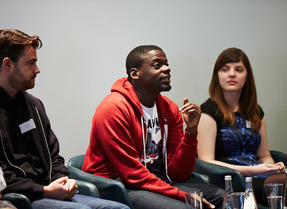 The findings were discussed at a summit hosted by BAFTA on Thursday 15 November which was attended by professionals from across the film, television and games industries, as well as careers advisers and young people. The event opened with a panel discussion to bring to life the key findings and was followed by breakout group discussions around specific challenges. A podcast of the panel discussion and the introductory film shown at the summit can be found below.
For more information, read the full press release:
---
BAFTA Career Pathways working groups
BAFTA is convening the following four working groups to address the issues raised in the Career Pathways report and at the Summit which was held in November. In line with BAFTA's mission to provide opportunities to learn first-hand from leading practitioners, the working groups will give consideration to how industry professionals can be engaged to share their knowledge and experience with young people. Working groups 1, 2 and 3 will cover film, television and games.
Working group 1 - Outreach to schools (primary and secondary), colleges, universities and careers advisers.
Working group 2 - Online aggregation of careers advice and guidance. This includes skills requirements, qualifications and training, work placements and initiatives.
Working group 3 - Industry recruitment practices, including work experience and internships.
Working group 4 - Girls into games: enabling more females to consider a career in the games industry.
If you would like to put forward your comments and/or suggestions for the working groups to consider please email [email protected] stating your full name, job title and organisation.
---
www.bafta.org/sites/default/files/uploads/careersurveybookletv9print.pdf
---
Listen to the Career Pathways Summit panel discussion
---
Watch the introductory video shown at the Career Pathways Summit