1 December 2009
The 2009 winner Noel Clarke is joined by film luminaries on the jury for Orange's esteemed award.
Today Noel Clarke, winner of the Orange Rising Star Award in 2009, joined fellow jurors to cast their final votes for the 2010 Orange Rising Star Award nominee list. Orange's accolade for up and coming talent is the only award at the Orange British Academy Film Awards to be voted for by the public. Voting opens when nominees are announced on 12 January 2010 via www.orange.co.uk/bafta
Now in its fifth year, the award has set a standard for identifying talent destined for super stardom. Previous winners include James McAvoy in 2006, Eva Green in 2007, Shia LaBeouf in 2008 and Noel Clarke in 2009. Potential Rising Stars were proposed by BAFTA members and film industry insiders to create an initial long list of names. The jury, consisting of actors, casting directors, producers, media representatives and BAFTA Film Committee members, then selects the final five nominees via a secret ballot.
This year's Orange Rising Star Award jury is made up of: Noel Clarke (actor & director), Pippa Harris (producer), Jason Isaacs (actor), Fiona Weir (casting director), Charles Gant (film journalist), Simon Morris (LoveFilm), Kate Lee (Freud Communications), Melvin Odoom (KISS 100), Nev Pierce (Empire), Hannah Marriott (Grazia), Larushka Ivan Zadeh (Metro) and Jason Solomons (The Observer). The jury was chaired by David Parfitt (producer, Chairman of BAFTA).
The Orange Rising Star Award honours a young actor or actress whose talent has inspired popular acclaim from the British public. BAFTA members and the film industry were invited to recommend up and coming performers who have appeared in several feature films, with at least one of those films released in the current awards year, 1 January to 31 December 2009, with an extension period from 1 January to 19 February 2010.
The Orange Rising Star Award was created in honour of Mary Selway, the highly respected BAFTA-winning casting director whose career spanned three decades and over ninety films before she died in 2004. She worked with notable directors such as Steven Spielberg, Roman Polanski, Clint Eastwood and Ridley Scott, contributing to the creation of some of the silver screen's most memorable characters.
The final five nominees will be announced on 12 January 2010 at a press event at BAFTA HQ. Details of the announcement will be sent out in the weeks leading up to the event.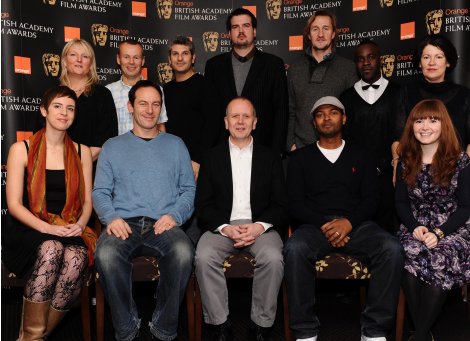 The full list of jury members:
Nev Pierce (Editor-at-Large: Empire)
Jason Isaacs (actor: Harry Potter franchise)
Jury Chair: David Parfitt (producer: Shakespeare in Love, A Bunch of Amateurs and Chairman of BAFTA)
Noel Clarke (actor & director: Adulthood)
Pippa Harris (producer: Revolutionary Road)
Fiona Weir (casting director: Harry Potter and the Half-Blood Prince)
Kate Lee (director: Freud Communications)
Simon Morris (LoveFilm)
Hannah Marriott (Entertainment Writer: Grazia)
Jason Solomons (Film Critic: The Observer)
Melvin Odoom (Presenter: KISS 100)
Larushka Ivan Zadeh (Film Editor: Metro)
Charles Gant (film journalist)
For more information please contact:
Holly Ferguson or Claire Timlett at M&C Saatchi Sport & Entertainment:
Tel: 0207 544 3855/4580
Email: [email protected] or [email protected]
About Orange
Orange is the key brand of the France Telecom Group, one of the world's leading telecommunications operators. With 126 million customers, the Orange brand now covers Internet, television and mobile services in the majority of countries where the Group operates.
In the UK, Orange provides high quality GSM coverage to 99% of the UK population, and 3G coverage to more than 93%. At the end of September 2009, Orange had more than 17 million customers in the UK - 16.11 million active mobile customers and approximately 900,000 fixed broadband customers.
At the end of 2008, France Telecom had consolidated sales of 53.5 billion euros (38.1 billion euros for the first nine months of 2009) and at 30 September 2009, the Group had a customer base of almost 190 million customers in 32 countries. These include 128.8 million mobile customers and 13.4 million broadband Internet (ADSL) customers worldwide. Orange is the number three mobile operator and the number two provider of broadband Internet services in Europe and, under the brand Orange Business Services, is one of the world leaders in providing telecommunication services to multinational companies.
Orange and any other Orange product or service names included in this material are trade marks of Orange Personal Communications Services Limited.
For more information please call the Orange Press Office 0870 3731500, or visit www.orange.co.uk/newsroom
About BAFTA
The British Academy of Film and Television Arts exists to support, develop and promote the art forms of the moving image, by identifying and rewarding excellence, inspiring practitioners and benefiting the viewing public.