19 October 2016

Other presenters confirmed include Tom Hanks, Brie Larson, Jake Gyllenhaal and Christopher Guest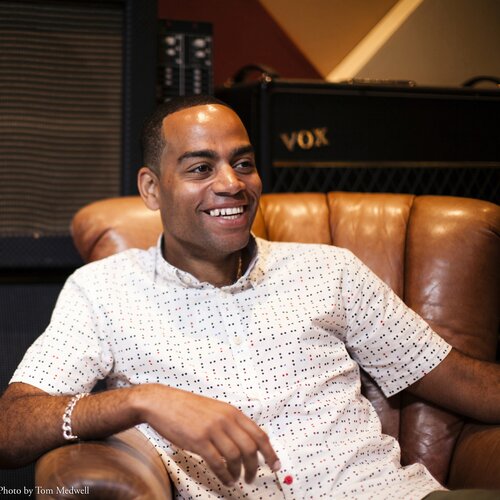 Tom MedwellBritish actor, writer, and comedian Ben "Doc Brown" Smith will host the 2016 AMD British Academy Britannia Awards presented by Jaguar Land Rover and American Airlines.  Joining him on stage will be superstars of stage and screen Tom Hanks, Brie Larson, Jake Gyllenhaal, Christopher Guest, and more, who will act as presenters throughout the evening. 
For the second consecutive year the show will air on cable network Pop.  Viewers in the U.S. can tune-in to the ceremony on Wednesday, November 2 at 8pm ET/PT.
The annual gala celebration will take place on Friday, October 28, 2016 at the Beverly Hilton Hotel. As previously announced, Ang Lee will be honored with the John Schlesinger Britannia Award for Excellence in Directing presented by the GREAT Britain campaign, Samuel L. Jackson will be honored with the Albert R. Broccoli Britannia Award for Worldwide Contribution to Entertainment, Ricky Gervais will be honored with the Charlie Chaplin Britannia Award for Excellence in Comedy, Ewan McGregor will be honored with the Britannia Humanitarian Award, Felicity Jones will be honored with the British Artist of the Year presented by Burberry, and Jodie Foster will be honoured with the Stanley Kubrick Britannia Award for Excellence in Film presented by the Arya Group.  World-renowned television and event production company Done + Dusted will produce the ceremony.
The British Academy Britannia Awards is BAFTA's big night out in Hollywood, where Brits and anglophiles alike come together in celebration of exceptional individuals who have dedicated their careers to advancing the art forms of the moving image in the US, UK and beyond. Known to be an enjoyable evening that captures a unique blend of sincerity and British irreverence, the evening also serves to celebrate the long-standing collaboration between the British and American industries. The Britannia Awards are BAFTA Los Angeles' highest accolades, recognizing both outstanding British talent, and exceptional international talent by virtue of their strong connection to the British industry through their body of work. Proceeds from the event support BAFTA Los Angeles' on-going education, scholarship, community outreach and archival projects.
Ben Bailey Smith is an actor and writer, his alter ego Doc Brown is a stand-up comedian, a rapper and a writer.  Doc Brown initially made his name as a rapper, touring with DJ/producer Mark Ronson 2006-2007. He's been performing stand-up comedy since 2008.  He will also be hosting the British Academy Children's Awards in London next month; the news was revealed earlier today as part of BAFTA's nominations announcement for the Awards.
Since 2009 Doc has performed stand-up at the Edinburgh Fringe and around the globe, including Australia and Canada's Just For Laughs Festival, as well as touring the UK several times, most recently with his sellout tour The Weird Way Round in 2014/15.
In 2013 Doc starred in the YouTube sensation Equality Street, which he co-wrote and performed alongside Ricky Gervais, for Comic Relief.  He regularly stars in the televised Comic Relief show and was one of the few comedians performing live on Red Nose Day last year.
Ben Bailey Smith recently starred as Dom Johnson in the acclaimed Ricky Gervais feature film Life On The Road.
His other recent acting appearances include: the starring role in hit itv series Law and Order, C4's The Inbetweeners and Derek, BBC's Hunted, Rev, Miranda, as well as ITV's Midsomer Murders and Brief Encounters.
Doc has performed on BBC's Russell Howard's Good News, The John Bishop Show and Live At The Apollo and he also starred in and wrote for the cult CBBC show Strange Hill High with Richard Ayoade. He also created and co-wrote the BAFTA winning Four O'Clock Club on CBBC.  Recently he also appeared in the C4 Roald Dahl's Most Marvellous Book.
In January this year Ben's children's book I Am Bear was published by Walker Books,
The 2015 ceremony took place in October at the Beverly Hilton Hotel. Harrison Ford received the Albert R. Broccoli Britannia Award for Worldwide Contribution to Entertainment, Orlando Bloom received the Britannia Humanitarian Award presented by the Beazley Group, Meryl Streep received the Stanley Kubrick Britannia Award for Excellence in Film, Sam Mendes received the John Schlesinger Britannia Award for Excellence in Directing presented by the GREAT Britain campaign, James Corden received the Britannia Award for British Artist of the Year presented by Burberry and Amy Schumer received the Charlie Chaplin Britannia Award for Excellence in Comedy presented by Kodak.
The British Academy Britannia Awards is produced through a partnership between BAFTA Los Angeles and Done & Dusted. Event Production and Management is by MTA Events.
For further information:
Elyse Weissman at SLATE PR
T (310) 461-0114
About BAFTA
The British Academy of Film and Television Arts supports, develops and promotes the art forms of the moving image by identifying and rewarding excellence, inspiring practitioners and benefiting the public. In addition to its Awards ceremonies, BAFTA has a year-round programme of learning events and initiatives – featuring workshops, masterclasses, scholarships, lectures and mentoring schemes – in the UK, USA and Asia; it offers unique access to the world's most inspiring talent and connects with a global audience of all ages and backgrounds. To access the best creative minds in film, TV and games production, visit www.bafta.org/guru. For more, visit www.bafta.org.
Founded in 1987, BAFTA Los Angeles serves as a bridge between the Hollywood and British production and entertainment business communities. Its commitment to professional and community education is at the heart of all activity, including an award-winning community outreach programme, screenings, seminars, Behind Closed Doors series, Q&As, scholarships for British students studying in the US, a Newcomers Program for emerging British talents working in the US, and a Heritage Archive project that preserves in-depth interviews with the industry's leading talents for future generations. BAFTA Los Angeles celebrates and promotes excellence through its annual Britannia Awards, Awards Season Film and Television Tea Parties and the Student Film Awards.
BAFTA Los Angeles is a 501(c)3 Non-Profit Corporation and relies on income from membership subscriptions, individual donations, trusts, foundations and corporate partnerships to support its ongoing work. www.bafta.org/losangeles
About AMD
For more than 45 years AMD has driven innovation in high-performance computing, graphics and visualization technologies ― the building blocks for gaming, immersive platforms, and the datacenter. Hundreds of millions of consumers, leading Fortune 500 businesses and cutting-edge scientific research facilities around the world rely on AMD technology daily to improve how they live, work and play. AMD employees around the world are focused on building great products that push the boundaries of what is possible. For more information about how AMD is enabling today and inspiring tomorrow, visit the AMD (NASDAQ: AMD) website, blog, and Facebook and Twitter pages.
About Jaguar Land Rover
Jaguar Land Rover is the UK's largest automotive manufacturer, built around two iconic British car brands:  Land Rover, the world's leading manufacturer of premium all-wheel-drive vehicles; and Jaguar, one of the world's premier luxury sports sedan and sports car marques.
The company employs almost 38,000 people globally, with 330 in the U.S. and supports around 275,000 more through our dealerships, suppliers and local businesses. Manufacturing is centred in the UK, with additional plants in China, Brazil and India.
At Jaguar Land Rover we are driven by a desire to create class-leading products that deliver great customer experiences.  The largest investor in R&D in the UK manufacturing sector, we have invested £12 billion (USD$15.7 billion) in the last five years and in the current year alone will spend over £3 billion (USD$3.9 billion) on new product creation and capital expenditure. Last year Jaguar Land Rover sold 487,065 vehicles in 160 countries, with more than 80% of our vehicles produced in the UK being sold abroad.
About American Airlines Group
American Airlines and American Eagle offer an average of nearly 6,700 flights per day to nearly 350 destinations in more than 50 countries. American has hubs in Charlotte, Chicago, Dallas/Fort Worth, Los Angeles, Miami, New York, Philadelphia, Phoenix, and Washington, D.C.  American is a founding member of the oneworld alliance, whose members serve more than 1,000 destinations with about 14,250 daily flights to over 150 countries. Shares of American Airlines Group Inc. trade on Nasdaq under the ticker symbol AAL. In 2015, its stock joined the S&P 500 index. Connect with American on Twitter @AmericanAir and at Facebook.com/AmericanAirlines.
About Pop
Fans don't sit at the outskirts of pop culture making snarky comments. They live right smack in the middle of it, sharing, creating, and connecting their passions with others. At Pop, fans finally have a destination that celebrates the fun of being a fan. Fans aren't even fans anymore — they're gladiators, tributes, human beings and blockheads. Seen in more than 80 million homes, Pop gives fans a dedicated channel that loves being a fan as much as they do. A channel that respects talent over celebrity. A channel filled with optimism, passion, humor, and excitement. A channel that understands the fun doesn't stop when the credits roll… it's really just the beginning.
Pop is a joint venture of CBS Corporation (NYSE: CBS.A and CBS) and Lionsgate (NYSE: LGF). The partnership combines CBS's programming, production and marketing assets with Lionsgate's resources in motion pictures, television and digitally delivered content. Pop's ownership structure is comprised of the company with the #1 broadcast network and many of the top first-run syndication series ("Entertainment Tonight," "The Insider") and the studio that produces and distributes the blockbuster "Hunger Games," "Twilight" and "Divergent" franchises and produces such award-winning TV series as "Mad Men" and "Orange is the New Black."