7 November 2019

BAFTA celebrates the 2019 Breakthrough Brits with Netflix at Banqueting Hall on Thursday 7th November

The British Academy of Film and Television Arts (BAFTA) tonight celebrated 2019's BAFTA Breakthrough Brits, in partnership with Netflix. Twenty of the UK's most promising future stars of film, games and television convened at a drinks reception at the Banqueting Hall on Whitehall, which was also attended by leading figures in the creative industries. 

The honourees were introduced by Alex Lawther, Ashley Walters, Callum Turner, Denise Gough, Kingsley Ben-Adir and Lesley Manville. Other notable guests at the event included actors Aimee Lou Wood, Connor Swindells, Geogre Mackay, Susan Wokoma, Sophie Simnett, comedian Deborah Frances-White, as well as Chief Executive of BAFTA, Amanda Berry OBE.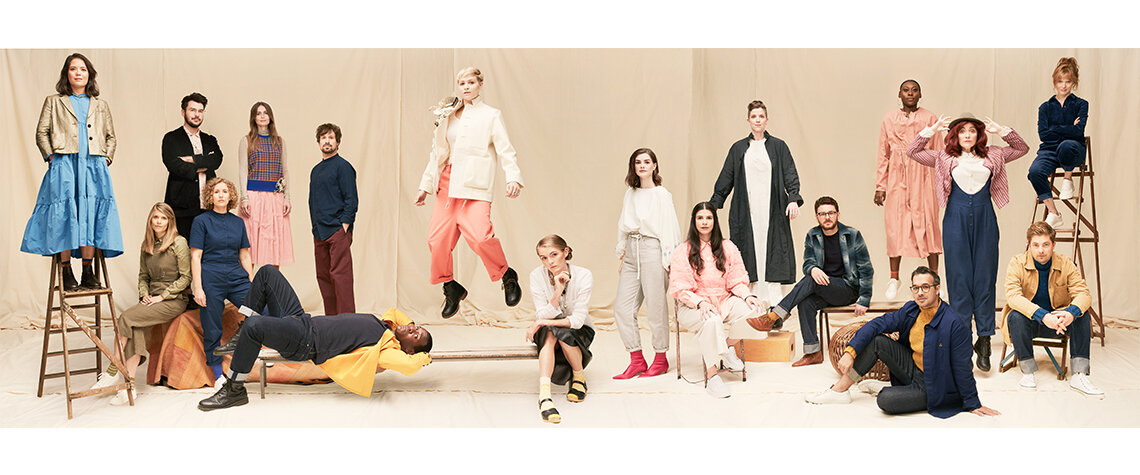 BAFTA/Felicity McCabeAlso in attendance were the recently announced BAFTA Breakthrough Brits - Abubakar Salim (Actor - Raised By Wolves), Chance Perdomo (Actor - Chilling Adventures of Sabrina), Chris Cox (Art Director - Ordia), Coco Jackson (Producer - Dancing On Ice), Daniel Dewsbury (Director - The Mighty Redcar), Gemma Langford (Writer / Indie Games Studio Manager - Overcooked 2), Jen Kenwood (Producer - Pure), Kayleigh Llewellyn (Writer - In My Skin), Kirstie Swain (Writer - Pure), Laurie Nunn (Screenwriter - Sex Education), Lesleyann White (Principal Quality Analyst - Sunless Skies), Liam de Valmency (Senior Principal Programmer - Dreams), Luke Hull (Production Designer - Chernobyl), Niamh Algar (Actor - Calm with Horses), Oliver Kassman (Producer - Saint Maud), Rose Glass (Director / Writer - Saint Maud), Sarah Brocklehurst (Producer - Animals), Simon McMahon (Film Editor - For Sama), Stella Corradi (Director - Trigonometry), Vicky Knight (Actor - Dirty God). 
For more information, go to: BAFTA announces Breakthrough Brits 2019
This year's honourees were accommodated by Bulgari Hotel London, Official Hotel Partner to the event, and chauffeured by Audi UK, BAFTA's Official Car Partner. Official Makeup to the event, M·A·C Cosmetics, were also on hand to provide the finishing touches ahead of their big night.
BAFTA Breakthrough is BAFTA's flagship new talent scheme that showcases and supports the next generation of creative talent in film, games and television in the UK. Since its launch in 2013, BAFTA Breakthrough Brits has championed over 100 talented newcomers. Honourees receive one-to-one mentoring and career guidance, as well as access to BAFTA events and networking opportunities in the UK and internationally. BAFTA and Netflix share a joint vision of celebrating emerging British talent and giving them the tools to develop their skills at the start of their careers. Building on the success of 'Breakthrough Brits', the partnership with Netflix will help facilitate expansion of the 'Breakthrough' initiative globally, working to identify overseas talent in new territories such as India and the USA. For more information about BAFTA Breakthrough Brits, in partnership with Netflix, go to: BAFTA Breakthrough
Photography 
A selection of free press photography from the evening is available at www.bafta.thirdlight.com , with a wider selection avialable from Rex/Shutterstock at www.rexfeatures.com.  
Notes to Editors:
2019 BAFTA Breakthrough Brits biographies are available HERE
2019 Jury biographies are available HERE
2019 Jury headshots are available HERE
For further information, please contact WDW Entertainment:
Molly Whitehall | [email protected] | 0203 432 5839
Izzy Baker | [email protected] | 0203 432 5839
About BAFTA
The British Academy of Film and Television Arts (BAFTA) is a world-leading independent arts charity that brings the very best work in film, games and television to public attention and supports the growth of creative talent in the UK and internationally. Through its Awards ceremonies and year-round programme of learning events and initiatives – which includes workshops, masterclasses, scholarships, lectures and mentoring schemes in the UK, USA and Asia – BAFTA identifies and celebrates excellence, discovers, inspires and nurtures new talent, and enables learning and creative collaboration. For advice and inspiration from the best creative minds in working in film, games and television, visit www.bafta.org/guru. For more, visit www.bafta.org.
About Netflix:
Netflix is the world's leading internet entertainment service with over 148 million paid memberships in over 190 countries enjoying TV series, documentaries and feature films across a wide variety of genres and languages. Members can watch as much as they want, anytime, anywhere, on any internet-connected screen. Members can play, pause and resume watching, all without adverts or commitments.