8 February 2023
Daisy Ridley at 2022 EE British Academy Film Awards, held at Royal Albert Hall, Sunday 13th March, 2022, London, U.K.
Following a successful collaboration between BAFTA and Bulgari in 2022 on the arts charity's biennial fundraising Gala, Bulgari and BAFTA today announce plans for a renewed collaboration over the next three years.
Bulgari's love affair with film spans generations with jewellery featuring in over 40 movies, from Sharon Stone in Casino to Lady Gaga in House of Gucci. Its iconic jewellery has been long-favoured by acting royalty, from Ingrid Bergman and Audrey Hepburn to Bulgari's current brand ambassadors Priyanka Chopra Jonas and Zendaya.
In celebration of the historic jeweller's rich cinematic heritage, Bulgari will become the Official Jewellery and Watch Partner to the EE BAFTA Film Awards, taking place this month on 19 February 2023 at the Southbank Centre's Royal Festival Hall. The EE BAFTA Film Awards are one of the most anticipated nights in the global film calendar in celebration of the extraordinary skills, talent and craft of the film industry.
In addition, Bulgari will become Supporting Partner to the Official Nominees' Party for the EE BAFTA Film Awards; an annual celebration exclusively for nominees that will take place the night before the Awards on 18 February. This year, the Nominees Party will be held at the National Gallery, in London's Trafalgar Square, for the first time.
Bulgari will also become the Official Supporting Partner to the BAFTA Gala in 2024. The BAFTA Gala is a biennial fundraising event to generate vital funds for BAFTA's year-round work to nurture the next generation of creative talent. Its long-established and celebrated programmes, from BAFTA Connect to Young Games Designers to its Prince William bursaries and scholarship schemes, help thousands of people build their careers in film, games, and television.
This generous support complements Bulgari's own charitable initiatives championing education and the arts, including the brand's long-standing partnership with Save the Children and philanthropic relationship with the University of Oxford's Jenner Institute.
Bulgari Group CEO, Jean-Christophe Babin said: "We are incredibly proud to continue partnering with BAFTA for the next three years. It truly is an honour to support this industry in collaboration with such an important arts charity that shares our same fundamental values of excellence. Bulgari's rich history has been linked to cinema, and its brightest stars, in countless occasions and this partnership is a celebration of that important heritage. We look forward to seeing our creations shine on today's creatives as they shined on Elizabeth Taylor, during her attendance at the BAFTA Film Awards in 1967".
BAFTA Executive Director Partnerships & Fundraising, Louise Robertson, said: "BAFTA and Bulgari share a love for the magic of film, so we are thrilled to be partnering with them over the next three years. Their generous support will help us celebrate with our wonderful nominees, ahead of one of the biggest global nights in film. Alongside, Bulgari's support of our next biennial Gala in 2024 will enable us to raise vital funds in support of our year-round work nurturing and inspiring thousands of people globally to realise their creative ambitions."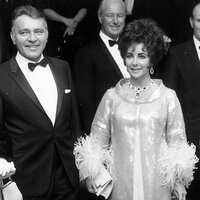 Elizabeth Taylor wears her Bulgari emerald and diamond suite at the 1967 BAFTA Film Awards with Richard Burton
About Bulgari
Part of the LVMH Group, Bulgari was founded in Rome in 1884 as a jewellery shop. Known as the magnificent Roman jeweller and master of coloured gems, Bulgari has established a worldwide reputation for Italian excellence and enjoys renowned for its exquisite craftsmanship. The company's international success has evolved into a global and diversified luxury purveyor of products and services, ranging from fine jewels and high end watches to accessories and perfumes, and featuring an unrivalled network of boutiques and hotels in the world's most exclusive shopping areas. Demonstrated through its numerous philanthropic partnerships, Bulgari deeply believes in innovating the present for a sustainable future through its commitment to Corporate Social Responsibility and giving back – to nature and to the community.
About BAFTA
BAFTA – the British Academy of Film and Television Arts - is a world-leading independent arts charity that brings the very best work in film, games and television to public attention and supports the growth of creative talent in the UK and internationally. Through its Awards ceremonies and year-round programme of learning events and initiatives – which includes workshops, masterclasses, scholarships, lectures and mentoring schemes in the UK, USA and Asia – BAFTA identifies and celebrates excellence, discovers, inspires and nurtures new talent, and enables learning and creative collaboration. For more, visit www.bafta.org. BAFTA is a registered charity (no. 21672)