Cinematographer
22 November 1915
to
17 March 2014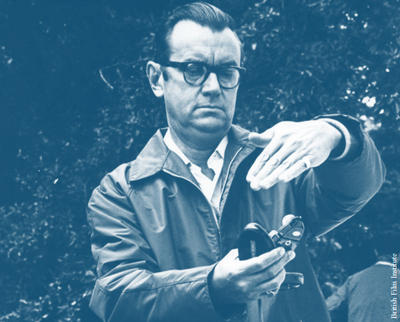 BAFTA Fellowship (1997)
Oswaldmorris Tribute (353.8 KB)
An acclaimed British cinematographer whose career began as a clapper boy while still in his teens, Morris was taken under the wing of his near contemporary Ronald Neame. After decorated war service in the RAF he graduated to director of photography for his good friend on Golden Salamander (1950), and proved to be a quick learner.
Over the course of his long career he lit seven films for John Huston, including Moulin Rouge (1952), Moby Dick (1956) and The Man Who Would Be King (1975). He also shot Look Back In Anger (1959) and The Entertainer (1960) for Tony Richardson; The Guns of Navarone (1960) for J. Lee Thompson; Lolita (1962) for Stanley Kubrick; The Hill (1965) for Sidney Lumet; Oliver! (1968) for Carol Reed; Fiddler On The Roof (1971) for Norman Jewison; Sleuth (1972) for Joseph Mankiewicz; and The Odessa File (1974) for his old friend Ronnie Neame.
A superb technician equally comfortable with the demands of both monochrome and full colour, Morris was BAFTA nominated on six occasions. He won for The Pumpkin Eater (1964), The Hill (1965) and The Spy Who Came In From The Cold (1966) – all in black and white. His three American Academy Award nominations came for the colour films Oliver! (1968), Fiddler On The Roof (1971) – which he won – and The Wiz (1978).
The long professional relationships he maintained affirm his unflappable approach to solving whatever challenges his directors set him. Many effects he developed, most notably the textured lighting of Moulin Rouge, influenced the way film stocks were used by his peers.
Morris later reunited with Sidney Lumet for Equus (1977) and The Wiz (1978), before making a pair of films for Jim Henson, The Great Muppet Caper (1981) and The Dark Crystal (1982) – bringing his film career to a close 50 years after it had first began.