24 August 2014
Filmmaker and former BAFTA President, Lord Attenborough Kt, CBE, demonstrated passionate support of BAFTA for more than 50 years and was integral in shaping the Academy.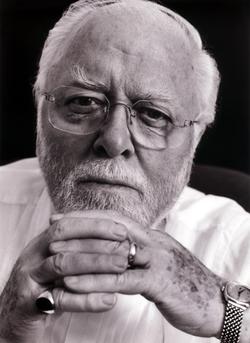 A warm familiarity with the figure of Lord Attenborough may serve to obscure the significance of his considerable achievements in film. First as an actor, later a producer and director, Attenborough was an eloquent advocate for British cinema, and served in various roles – latterly President – in the evolution of BAFTA.
As such he served as Chairman of the Academy between 1969 and 1971 and as First Vice President of SFTA/BAFTA, taking on the role of President in 2001. In recognition of his work behind and in front of the camera Attenborough was made an Academy Fellow in 1983.
His most notable acting roles were, ironically, a world away from his avuncular image. From the psychotic Pinkie in Brighton Rock (1947) to the murderous Christie in 10 Rillington Place; the cowardly submariner in Morning Departure (1950) to the shifty Sidney Cox in Private's Progress (1956); the brilliant PoW leader in The Great Escape (1963) to the tough, lovesick sailor in The Sand Pebbles (1966), he never shirked a challenging role or feared playing a potentially unsympathetic character.
On stage he had the distinction of being – along with his beloved wife, Sheila Sim – part of the original cast of Agatha Christie's The Mousetrap in 1952, appearing in the first of more than 24,500 performances of the longest running play in the theatre.
He starred in his first film as producer, The Angry Silence (1960), and the issues at the heart of this influential trade union drama hinted at a social conscience that would be explored more thoroughly in the films he would direct. Oh! What A Lovely War (1969) was adapted from the production written by Joan Littlewood, and dealt with the senseless carnage of the First World War in an imaginative, haunting and highly cinematic way.
His long cherished dream of telling the story of the iconic Indian nationalist leader Gandhi was eventually realised and released in 1982 to critical acclaim, making Ben Kingsley a star and earning Attenborough both a BAFTA and an American Academy Award for Best Director. Cry Freedom (1987) dealt with the life and death of South African political activist Steve Biko, while Shadowlands (1993) was a beautifully judged film of William Nicholson's play about C.S. Lewis's late flowering romance with the poet Joy Gresham.
He continued to act throughout, starring in Steven Spielberg's Jurassic Park (1993), among others. Over time he directed a diverse range of subjects in a wide selection of genres, his other credits being Young Winston (1972), A Bridge Too Far (1977), Magic (1978), A Chorus Line (1985), Chaplin (1992), In Love & War (1996), Grey Owl (1999) and Closing The Ring (2007).
This last was made while Attenborough was in his 83rd year, a reminder of the stamina and enduring love for the medium of film that are a hallmark of his long and successful career. A passionate filmmaker, a man of principle and – in contradiction of sometimes lachrymose image – possessing the kind of dogged determination that sees films get made after decades of toil, and serve on committees for the greater good of an industry he loved. A titan of British cinema, to say he embodied its finest qualities is to have it backwards. British film would do well to live up to the example of industry, skill and compassion set by Richard, Lord Attenborough.
Read Lord Attenborough's BAFTA Obituary
Read the brochure to our Gandhi reunion event in 2007

Tributes and memories from BAFTA members
---
"A true legend, both on and off screen, who's passion and enthusiasm knew no bounds. Lord Attenborough's leadership and vision for BAFTA are the bedrock of how the Academy operates today. The world will be a very much quieter place without him."
Sophie Turner Laing
Managing Director, Content, Sky / Vice President, Television, Bafta
---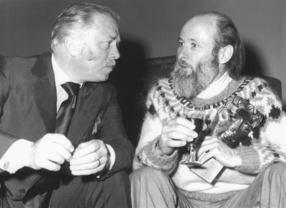 "What other big shot - even half so big as Richard Attenborough - would sit in the middle of the main BAFTA staircase with a young director who had just won the BAFTA International Award (in the only year that the award was ever granted) to engage in a really serious and quite lengthy conversation about the future of the BBC?
"But that is what happened. I was seriously affected and have been grateful for the generosity of that gesture ever since. He remembered me forever after, gave me his home telephone number and was always ready to talk and to try and help. Richard Attenborough was a rare fellow and the finest of human beings - as we all so well know.
"That event was a defining moment in my career and I have cherished it ever since – more for what the Maestro gave me than for the award itself.
"We are all the poorer for his going and his absence has darkened every moment since he left us.
Christopher Nupen
---
In 1962 I was working on as Douglas Slocombe's 2nd Camera Assistant – Clapper/Loader. I was engaged to be married and was putting all my earnings into a joint account with my fiancée. After a few weeks my personal life became complicated. My fiancée and I decided to part and before I knew it, she closed our joint account and withdrew all the money. I was on £12 a week and after tax and deductions, I started to find it difficult to make ends meet. After living expenses and payment on my car, I was left with very little to get by.
I told my immediate superior (the Focus Puller) that I was thinking of giving notice, so that I could go back on daily rate to rebuild my finances. That filtered all the way to the front office. I was on set when the Producer, Richard Attenborough asked me to see him. He walked me around the studio lot with his arm around my shoulder. It wasn't long before he drew out all of my problems. He set me at my ease and talked me out of leaving. He was kindness itself and insightful, because as a Clapper Boy, I would have ruined my chances of continuing to work on Douglas' crew. That Friday I received my wage packet as usual – my money had been increased to £19 a week and my problems disappeared. Our crew went on to work on Joseph Losey's and I owe my wonderful time in the camera department to that understanding and brilliant man and the walk around the Shepperton Lot.
Brian Harris
---
"I would spend most mornings at the law firm and join Richard Attenborough at the Dorchester Hotel for lunch, which was almost invariably a dover sole with half a bottle of Chablis. We would then walk over to the temporary Capital Radio offices on Park Lane next to the Dorchester.
"We found a suitable building for the Capital Radio studios in the Euston Tower on Marylebone Road. We had to take more space than we wanted including two shop spaces. The terms of our lease were duly agreed and a date set with the landlords for a press conference to announce that Capital Radio had taken prestigious offices. On the morning of the day when we were to sign the lease and make the announcement, the landlords rang to say that they had decided that morning that we would have to take three more shop spaces. I reached Richard on the phone and told him what had happened.
"He was wonderfully cool. "Ring up the landlords, darling, and tell them that we will not sign but we are not cancelling the press conference as I would like to tell the public how our great property companies behave." I rang the landlords and so advised them. They backed down.
"Richard Attenborough was not only a superb actor and director but he was also an extraordinarily good and successful business man."
Michael Flint
---
A Brief Memory of a Great Man
"During my own term as Academy Chairman (87/89) I had the great pleasure on many occasions of being in Lord Attenborough's company. You could not find a kinder, generous or more supportive colleague.
"One evening, at his request, I was required to host a small private dinner party in the Run Run Shaw Theatre for Dickie to pay tribute to the late John Mills and his wife Mary Haley Bell who were among his lifelong friends. Some other members of Council were also invited. Before the guests of honour arrived, Dickie warned me that somewhere in his short tribute speech he would probably start shedding some tears. Sure enough, as he became more emotional, he did indeed start to weep. Nothing could have been more genuine or more moving. In simple terms, he was a great human being and a sad loss is shared by all who knew him."
Johnny Goodman
---
"I was working as Line Producer on a show at Twickenham Studios in 1998 and happened to have a production office across the corridor from Lord Attenborough's. He was working towards at the time and I often saw him as he arrived. We fell into a routine. I would invariably greet him with "Good Morning, Sir!" and he would invariably incline his head slightly in acknowledgement and give me a little smile and return my greeting. Occasionally he was pre-occupied, sometimes he was positively chirpy, other times he would seem worried, but whatever his mood he never failed to treat me politely. The memory of his example has sustained me through many subsequent ups and downs in the film world..."
Maureen Murray
Producer
---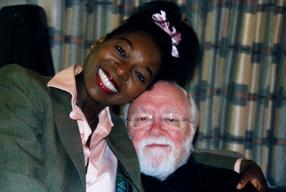 "When I first met Dickie he made me feel like a long lost friend and embraced me with spiritual joy. He believed in giving everyone opportunities to aspire, and cultural diversity was dear to his heart. We often talked about how to make change and how to get people to see the bigger picture when it came to embracing diversity.
"I last met him twelve years ago when I filmed him at his home. I had asked him to appear in a programme I was producing entitled , as the programme was featuring the Nelson Mandela statue. He was instrumental in the long campaign for a statue of Mandela to be put up in London and was behind the successful fundraising drive to make it a reality.
"Dickie was a 'benevolent force for good' who didn't believe in giving up if it would pave the way to change the world for others to benefit. His legacy will last forever as an inspiration of what can be achieved during our time on earth.
"It was a privilege to have known him and to be greeted with that warm engaging smile of his."
Baroness Floella Benjamin, OBE
---
Bacon Butties with Lord Attenborough
"What I admired most with Richard was his complete unpretentiousness. I sat with him at BAFTA and shared a bacon buttie discussing and how he thought he could do it better! He will be sorely missed."
Paul Balmer
---
"During my time as Booking and Marketing Director of Odeon cinemas, I had the privilege and honour of working closely with Dickie on many of his films which played the Odeon chain of cinemas across that period. , , , , , , , to name a few. As an actor, producer, and director, Dickie had an unparalleled understanding of every link in a film's complex route to the audience which were, and still are, production, distribution, marketing, cinema exhibition, and then on to the audience, or as he'd say, "the customers". Dickie understood it all, standing beside everything he created, with knowledge, great skill, and a persuasive charm throughout. I know that all of us in Odeon at that time, its directors and management, had the highest regard for him, both as legendary craftsman, and most importantly, as a good friend to many of us. I can also say from my time as president of the Cinema Exhibitors' Association that these sentiments were shared by both the major circuits and independent cinemas alike. He will always be remembered with gratitude and affection."
Stan Fishman, CBE
---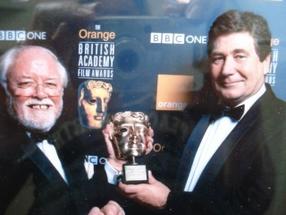 "I first worked with Sir Richard as a young stuntman on for months in the Moroccan desert and he asked for me again when he directed in Holland a few years later. He was always so enthusiastic and encouraging and grateful. It was many years later that I had the tremendous honour and pleasure to be presented with a lifetime achievement BAFTA by the great man himself where he recounted a couple of lovely anecdotes from . Sir Richard has influenced so many aspects of filmmaking including the action side of it. Sincerely Vic Armstrong."
Vic Armstrong
Director, Sunday Horse, Atlanta Georgia
---
"Although I didn't know him personally, I do have fond memories of him during the NFT season of his films some years back. I said hello to him and he was in fine form talking to guests and friends after the screening. The late Sir John Mills was there too. On speaking to Lord Attenborough briefly, he laughed after I told him I saw him in on the big screen in the same season. Incidentally, my father was in the Queen's Colour Squadron based at RAF Uxbridge in 1963 and he attended the London Premiere of at the Odeon Leicester Square. The ticket still takes pride of place in a frame in the family home.
"There was of course the memory of him and Sir Ben Kingsley talking about after the 70mm screening in the same season.
"I was also lucky enough to attend the Royal Film Performance of in 1992 and remember Lord Attenborough's tearful reaction at the end of the film. The other touching moment was his tribute to the young Robert Downey Jr, who had overcome so much adversity in his life and has now become one of the best actors working in the business.
"In the NFT season previously mentioned, I also saw alongside , a 70mm print of . Now, people often talk about the sterling visuals of , but there are moments in this film that are on a par with that, shot two decades before.
"His biography should also be mentioned as well, a terrific memoir about the challenges he faced with and the magical night in 1983 when his film triumphed over the odds in LA, even though by his own admission, he felt after seeing it in the summer of 1982 that E.T should have got the Oscar.
"As a BAFTA member, we are always indebted to his contribution to both the organisation and the films that he made."
John Higgins
---
"I post production supervised Lord Attenborough's last film and he was absolutely charming and lovely and great fun. I still remember him kissing my tummy one day (I was pregnant with my first child at the time!)
"I didn't know him as much as the many people who worked with him lots of times and (quite rightly) loved and adored him, but it was an honour to work for him."
Verity Wislocki
---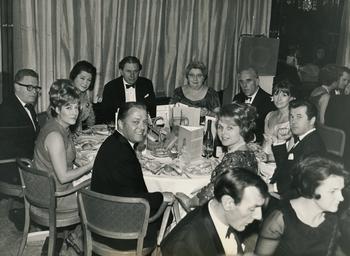 Simon RelphI have the fondest memories of Dickie. I first met him when I was a teenager and he was appearing in my father's film and I guess that was 60 years ago. Then I worked for him as a Producer, as 2nd Assistant on . Of course he won his first BAFTA for his performance in that film.
Thereafter I served as a Trustee of the Academy under his Chairmanship, as a Governor of the BFI also under his Chairmanship and frequently alongside him in our continued endeavour to get the best support we could for our industry. He and I made keynote speeches at Mrs Thatcher's famous Downing Street Film Seminar. He and Bryan Forbes were partners with my father and Basil Dearden amongst others in Allied Film Makers. The accompanying photograph is of them all at an early British Film Academy Awards ceremony.
He always made me feel as if I was "family" and was continuously supportive and encouraging. When Ann Skinner, another lifelong friend of his, and I, were making our first film and the money fell apart he dropped everything – he was in the middle of editing - to help us.
He had many outstanding qualities but this constant generosity with himself and his time to so many was for me his most special quality. I am sure that for him his passing was something of a release after so much discomfort and ill health over the last few years but for those of us left behind it leaves a yawning gap and one that I doubt will be filled again. He was an outstanding actor, an accomplished and prolific filmmaker, he should be in the Guinness Book of records for the amazing amounts of money that he raised for so many good causes and of course he was a consummate politician in the very best sense of the word. He will be warmly remembered by so many of us. He was truly a great man!
Simon Relph CBE
---
With "Dick" Attenborough's death an era passes too. He was one of the "old school" - a fine actor, director and producer with a true knowledge of all aspects of the film and theatre and an intuitive understanding of both his fellow performers and his audiences. His commitment to cinema was legendary as was his endless support of good causes and charities.
I knew him for over 30 years and the support, help and sophisticated advice he gave me was invaluable and extraordinary.Having worked closely with him for over a decade at The British Film Institute, we still kept in touch when I became Director of Communications for HRH The Prince of Wales – someone he knew extremely well indeed. Then, when I was made CEO of the IVCA, at The House of Lords - alongside David Frost, Ridley Scott, Kevin Spacey and Bob Geldof - he received one of our first Fellowship Awards for his 'outstanding contribution to the media industries' and made a typically memorable and heartfelt speech.
I saw little of him over the last few years, after his accident and associated illness restricted him considerably. When he and his lovely and talented wife Sheila entered a retirement home for actors, the distance between us became even greater, although his legendary Christmas cards still came – each with those few personal words that made them distinctly his own. The last thing I received from him was a typically generous letter about my new play that I had dedicated to our close friend, the wonderful Antony Smith, the former director of the BFI. His intuitive understanding of what I was seeking to achieve, and enthusiasm for the piece, brought me more joy than one may believe. You see Dick always went that extra mile and knew exactly how to treat people – he made them feel special - a rare quality few have anymore.
My personal recollections of him are many and appropriately spectacular: visiting him on the sets of some of his biggest films; creating for him, and then producing, the televised British Film Institute Award shows that he hosted for many years at the NFT; and then directing the Centenary of Cinema commemoration event with HRH the Prince of Wales at The Museum of The Moving Image - and laughing, and sometimes crying, together in the process!
Oh yes – one must not forget those suppers he held too – what occasions they were! His guests included the likes of Dirk Bogarde, Bette Davis, Maureen O'Hara, John Mills, Alec Guinness, Deborah Kerr, Julie Andrews, Michael Powell, Orson Wells, Graham Greene, Douglas Fairbanks Jnr., The Princess of Wales, Gerard Depardieu, Catherine Deneuve, Clint Eastward - the list goes on and on - for he knew everyone and everyone knew him.
His loss will be great indeed to film culture as a whole - as his work was respected throughout the world. But his loss to humanity will be just as profound – as his kindness was legendary and his generosity of spirit, boundless. As Dietrich says at the end of – "He was some kind of a man".
On a personal level I feel I have lost something of my own life too –a 'certain magic' has gone with him.
Wayne Drew
---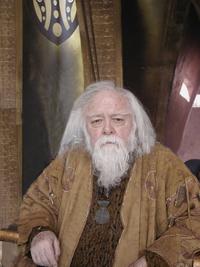 I had the pleasure of working with his Lordship in 2001 on a TV film made at great expense by the Jim Henson Company called It was filmed mainly at Elstree and Pinewood. The film had in its cast Matthew Modine, Mia Sara and a very young James Corden!! I was employed to fit all the relevant actors with coloured contact lenses and to remain on set to look after my charges. I have been doing this in the movies since the late 70's.
Lord A was a charming gentleman who became a great friend as we had mutual friends in Tony and Sarah Havelock Allen. Tony was a wonderful man and I was lucky to be at his celebration memoir at Bafta presented by Lord A.
Included are a few photos from the 2001 movie.
Clive Kay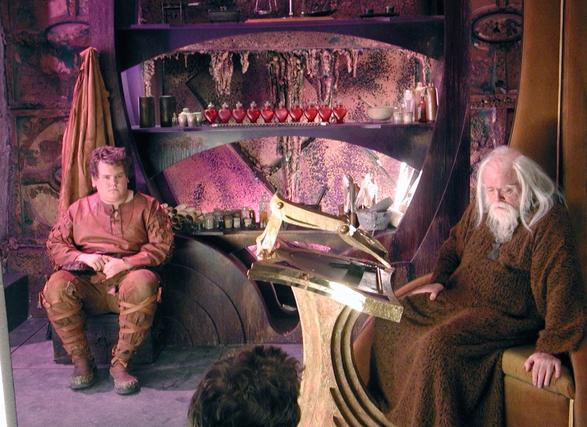 ---