2 November 2009

David Lean's Letter to the Academy, Berkely Hotel, London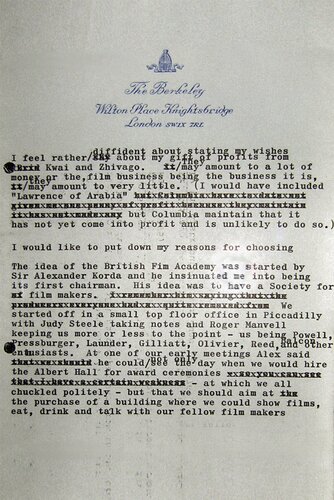 BAFTA
Sir David Lean was the first chairman of the British Film Academy. In 1975 he donated the royalties from his films Dr Zhivago (1965) and The Bridge on the River Kwai (1957) to the Society of Film and Television Arts (SFTA), which was later to become BAFTA.
Lean was made a Fellow of the Academy in 1974 and knighted in 1984. He died in 1991. The David Lean Lecture is held annually to convey expert insight from the world's leading filmmakers.
In the late 1960s Sir David Lean typed a letter to the members of the Academy.
Using the typewriter in which he had written the screenplays for many of his award-winning films, the letter outlines Lean's feelings about donating profits from his films "Kwai" and "Zhivago" to the British Film Academy, before describing the early vision of the Academy.
The original letter was on permanent loan from the David Lean Foundation and was displayed on the second floor of 195 Piccadilly prior to its refurbishment, where Academy Members regularly watch films, eat, drink and talk with their fellow industry peers – just as Lean and his colleagues imagined.
---
Transcript
"I feel rather diffident about stating my wishes about my gift of profits for Kwai and Zhivago. They may amount to a lot of money or the, film business being the business it is, may amount to very little. (I would have included "Lawrence of Arabia" but Columbia maintain that it has not yet come into profit and is unlikely to do so.)
"I would like to put down my reasons for choosing
"The idea of The British Film Academy was started by Sir Alexander Korda and he insinuated me into being its first chairman. His idea was to have a society for film makers. We started off in a small top floor office in Piccadilly with Judy Steele taking notes and Roger Manvell keeping us more or less to the point – us being Powell, Pressburger, Launder, Gilliatt, Olivier, Reed, Balcon, and other enthusiasts. At one of our early meetings Alex said he could not only see the day when we could hire the Albert Hall for award ceremonies – at which we all chuckled politely – but that we should aim at the purchase of a building where we could show films, eat, drink and talk with our fellow film makers."