17 February 2009

Play a version of the classic arcade game - originally launched in 1972 by our Video Games Fellow, Nolan Bushnell for Atari.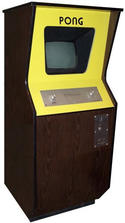 At the 2009 GAME British Academy Video Games Awards, Nolan Bushnell, one of the founding fathers of the video games industry received the Academy Fellowship.
In 1972 Nolan oversaw the release of what was to become one of the best-loved – and most-played – video games of all time: Pong. With its simple format and instantly accessible gameplay, Pong was the first video game to achieve widespread popularity in both the arcade and home console markets.
Find out More
Nolan Bushnell, Academy Fellow in 2009
Visit the Atari Museum website