9 March 2015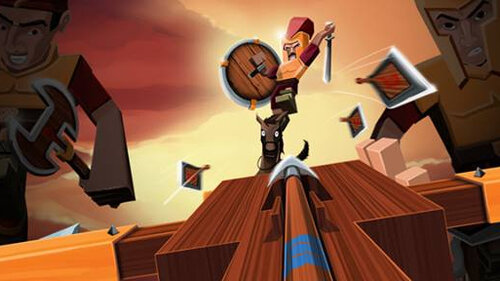 Why did you enter the Dare To Be Digital competition?                        
We felt that Dare To Be Digital competition would be the perfect opportunity to test our ideas and skills against the very best student developers from all over the world. Also, the opportunity to be nominated for BAFTA Ones To Watch award was also a big motivation for us to participate in the competition.
How did you come up with the idea for your game?
We had already worked on a couple of experimental prototypes targeted for the Oculus Rift. The idea for Sagittarius came to us while working on one of these. We realized that the core gameplay offered by an On-Rails shooter like Sagittarius fit perfectly with the VR platform. One of the core ideas for On Rails genre is that the player can only aim his weapon and cannot control his movement which gels really well with the head-tracking feature implemented in all VR devices.
What was the hardest thing about the competition?
The competition in itself was the hardest part of Dare. There were a lot of very talented and determined developers this year and being able to distinguish our game to be one of the best was really hard but also satisfying. Also, we lost a lot of valuable development time because certain members of the team had visa issues and arrived late for the competition. Making up for this lost time involved a lot of hard work and sleepless nights.
What was it like having your game showcased at Dare Protoplay?
The most exciting and satisfying part of our journey was Protoplay. Since we are foreigners to the UK, we didn't really know what to expect from the audience that we were going to showcase for. However, the response was fantastic and a lot of people thoroughly enjoyed our game as well as the VR experience. For the entire duration of the event, we always had a long queue of enthusiastic players waiting for a chance to play our game. The most heartwarming part of the event was that we had built up a small fan-base of players who would come to our booth multiple times everyday and play our game.
How did you feel when you were announced as a nominee for this year's BAFTA Ones To Watch Award?
The competition was really fierce and during the last day at Protoplay we had our doubts for our chances to win the award. When our team was announced as the winners for Dare and specifically being nominated for the Ones To Watch award we were really overjoyed and ecstatic. Being nominated for a BAFTA award and being recognized by your peers was a really prestigious and momentous occasion for us. It reinforced the hard work and the effort we put in in making the prototype at Dare.
What's your advice to any teams thinking of entering Dare To Be Digital 2015?
The goal of Dare To Be Digital competition is to make a prototype of a game that appeals to players of all ages. Since the development time for the prototype is so short, the core idea for the game needs to be simple and any team that wants to compete needs to have a well detailed development plan thought of in advance. The team also needs to be balanced and flexible in relation to their responsibilities so as to cover up for any extra work that might crop up during development.
How would you feel if you won the BAFTA at the British Academy Games Awards?
As clichéd as it might sound, it would be a dream come true for us. When the team was initially formed to participate, our goal was not just winning Dare To Be Digital but also making a mark on the game development industry. We feel winning the Ones To Watch award would be one of the most proudest moments for us in our game development careers.
Follow Too Mainstream on Twitter and Facebook.
---
Watch the British Academy Games Awards LIVE from 17:45 on 12 March: www.twitch.tv/bafta
---