8 February 2019

Trailblazing editor Thelma Schoonmaker is almost as synonymous with the films of Martin Scorsese as the director himself. Words by Christina Newland

Thelma Schoonmaker is a film editor who has adopted a dazzling array of styles and approaches to her craft, from early screen work on the landmark 1970 documentary Woodstock to the present day, as she and Martin Scorsese complete the editing on his latest film, The Irishman (2019). Regardless of decades of technological shifts and sea changes in the film industry, Schoonmaker has remained in a fixed position as one of Scorsese's longtime and key collaborators, working with him on 22 of his feature films.

 

In her collaboration with Scorsese on the editing of his films, she has helped him carry out fresh, innovative ideas, whether in a family film, such as Hugo (2011), The Aviator's (2004) sweeping epic or the uproariously crude The Wolf of Wall Street (2013). Schoonmaker explains: "Scorsese has said that he feels I draw the humanity out in his movies, but he puts it there. It's just that with the perspective of the editing room – away from the stress of working on a set – I think I can sometimes see things he might have missed."  

From 1980 onwards, Schoonmaker has edited every one of Scorsese's feature films, and she affords the filmmaker a great deal of credit for her own success. She is among the most nominated and lauded film editors in American movie history, so it's difficult to imagine her as a novice. But when she first began, she says: "Marty was the teacher and I was the student. I knew nothing about editing. Gradually, over time, as I gained more experience, it has become much more of a collaboration."

The first of Schoonmaker's Hollywood projects was Raging Bull (1980) – a triumphant masterpiece, particularly in its expressive editing style. "I felt like I had pure gold in my hands there," she says.
Finding the solution can be very frustrating. But I never want to give up... I love solving the puzzle
The film's radical use of jump cuts, freeze frames, and juxtapositions would come in handy again for Goodfellas (1990), for which both she and Scorsese were awarded BAFTAs for their efforts. Indeed, Schoonmaker has two BAFTAs to her name and seven nominations, highlighting a longstanding connection to the UK's film culture and the British Academy.
But there's another reason why this Fellowship and British cinema are so close to Schoonmaker's heart; her late husband was Michael Powell, a giant of British filmmaking and a recipient of the BAFTA Fellowship himself in 1981. She has spent much of her time since his passing in 1990 celebrating, restoring, and educating people about the incredible work of Powell and Pressburger.
"Michael was a wonderful man to live with," says Schoonmaker. "The films of Powell and Pressburger were a huge influence on us. As filmmakers, they appreciated the audience. Michael used to tell Marty and me, 'Never underestimate your audience, it is always lightyears ahead of you.'"
Schoonmaker celebrated her 79th birthday in January, but shows no signs of slowing down. With characteristic modesty, she says: "I work very long hours. But I love my job. Boy, what a privilege!"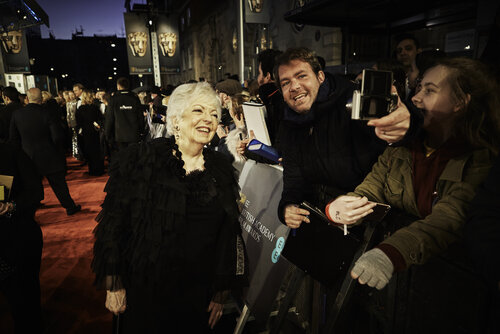 BAFTA/Jonny Birch
Christina Newland is a freelance journalist on film and culture for The Guardian, Sight & Sound and Little White Lies
Read the full feature here and watch Schoonmaker's acceptance speech here. 
Our press release announcing the honour can be found here.