30 September 2013

The comedy writing maestro behind huge hits such as Blackadder, The Vicar of Dibley, Four Weddings and a Funeral and Love Actually took to the stage for the final Screenwriters Lecture.
---
Listen to the Lecture:
---
Listen to the Q&A:
Free BAFTA Podcasts on iTunes & SoundCloud
Subscribe to BAFTA on iTunes and BAFTA on SoundCloud to receive all the latest audio from BAFTA's year-round events programme.
Launch BAFTA on the iTunes Store (requires iTunes)
Go to BAFTA on SoundCloud
Screenwriters' Roundup Podcast
---
Read the Lecture:
Download Richard Curtis' Screenwriters' Lecture Transcript to read in full.
---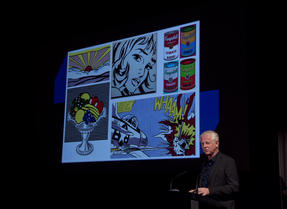 BAFTA/ Stephen Butler
The Lecture
Curtis used his time at the podium to ask himself the same question and offer several different answers. That question was: Why?
Why did he start making films?
Curtis recalled the time Hollywood came calling after his first feature, The Tall Guy, and he came up with the idea for "Four Eyes and Fat Thighs" whilst on the Northern Line.
He describes this as his "first mistake", having since learned the importance of development: "I've always lived with an idea for at least a year. Film can't be infatuation, it must be a relationship."
Curtis compared the difference between having a good idea and the finished film "is the same as seeing a pretty girl at a party and being there when your wife delivers the third baby. It's an incredibly long journey, and a good idea is only the tiny little spark at the beginning of this immense process."
Film can't be infatuation, it must be a relationship.
Why have his films turned out as he hoped they would?
The main advice from Curtis here is to "be sure you're working with people who like what you do" and to be involved in as many stages of the production process as possible, so that you don't "waste your life having others making the wrong film."
This approach has allowed Curtis to forge ties with trusted collaborators, giving him the confidence to feel like everyone is working towards making the same film. He praised his agent and producers in particular for making "wise decisions" that he's approved of throughout his career.
His advice to new writers is to "send your script to producers or people whose credits you really like, not the most successful people; you may not be to each other's taste."
Curtis admits that his level of involvement in the whole production process of Four Weddings was unusual for a writer – it was a deal made between him and producer Duncan Kenworthy, and agreed by director Mike Newell when he came on board – but it ensured that the finished product was as close to his original vision as possible.
"If you write personal, small films like I do, getting yourself heard throughout the process is crucial," says Curtis, who went on to note that around 8 out of 10 of the most popular comedies of all time were directed by the writers (Allen, Chaplin, Apatow, the Coens etc).
Why has he written these films?
Whilst some of Curtis' favourite films include Animal House and Close Encounters of the Third Kind, these weren't necessarily the types of films that he himself wanted to make.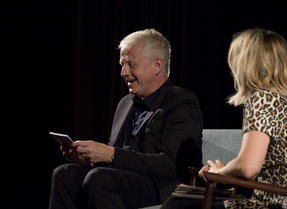 BAFTA/ Stephen ButlerThe films Curtis felt were closer to his interests and style included 'smaller', more personal comedies/dramas such as Diner, Breaking Away, Gregory's Girl, Local Hero, Annie Hall and Manhattan – and it was these films he kept in mind when writing Four Weddings and a Funeral.
There are three key themes that Curtis has returned to throughout his career: love, friendship and family: "All the big emotions I've felt have been in this area."
He's never written a film about anything that he didn't know personally (so there'll be no Richard Curtis serial killer drama or alien adventure anytime soon – well, ever) – focusing instead on what he does best, which is "to write what is true to me and what I understand."
---
Other things we learned from Richard Curtis' lecture:
He prefers to leave himself notes to work with the following day so that he never has to sit down in front of any empty page.
He loves pop music "profoundly".
He stalked Julie Andrews for three days on the QE2!
---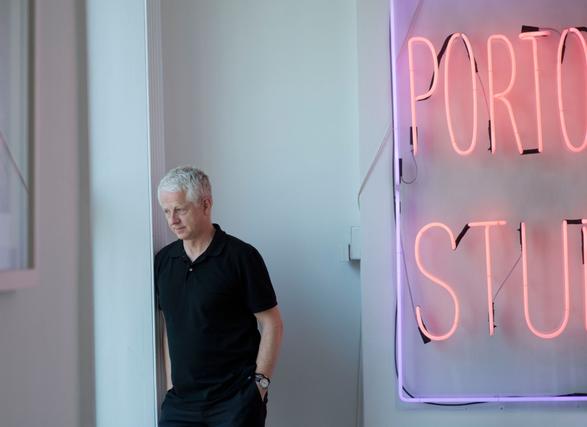 BAFTA/ Rich Hardcastle