8 February 2019

With 50-plus BAFTA nominations and countless other awards to their names, producers Elizabeth Karlsen and Stephen Woolley have been a filmmaking force to be reckoned with for more than four decades. Words by Neil Smith

The following is an extract from the official 2019 EE British Academy Film Awards brochure. Our press release announcing the honour can be found here.
We share a sensibility. It's very rare we disagree about the films we see or want to develop.
With one win and nine nominations between them, Stephen Woolley and Elizabeth Karlsen are certainly no strangers to BAFTA voters. Yet that's only a part of the story. From The Company of Wolves (1984) and Mona Lisa (1986) to Little Voice (1998) and Carol (2015), the producing partners have shown a staunch commitment to independent cinema that has been celebrated by audiences, critics and awards bodies alike. Despite this, the news they had been chosen to receive BAFTA's Outstanding British Contribution to Cinema award came as a shock. "We were thrilled, honoured and pleased for everybody who's been associated with our films and us," says Woolley. "Our career has been about making films without money under a kind of duress, and yet through that process we've been able to make some good movies."
Woolley's life in film began at his local cinema where, at the age of 18, he got his first job. "I tore tickets, humped prints upstairs, changed the letters on the canopy," he recalls. "It was all very exciting and I loved it." He went on to own and run his own repertory cinema, the legendary Scala in Kings Cross, before going into distribution through Palace Pictures. Producing movies with then partner Nik Powell was the logical next step.
"I was buying such films as A Nightmare on Elm Street (1984) and When Harry Met Sally (1989)… based on their screenplays, so I said, 'Perhaps we should create our own screenplays,'" Woolley explains.
Palace enjoyed such success that he soon found himself overstretched. Enter Karlsen, with a degree in critical theory, whose experiences working with director Bill Sherwood on Parting Glances (1986) had made her keen to become a producer herself. "Elizabeth had a brilliant knowledge of cinema but also understood bottom lines," remembers Woolley. "She understood the balance, which was quite rare in those days."
Palace eventually ceased operations in 1992, but not before producing a huge hit – Neil Jordan's The Crying Game (1992) – which led to Interview with the Vampire (1994). Having married in 1990, Woolley and Karlsen's professional partnership was formalised four years later with the foundation of Number 9 Films, releasing such movies as Made in Dagenham, Great Expectations (2012) and On Chesil Beach (2017).
"It felt like a natural thing to have a company together," says Karlsen. "Even when Stephen was off making big budget films with Neil, and I was making independent films in the UK, we were always sharing problems, talking about ideas and looking at edits of each other's films. There was a very close creative bond, and we share a sensibility. It's very rare we disagree about the films we see or films we want to develop."
With projects in development including a Dusty Springfield biopic starring Gemma Arterton and an adaptation of Graham Swift's Mothering Sunday, the future certainly looks bright for Number 9. "There's still a market for the kind of movies we make," says Woolley. "Everyone says streaming is the death knell for cinema, but attendances are the highest they've ever been." Karlsen adds that there's nothing to be gained from following the pack: "You shouldn't just chase the money or the idea you think everyone is looking for. Typically, it will be that black swan, the idea nobody saw coming, that takes everyone by storm."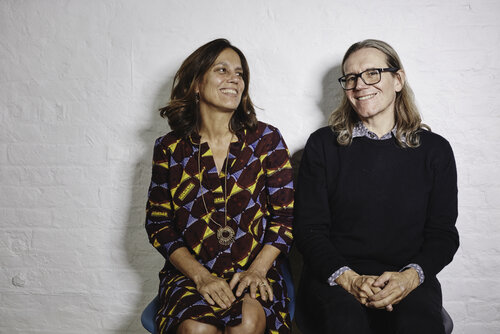 Neil Smith is a contributing editor of Total Film magazine