24 September 2015

Discover more about Nick Hornby's fascinating screenwriters' lecture.  
---
Listen to Nick Hornby's Screenwriters' Lecture
---
Download the brochure in full >
Read the transcript of the event >
---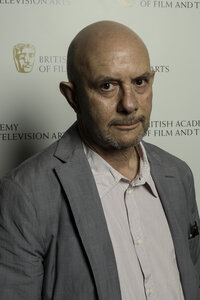 BAFTA/Stephen Butler
In the first of this year's Screenwriters' Lecture Series, Nick Hornby gave an entertaining and insightful look at his work on paper and on screen, in conversation with Francine Stock.
Hornby discussed the creative and logistic differences between writing novels and writing for the screen, describing screenwriting as a refreshing challenge: "Once you get to a certain point in your novelistic career, unless you screw up very badly the book is going to come out. With a screenplay there are all these hurdles that seem to have some kind of objectivity to them. The screenplay has to work and I love that."
He pointed to screenplays as a collaborative process, as works that feel much like books when complete but that are subject to input and change from directors and actors. This change can make the relationship between writer and director complex: "It kind of drives you mad that you can spend four years writing the rest of it and half an hour writing one scene that stays in tact."
That's the real beauty of film as collaboration. These fine actors observe what's wrong with the script and suggest ways to improve it.
Hornby hasn't abandoned his literary pursuits in his screenwriting, and has adapted several written works for the screen. On An Edcuation and Wild, both adapted from memoirs written by women, he remarked that it's "so much easier take stuff out of other people's books" than his own.
An Education, for which he was both BAFTA- and Oscar-nominated, seemed a good place to begin his screenwriting career because it combined the best thing about writing novels while providing a clear world to work in. He used Lyn Barber's original work as collaborative material integral to his screenplay rather than something to layer on top of his finished product.
On adapting Cheryl Strayed's memoir Wild, for which he also received both BAFTA and Oscar nominations, he worked closely with the original material but "boiled everything down" to find the drama. He said that Strayed's memoir is "such a packed book," adding that when he first went through the book and made notes he realised he could make a two-hour film without mentioning walking at all. 
It doesn't seem like many people are writing about women. We have phenomenal acting talent who aren't being given enough to do. 
When a member of the audience remarked on Hornby's penchant for working on scripts that centre female characters, he acknowledged these narratives as a minority in the industry. "Women have to deal with rules that are not of their own making," and therefore are subject to drama when these rules are bent or broken.
Rounding off the discussion, Hornby got to the crux of what makes for successful storytelling on screen and touched again on the importance of interaction and collaboration in the storytelling process: "You have to find drama. Always. You can have the odd solo moment but it's always about finding the situation where you're putting your character in a room with another person and hoping what happens reveals what you want to say about the character." 
---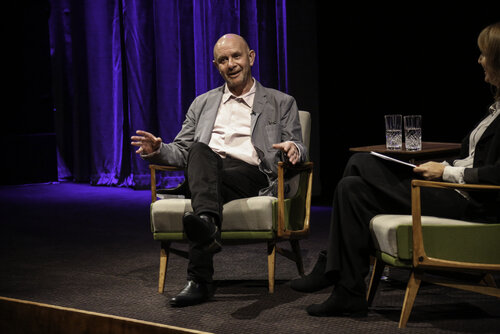 BAFTA/Stephen Butler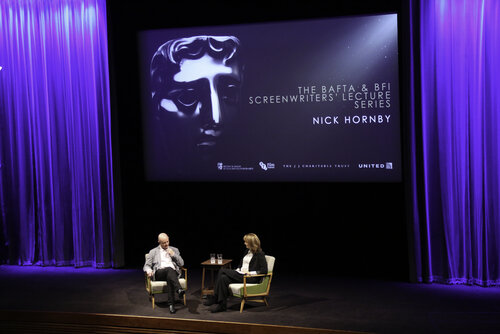 BAFTA/Stephen Butler
---
Biography
For many, Nick Hornby is synonymous with the world of literature, having won numerous awards and nominations for his bestselling novels, including being shortlisted for the prestigious Whitbread Book Awards in 2005. Several of his factual and fiction books have served as inspiration for films in their own right, including High Fidelity (2000), About a Boy (2002) and Fever Pitch; the latter adapted for the screen by Hornby himself in 1997 (eagle-eyed viewers may also have spotted the writer's brief cameo as a football coach in the film).
But Hornby's screenwriting work is just as celebrated, having won him both BAFTA and Academy Award nominations in the past. Indeed, he was BAFTA-nominated twice for An Education (2009), once for his Adapted Screenplay of Lynn Barber's memoirs, and again for Outstanding British Film, alongside producers Finola Dwyer and Amanda Posey and director Lone Scherfig. His screenplay was also Oscar nominated.
Hornby's unique insight into the literary process perhaps informs his talented and sympathetic adaptations. In 2014, he followed An Education with the emotionally engaging adaptation of Cheryl Strayed's bestselling memoir, Wild, which starred Reese Witherspoon. November 2015 sees the UK release of Brooklyn, an adaptation of Colm Tóibín's acclaimed novel of the same name, starring Saoirse Ronan, Domhnall Gleeson, Julie Walters and Jim Broadbent.