Words by Clarisse Loughrey | Portrait by BAFTA/Benjamin McMahon
The following is an extract from the official 2020 EE British Academy Film Awards brochure. Our press release announcing the honour can be found here.
I like being a role model. It's exciting to me that young women are inspired by what I've done
Kathleen Kennedy might be Hollywood's most powerful woman, but she's still a little unused to the spotlight. For years, she's served comfortably as a puppeteer – an invisible hand pulling at the strings. Now it's Kennedy's moment to step out of the shadows. As president of Lucasfilm, she's the person behind a new generation of Star Wars films, television shows, books and games. "I am much more comfortable behind the camera," she jokes. "But I like being a role model. It's exciting to me that young women are inspired by what I've done."
And how could anyone not be dazzled by her career? Her films together have landed 119 BAFTA nominations and 27 wins. They have also earned more than £9bn at the box office.
Kennedy started out in local television, before landing a role as Steven Spielberg's assistant. She then became a producer on E.T. the Extra-Terrestrial (1982), kicking off a lengthy series of collaborations between the pair. Alongside the Indiana Jones and Jurassic Park franchises, Kennedy also served as a producer on the likes of Schindler's List (1993) and Munich (2005). In 1981, she co-founded Amblin Entertainment, the production company behind Gremlins (1984), The Goonies (1985), and the Back to the Future trilogy. She and her husband, Frank Marshall, then formed The Kennedy/Marshall Company in 1992. Four of its films have earned her BAFTA nominations: The Sixth Sense (1999), The Diving Bell and the Butterfly (2007), The Curious Case of Benjamin Button (2008) and Lincoln (2012). 
In 2012, George Lucas sat Kennedy down to propose that she take over Lucasfilm after he retired. "I thought he was asking me who I thought might come in and take over," she says. "I didn't realise he was actually asking me." But she gratefully accepted the role and became president when Lucasfilm was acquired by Disney several months later. Under Kennedy, Star Wars has allowed its community to feel more inclusive than ever. Not only is the new trilogy led by a female hero, Daisy Ridley's Rey, but more than half of Kennedy's own executive team at Lucasfilm are women.
To Kennedy, a good producer has three main skills: communication, flexibility, and empathy. But it's clear, even if she doesn't say it, that her success also comes from how forward-thinking she's remained. "I get asked a lot: 'Are you going to write a book?' Have you kept a journal?'' she says. "And, no – I don't have time!"
Why look back when the future has so much to offer?
Clarisse Loughrey is chief film critic for The Independent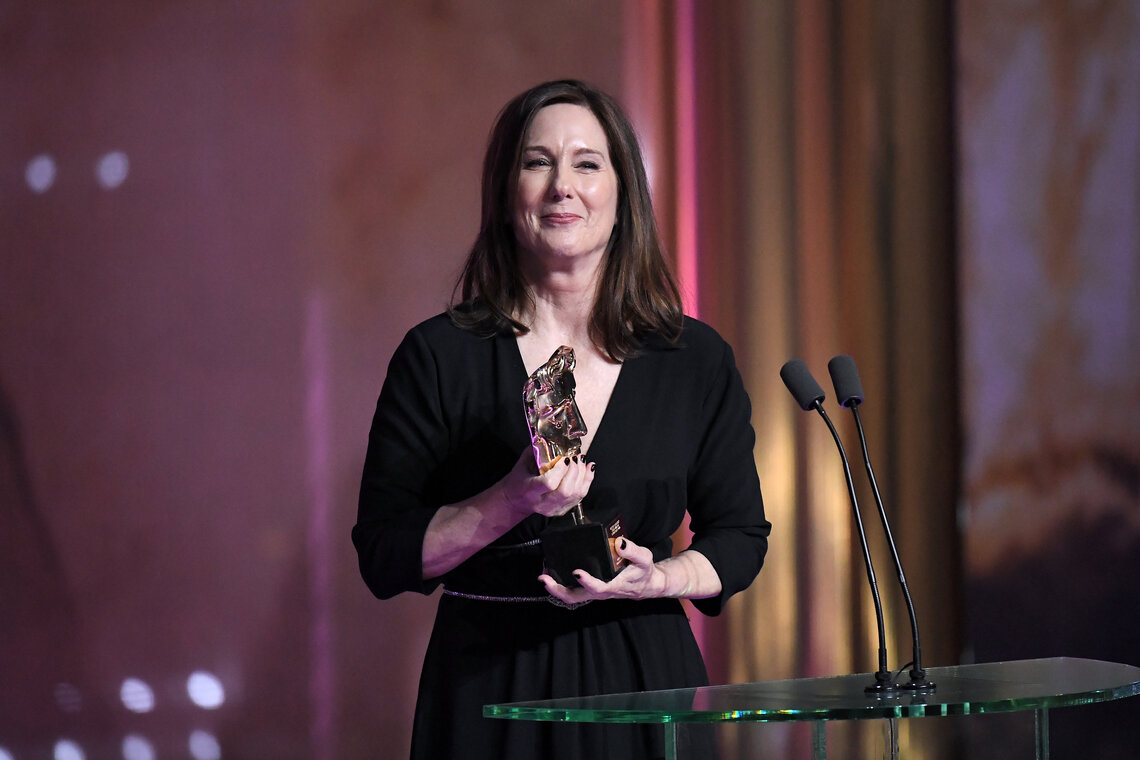 James Veysey/BAFTA/Shutterstock