This year marks the 50th anniversary of Oliver!, the wonderful film adaptation of the musical based on Charles Dickens' classic tale. Here we celebrate its impact, legacy and multiple BAFTA connections. Words by Toby Weidmann
When producer John Woolf secured the rights to adapt Lionel Bart's hugely popular musical Oliver!, based on the Charles Dickens story Oliver Twist, he must have felt he had a hit on his hands. The book had always been one of Dickens' most celebrated and by the time the musical was adapted into a feature film it had already won three Tony Awards and been nominated for six others for its first Broadway run in 1963 – after completing a hugely successful run in London's West End.
 The book had always been one of Dickens' most celebrated and by the time the musical was adapted into a feature film it had already won three Tony Awards and been nominated for six others
However, while such musicals as My Fair Lady, The Sound of Music, Mary Poppins and West Side Story were all released to great acclaim in the early 1960s, they were the exceptions in a decade that was moving away from the optimistic glitz of the musical to a more hard-hitting, gritty, realistic style of filmmaking. The genre was certainly on a downturn in the box office, with public interest not at the levels of the preceding decade that was so dominated by the golden era of Rodgers and Hammerstein adaptations. As such, while Oliver! had the ingredients to be perhaps the genre's last big hit, it was by no means guaranteed.
It was also going to be a huge undertaking and groundbreaking in terms of its size, scope and cost. But Woolf was a canny producer, whose track record included The African Queen and Moulin Rouge (1952 version). After appointing Sir Carol Reed (one of BAFTA's founding members and a former chair) as director, together they made some excellent choices for the film's cast and crew: the legendary Johnny Green would be the music director, with Onna White overseeing the dance choreography; John Box was named as the production designer, with Phyllis Dalton on costume duty; Vernon Harris would pen the screenplay; and Oswald 'Ossie' Morris was made director of photography. The inevitably large cast was headed by renowned theatre performer Ron Moody, as well as great character actors Oliver Reed, Harry Secombe, Leonard Rossiter, Peggy Mount and Shani Wallis, alongside such young talents as Mark Lester and Jack Wild.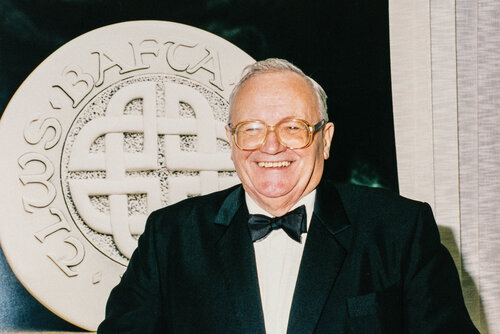 BAFTA
Harry Secombe (Bumble in Oliver!)
Over the course of 15 months, starting on 23 June 1967, the musical was immortalized forever on film after being shot entirely at Shepperton Studios. It's hard to believe that Bloomsbury Square (for the "Who Will Buy" sequence) and the steam railway were created on the Shepperton backlot, but the film took over the whole of the studio, covering six sound stages and the vast backlot. Interestingly, many of the sets were reused two years later for another Dickens adaptation, Scrooge (1970), also shot by Ossie Morris.
Oliver! took over the whole of Shepperton Studios, covering six sound stages and its vast backlot.
The size of the production – particularly filming the big song and dance numbers (approximately 400 dancers were used in some scenes) – was responsible for technical innovation, too. Oliver! was the first British film to use video-assist, a live picture from the film camera to a television monitor. Acclaimed camera technician and engineer Joe Dunton (who was presented with one of BAFTA's highest honours, the Outstanding British Contribution to Cinema award, in 2010) solved the problem of capturing live imagery by adding a rudimentary video camera above the film camera lens, which fed to a monitor and gave an approximation of what the frame had captured. This allowed Reed and choreographer White to make adjustments to positions and movement between takes.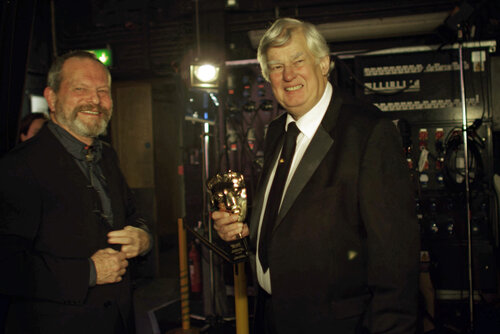 BAFTA/Greg Williams
Joe Dunton with Terry Gilliam in 2010
Oliver! had its world premiere on 26 September 1968 at the Odeon Leicester Square in the presence of HRH Princess Margaret and opened to the general public a day later. It was an instant hit with public and critics alike, with Roger Ebert stating: "Sir Carol Reed's Oliver! is a treasure of a movie. It is very nearly universal entertainment... It will be immediately exciting to the children, I think, because of the story and the unforgettable Dickens characters. Adults will like it for the sweep and zest of its production... It is as well-made as a film can be."
Critically, Reed's musical is often unfairly compared to Sir David Lean's wonderful 1948 dramatic adaptation of Dickens' novel, Oliver Twist, which is celebrating its own 70th anniversary in 2018. It perhaps doesn't help that the films share certain scenes – Sikes using Oliver as a hostage was taken directly from Lean's adaptation, which caused some consternation between the two great filmmakers, BAFTA founders and friends. As a musical, Reed's film is also not as gritty as Lean's nor, indeed, Dickens' story, but there's no denying its box office success.
 It was an instant hit with public and critics alike, with Roger Ebert stating: "Sir Carol Reed's Oliver! is a treasure of a movie. 
Surprisingly, Oliver! didn't win any BAFTAs, although it was nominated eight times. These included two for Sir Carol Reed, for Best Film and Direction, incredibly his only BAFTA nominations – although his film Odd Man Out did win the British Film category at the inaugural Awards in 1949. Actors Ron Moody (Fagin) and Jack Wild (the Artful Dodger) also received their only BAFTA nomination for this film.
Others fared better. Art director John Box would go on to win three BAFTAs (Rollerball, The Great Gatsby, A Man for All Seasons) and be nominated a further two times (A Passage to India, Nicholas and Alexandra) and be presented with a Special Award at the 1991 Television Craft Awards. Costume designer Phyllis Dalton was nominated twice more (Much Ado About Nothing, Henry V) and won once (The Hireling). She was also presented with a Special Award at the 1994 Television Craft Awards. Editor Ralph Kemplan would win a BAFTA for Day of the Jackal, while Bob Jones (who was nominated in the Soundtrack category with John Cox) was later nominated for Don't Look Now.
Although they weren't nominated for Oliver!, there was plenty of BAFTA-winning and nominated talent involved. The great Ossie Morris would win three BAFTAs, receive a further three nominations and be presented with the Fellowship in 1997. Meanwhile, screenwriter Vernon Harris and production designer Terence Marsh would receive two BAFTA nominations apiece, with actors Hugh Griffith and Oliver Reed both earning a nomination for later performances.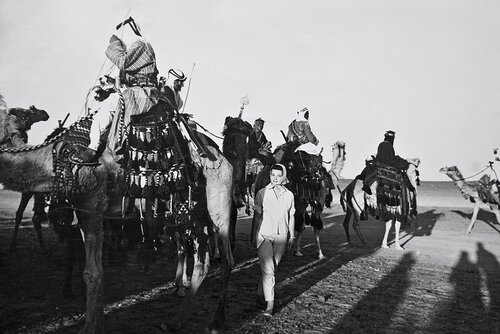 Costume Designer, Phyllis Dalton on the set of 'Lawrence of Arabia' © 1962 Private Collection
Phyllis Dalton (costume design), during filming of Lawrence of Arabia
Despite its lack of trophy success on these shores, Oliver! swept up at the Academy Awards, winning five Oscars – namely Best Picture (for Woolf), Directing (for Reed), Art Direction (Box, Marsh, Vernon Dixon, Ken Muggleston), Sound (Shepperton Studios Sound Department) and Music – Score of a Musical Picture (Johnny Green). Onna White was also presented with an Honorary Award for her outstanding choreography achievement for Oliver!. It was nominated in a further six categories – Actor (Moody), Actor In A Supporting Role (Wild), Cinematography, Costume Design, Film Editing and Writing – Based On Material From Another Medium.
Awards, box office figures, aggregate scores on review sites are just cold statistics though and can't convey the warmth, dedication and heart that went into creating one of the UK's most beloved and, as 50 years can attest, enduring musicals. It's cultural impact, influence and universal appeal continues to this day – everyone knows at least one of its songs, whether it's "Food, Glorious Food", "Consider Yourself" or "I'd Do Anything".
Whether you would consider yourself a fan of musicals or not, there's no denying that Woolf made a wonderful decision when he decided to invest in one of the UK's biggest ever film productions all those years ago.