19 December 2014

Find out more about Ethan Hawke's career in film. 

On 18 December 2014, star of Dead Poets Society, the Before trilogy and Boyhood discussed his life and career with Boyd Hilton in a BAFTA 'A Life In Pictures' interview. Hawke kept a packed audience rapt throughout his fascinating career retrospective, telling stories and sharing anecdotes about his collaborations, co-stars and creative inspirations.
---
Listen to the Event in Full
---

Ethan Hawke on working with River Phoenix: "There was a level of honesty to everything he did...he was a beautiful person." #EthanHawkeQA

— BAFTA Guru (@BAFTAGuru) December 18, 2014
---
A Life in Pictures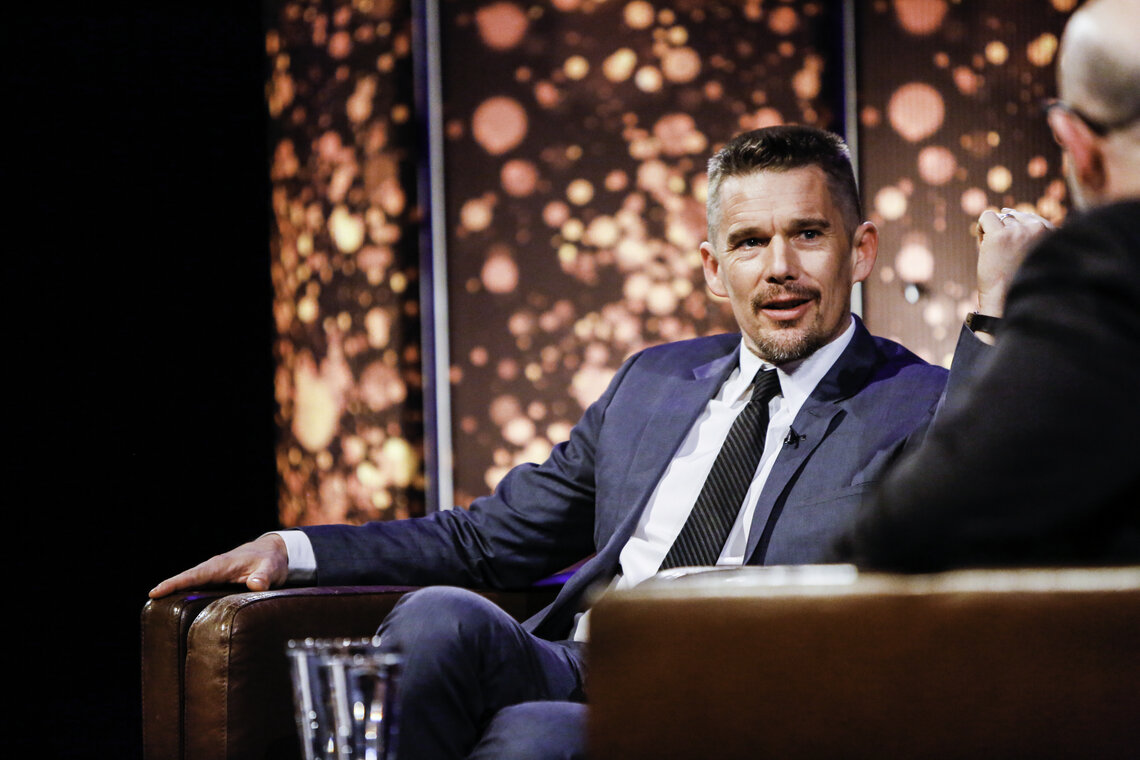 BAFTA/Jamie Simonds
Moving through a host of his acting roles - from Explorers and Dead Poets Society, to Reality Bites, Gattaca and Training Day, to the Before trilogy and ending with Boyhood – Hawke emphasised the importance of collaboration. River Phoenix, Robin Williams and Phillip Seymour Hoffman all featured heavily in Hawke's anecdotes, and he elaborated on his creative partnership with director Richard Linklater.
Everything in hindsight makes so much sense, like you know Dead Poets Society's gunna be a hit, you're gunna be an actor, you never know any of that in the moment.
Hawke heaped praise on his late co-stars, each of whom clearly had a profound influence on his life and craft. He described Phoenix as a unique and beautiful person, a gifted actor but unsettled by fame. For Hawke, the saddest aspect was what Phoenix has missed, lamenting "River's not getting to have tributes like this." He described Williams as a comic genius, undeniably special and working with him was the "first time I ever felt the buzz and thrill of acting." Paying tribute to Seymour Hoffman, Hawke recalled how he used his Oscar success, not to cash in, but to work on the independent film Before The Devil Knows Your Dead.
It was evident how much love Hawke has for acting and his relish for an unusual challenge, palpable in his work with Richard Linklater. From the Before trilogy's love story, revisited at 8 year intervals, to Boyhood's portrait of a family, shot over 12 years – time is a central element of Hawke's experimentation with writing and acting.
As well as expounding his passion for literature and theatre, Hawke offered his views on censorship, social media and love in a wide-ranging and thought-provoking journey through his career.
Ethan Hawke Biography
Over the past twenty five years, Ethan Hawke has proven himself to be one of the most charismatic and versatile actors of his generation. From his early screen roles in the BAFTA-winning Dead Poets Society (1989) through to his ground-breaking collaboration with Richard Linklater across multiple films, Hawke continues to surprise audiences with his daring career choices and memorable performances.
Hawke first appeared with River Phoenix in Joe Dante's sci-fi adventure Explorers (1985). His breakout role came four years later opposite Robin Williams in Dead Poets Society, when he was just 18 years old. This led to Hawke being cast in a series of leading roles, including family drama Dad (1989) with Jack Lemmon and Ted Danson, and Waterland (1992) alongside Jeremy Irons.
In 1995, Hawke and Julie Delpy starred in Linklater's Before Sunrise, the start of one of cinema's most loved trilogies. In the first film, Hawke plays Jesse with wide-eyed enthusiasm opposite Delpy's more enigmatic Celine. When the narrative continues nine years later in Before Sunset (2004), they are more jaded yet still tentatively optimistic about the future. Despite the couple's behaviour taking on a more brutal and sharper tone in Before Midnight (2013), the ease at which Hawke and Delpy resume their roles allows audiences to embrace Jesse and Celine's relationship all over again.
One of Hawke's great strength is his remarkable consistency, which he puts to brilliantly effect in Linklater's Boyhood (2014). Hawke suggests that the film "gets at that essential question of what part of our self is continuing." Woven into the film's exploration of family and time, Hawke's transformation from a sports car owning maverick to a suit wearing modern day father is subtly achieved yet feels utterly believable; an astonishing achievement in a film shot over twelve years.
Throughout his career, Hawke has been unafraid to take on a wide variety of roles and genres, including the dystopian Gattaca (1997), a modern-day interpretation of Hamlet (2000), and crime thriller Training Day (2001) for which he received an Oscar nomination. As well as co-writing Before Sunset and Before Midnight, Hawke has directed three films, including the recent documentary Seymour: An Introduction (2014).
With upcoming projects includIng the time-travelling Predestination (2014) and Born to be Blue (2015), a biopic of jazz musician Chet Baker, Hawke remains committed to diverse and fascinating roles; a method which continues to richly reward both Hawke and audiences in equal measures. 
---
Many thanks to our sponsors Deutsche Asset & Wealth Management