Words by Neil Smith | Portrait by Phil Fisk

The following is an extract from the official 2020 EE British Academy Film Awards brochure. Our press release announcing the honour can be found here.
I'd always loved the concept of being able to disappear inside a character
Through the creation of such characters as Gollum, Caesar and King Kong, the recipient of this year's Outstanding British Contribution to Cinema Award has both pioneered the evolving art of performance capture (Pcap) and widened the parameters of what it means to be an actor. It is surprising to learn then that Andy Serkis had no intention of becoming an actor.
"I went to college to study visual arts and in my first year had to choose a second subject," Serkis reveals. "There was a very strong theatre studies department at the University of Lancaster, so I did a subsidiary course in theatre. I started to take on acting roles, which made me realise that being on stage, rather than being behind a drawing board, was what I wanted to do."
Serkis would soon accrue a wealth of theatre credits, with television parts also coming his way. He then landed a small but memorable role in Mike Leigh's Career Girls (1997), before he was approached to voice Gollum in Peter Jackson's adaptation of The Lord of the Rings. "I didn't consider myself a voice actor, so I was sort of ambivalent about it," Serkis admits. "But Peter was interested in using a new technology called motion capture that was in its very early stages, and I was fascinated by that."
Serkis acted as a physical presence on set, supplying a reference for visual effects artists to create a computer-generated Gollum. "I loved the concept of being able to disappear inside a character," he explains. "I'd always loved the notion of transformation as an actor, but doing it this way offered a great sense of freedom."
His portrayal of Gollum brought him worldwide acclaim and made him the obvious choice to be the titular character in Jackson's subsequent King Kong (2005). That in turn led to his involvement in the rebooted Planet of the Apes films.
Serkis's extensive experience in Pcap saw him increasingly sought after by various film and game projects. This soon made him aware how much the UK needed its own facility as advanced as those he witnessed in New Zealand. "There wasn't a performance studio in the UK that had the quality, equipment, understanding and knowledge base I had experienced," he explains. "I felt behoven to start some kind of experimental workspace-slash-performance capture studio to enhance work flow and push forward." The result was The Imaginarium, set up in 2011 with producer Jonathan Cavendish to advance emerging technologies and, what Serkis describes as, "next generation storytelling".
Previously nominated for BAFTAs for playing Ian Brady in Longford (2006) and Ian Dury in Sex & Drugs & Rock & Roll (2010), Serkis says it is "very gratifying" to be recognised for a body of work that runs the gamut from independent British cinema to blockbuster franchises. "It's always an honour to be accoladed, especially by BAFTA," he says. "I've had a long association with BAFTA over the years and it's an extraordinary organisation."
Neil Smith is a journalist, critic and contributing editor of Total Film magazine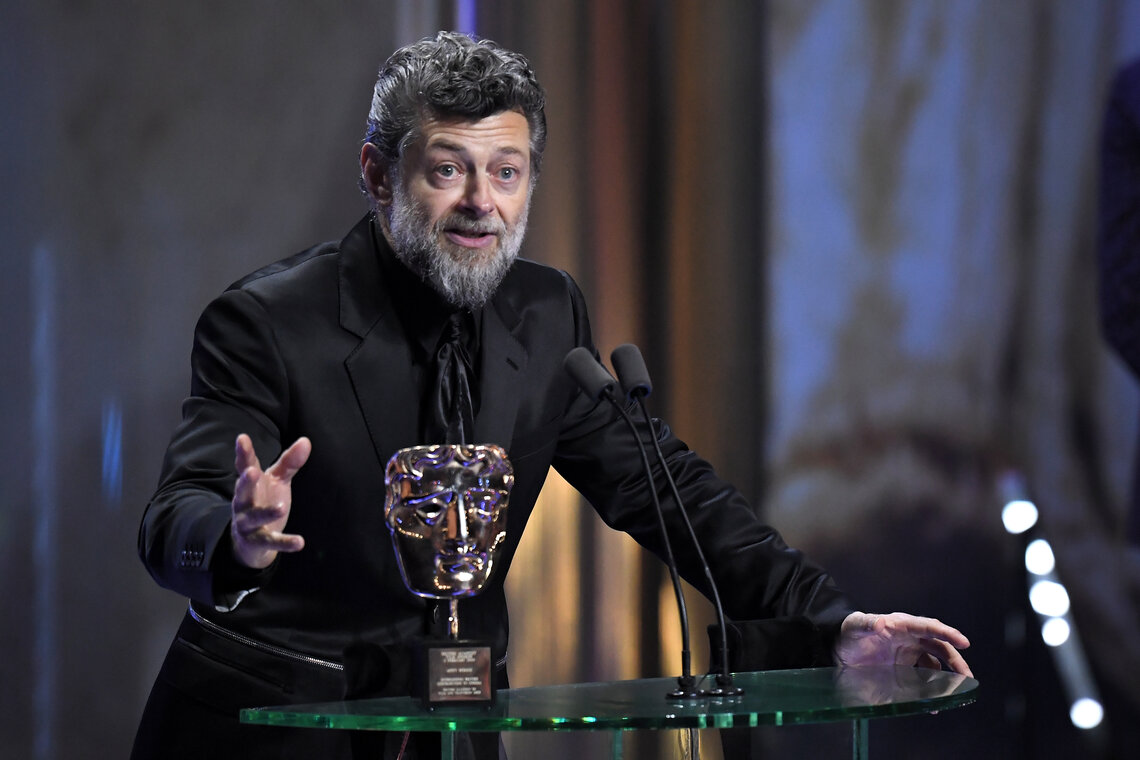 James Veysey/BAFTA/Shutterstock