7 November 2012

Screenwriter Abi Morgan spoke about the importance of knowing nothing, the benefits of endless redrafts and her search for something beyond the real.

On Monday 29 October, Abi Morgan delivered the final in a series of BAFTA Screenwriters' Lectures in association with JJ Charitable Trust presented annually in partnership with the BFI. The Lecture and Q&A took place at BAFTA 195 Piccadilly where the audience was also treated to performances of scenes from her work.
---
Watch
---
Listen to the Lecture:
About the Lecture: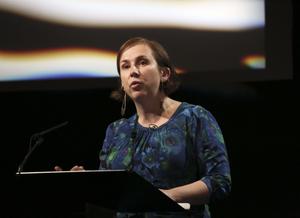 BAFTA/Steve Butler"I know one thing, that I know nothing." Socrates
It was a bold opening gambit from screenwriter Abi Morgan, as she settled behind the podium to deliver her Screenwriters' Lecture. For Morgan, screenwriting is a pursuit of something out of nothing. It is the search for the missing puzzle piece that allows everything to fall into place. "I don't quite know where it fits," she explained, "but know it might prove to be the most important and vital piece."
In a remarkably honest and humble Screenwriters' Lecture, Morgan described her struggle to put form to the chaos of her creative process. She explained that what might play out so fluidly on screen is in fact the result of endless redrafting: minor tweaks, major changes, throwing out half the script and starting all over again. It took her two years to complete her first play, re-writing the first page a hundred times. This was work done on a typewriter, with Morgan theatrically ripping out the pages and throwing them into the bin. "Isn't that the way writers do it in the films?" she joked. Since then her creative process might have found its focus, but it hasn't lost its chaos.
Morgan made a name for herself with television hits including 2005's Sex Traffic, which starred John Simm and picked up eight BAFTAs, and 2008's White Girl which won the Award for Best Single Drama. However, 2011 saw her suddenly shoot to fame with a string of high-profile triumphs. The public and critical reception of The Iron Lady, Steve McQueen's Shame and television drama The Hour went on to cement Morgan's reputation as one of Britain's best-known and respected screenwriters.
[PHRASE|I am a writer of fiction. That is my job, to find something beyond the real: truth in artifice.]
Her script for The Iron Lady went on to gain great acclaim in the awards season, with Meryl Streep picking up a BAFTA for Best Actress for her portrayal of a frail, elderly Margaret Thatcher. Morgan mentioned that although she doesn't agree with her politics, she "grew to really have a great connection with the character of Margaret Thatcher." Viewing the story as one of power and loss rather than one of politics allowed her to craft a deeply nuanced, affecting portrait of a once-powerful figure in decline. She remembers hearing Carol Thatcher describing her mother's dementia as a way of living in "another world." This is the world she wants her writing to inhabit. "I am a writer of fiction", she explained. "That is my job, to find something beyond the real: truth in artifice."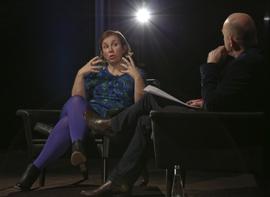 BAFTA/Steve ButlerShe described turning to series-writing for The Hour as a "steep and fantastic curve." Television has different limitations from film, she explained. It's not a place for unsaid words or unresolved mysteries. As the series' Executive Producer, she learnt to judge her own work as an audience would; anything that bored her, she realised, would most certainly bore them. Redrafting the entire beginning, she felt a strange liberation throwing out the script and starting fresh. In this situation, she said, "Knowing nothing makes it better, and that is all one is ever trying to do." The audience were even given a chance to hear her work in action, as a group of actors performed The Hour's opening scenes.
At points in the lecture Morgan went into fascinating, anecdotal detail about her working relationship with director and artist Steve McQueen. From their first three-hour meeting, so animated they never even took off their coats, a very special professional relationship was formed. She painted an image of the two of them huddled around a table in the restaurant of Manhattan's sleek Standard hotel, swapping stories and ordering wine and writing for hours. The result of these meetings was Shame, a cold, detached portrait of sex-addicted Brandon as he chases after women to fill a void we never fully understand. With a script that chopped and changed, losing much of its plot, most of its context and its first 60 pages, it's a perfect example of the chaotic brilliance of Morgan's work.
Her creative process straddles the line between chaos and nothingness: the initial attempt to overlook fact to find the story's real heart, then the long process of sifting through a wave of ideas to form a narrative. While she can write a film in 10 days, she'll then go on to rewrite it ten, 20, 30 times or more. "I'm good at throwing things away, I guess," she remarked. When it finally comes to handing over a script, she described it as giving birth to an "ugly, bothersome baby." It's a case of "giving the most vulnerable part of yourself legs" and releasing it into the world.
What remains at the core of everything Morgan writes is her search for that "chink of light", the spark of life that injects her films with such a palpable human truth. "Out of nothing," she contended, "there is always something – outside of the facts, outside what is visible."
---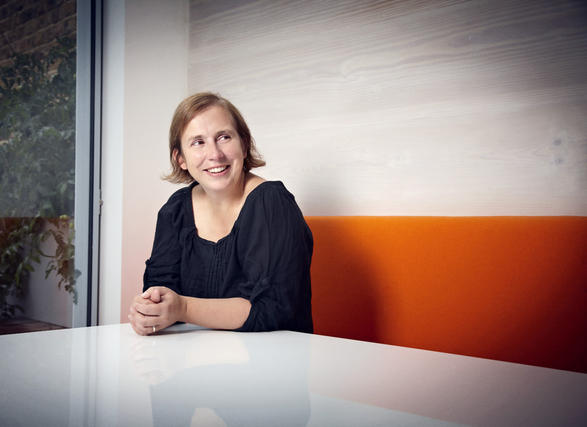 Jay Brooks
---