19 January 2012
BAFTA/Richard Kendal
Paddy Considine and Diarmid Scrimshaw were awarded the Outstanding British Debut BAFTA for their film Tyrannosaur. Find out more about the winners and each of the nominees.
---
"As soon as I can get behind the camera again I will" Paddy Considine

Tyrannosaur
WINNER
Paddy Considine (Director), Diarmid Scrimshaw (Producer)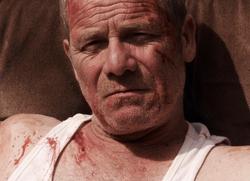 Tyrannosaur is the story of the unlikely relationship between Joseph, an unemployed widower plagued by a rage that is driving him to self-destruction, and Hannah, a Christian charity shop worker, who is hiding a secret which has a devastating result on both of their lives.
Paddy Considine is a well-known British actor whose film roles include The Bourne Ultimatum, My Summer of Love, In America, Hot Fuzz, 24 Hour Party People and Submarine (directed by fellow nominee Richard Ayoade). He is particularly associated with Shane Meadows following roles in A Room for Romeo Brass, Le Donk and Scor-Zay-Zee and Dead Man's Shoes, which he also co-wrote. He won a BAFTA in 2007 for his first short film, Dog Altogether, which was a treatment for Tyrannosaur.
Diarmid Scrimshaw produced Dog Altogether, for which he also won a BAFTA and also produced most of the visual content for the Arctic Monkeys including their feature-length concert film Arctic Monkeys At The Apollo (directed by Richard Ayoade), and the short film Scummy Man, which was nominated for Berlin's Golden Bear. Other producing credits include the short films Curtains (written and directed by Julian Barratt and Dan Jemmett), The Mighty Boosh Live: Future Sailors Tour (directed by Paul King), and most recently the intro cinematic for DJHero (nominated for a Visual Effect Society award).
| | | |
| --- | --- | --- |
| | | Listen to Paddy Considine discuss working on Tyrannasaur along actors Eddie Marsan and Olivia Colman in this BAFTA Q&A recording |
| | | Read Diarmid Scrimshaw's profile interview on BAFTA Guru in which he offers his advice to aspiring filmmakers. |
The Nominees...
The Outstanding British Debut by a British Writer, Director or Producer encourages British filmmaking by recognising exceptional talent displayed by individuals in the selected disciplines. Discover more about the nominees in 2012...
Will Sharpe, Tim Kingsley, Sarah Brocklehurst

Attack The Block
Joe Cornish (Director/Writer)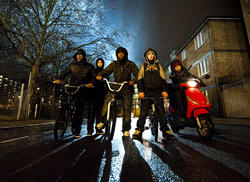 Optimum ReleasingAttack the Block is a science-fiction action film about an alien invasion of a council estate in South London.
Joe Cornish is a comedian and writer best known for his partnership with Adam Buxton; their sketch show (The Adam and Joe Show) ran for four series on Channel 4 between 1996 and 2001, and more recently they have presented radio shows on BBC 6 Music. His other work as a director include segments of the C4 show Modern Toss and behind the scenes documentaries for Little Britain, Shaun of the Dead and Hot Fuzz.
He also co-wrote the screenplay to this year's The Adventures of Tintin: The Secret of the Unicorn with Edgar Wright and Stephen Moffat. Cornish was included in the inaugural BAFTA Brits to Watch event in Los Angeles in 2011.
| | | |
| --- | --- | --- |
| | | Listen to a recording of Joe Cornish talking about Attack The Block at a BAFTA event held at Somerset House in July 2011. |

Black Pond
Will Sharpe (Director/Writer), Tim Kingsley (Director), Sarah Brocklehurst (Producer)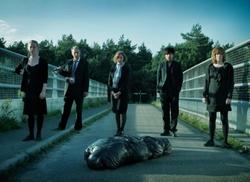 Black Pond is a black comedy about a couple who take in a mysterious and troubled stranger, which causes them to realise the problems in their marriage; when their new friend dies during a family dinner, they make an unusual decision which leads to notoriety for the family.
Will Sharpe's acting credits include a year with the Royal Shakespeare Company, television roles in Sirens (C4) and Sherlock (BBC), as well as playing Tim Tanaka in Black Pond. He is currently working on several sitcom pilots.
Tom Kingsley has made music videos for bands including the Guillemots and Darwin Deez, and adverts for companies including Diesel and Five Alive. He was nominated for best new director at last year's UK Music Video Awards.
Sarah Brocklehurst has worked in media and entertainment law for Limelight Film Finance. Her work with the Royal Shakespeare Company includes producing a film trailer for the 2012 Cultural Olympiad, and she is the recent winner of an apprenticeship for new producers at Sonia Friedman Productions.
Read interviews with each of the nominees for Black Pond in which they answer BAFTA's questions about their inspirations and greatest career achievements to date.
Interview on
BAFTA Guru >

Interview on
BAFTA Guru >

Interview on
BAFTA Guru >

Coriolanus
Ralph Fiennes (Director)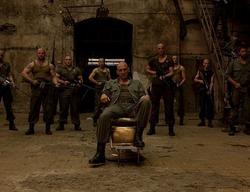 Coriolanus is a modern-day adaptation of Shakespeare's tragedy about a banished hero of Rome who allies with a sworn enemy to take his revenge on the city.
Ralph Fiennes is one of Britain's best known actors; he won a BAFTA for Best Supporting Actor in 1994 for his role as Nazi officer Amon Goeth in Schindler's List, and has been nominated on three other occasion for the Leading Actor award (for The English Patient, The End of the Affair, and The Constant Gardener). His other film roles include Quiz Show, Red Dragon, Maid in Manhattan, The Reader, In Bruges and Voldemort in the Harry Potter films; he plays the title character in Coriolanus.
| | | |
| --- | --- | --- |
| | | Watch Ralph Fiennes discuss his career with journalist Emma Freud in a live conversation held at Latitude Festival in July 2011 |

Submarine
Richard Ayoade (Director/Writer)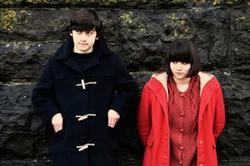 Submarine is a comedy which follows a 15-year old boy with two objectives: to lose his virginity to the girl of his dreams before his next birthday, and to stop his mother from leaving his father for a new age mystic.
Richard Ayoade is best known to British television audiences for his role as Moss in the Channel 4 sitcom, The IT Crowd; his other TV roles include Nathan Barley, The Mighty Boosh and Garth Marenghi's Dark Place. He has directed a number of music videos for bands including Arctic Monkeys, Super Furry Animals, The Last Shadow Puppets, Vampire Weekend, Kasabian and the Yeah Yeah Yeahs, and also directed the feature length concert film Arctic Monkeys At the Apollo.
| | | |
| --- | --- | --- |
| | | Read an interview with Richard Ayoade in which he reveals how he first broke into the film industry |