9 February 2007
Orange
The talented young Actress Eva Green was crowned the people's Rising Star in 2007.
In 2007 the British public voted for Eva Green as the star most likely to light up our screens. Eva stole the show from a shortlist of five international young actors and actresses, nominated for their outstanding performances and exceptional talent. The other shortlisted nominees were: Ben Whishaw, Cillian Murphy, Emily Blunt and Naomie Harris.
Eva Green biography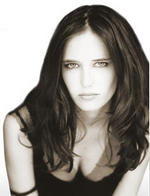 OrangeEva was born in 1980 and brought up in France by a French mother and Swedish father. She studied acting in Paris, then at the Webber Douglas Academy of Dramatic Art in London, England. She made her big screen debut in Bernardo Bertolucci's , alongside Michael Pitt and Louis Garrel, before playing Countess Clarisse de Dreux-Sobise in the French film .
Eva made her Hollywood debut in Ridley Scott's (2005) alongside Orlando Bloom. She went on to win the hearts of critics and UK audiences alike with her outstanding performance as the enigmatic Bond girl, Vesper Lynd in (2006) and starred in , based on Philip Pullman's novel.
Eva Green Filmography
(2007),
(2006),
(2005),
(2004),
(2003)