9 February 2014

British writer and director Peter Greenaway received the Outstanding British Contribution To Cinema Award in 2014.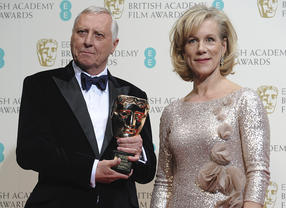 BAFTA/ Richard KendalThe career of iconic British filmmaker Peter Greenaway was celebrated at this year's Film Awards where he was presented with BAFTA's prestigious Outstanding Contribution to Cinema Award. The Award was presented by actress Juliet Stevenson in front of an esteemed audience of film industry guests at London's Royal Opera House.
Speaking about the Award, Greenaway said; "Everyone agrees that cinema is changing its characteristics very fast and to be awarded a BAFTA for trying to contribute to that change is a pleasure and a delight, an encouragement and an acknowledgment that the effort is valuable, certainly for myself and certainly for all those numerous collaborators who have assisted me in this effort over more than thirty years."
Watch Greenaway's acceptance speech and backstage interview...
---
---
---
The Award is presented annually in honour of Michael Balcon and previous recipients include the likes of Mike Leigh, Kenneth Branagh and John Hurt.
Everyone agrees that cinema is changing its characteristics very fast and to be awarded a BAFTA for trying to contribute to that change is a pleasure and a delight.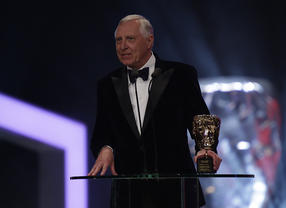 BAFTA/ Richard KendalGreenaway is renowned for his exploration of the cinematic medium, of eroticism and death, and for his innate ability to integrate Renaissance art into his work. He made his first feature film in 1980, entitled , but his critical breakthrough came in 1982 with 17th century drama , establishing him as one of the most important filmmakers of his time.
Throughout his career he has worked with an impressive array of accomplished actors including Michael Gambon, Tim Roth, Ewan McGregor and 2014 Academy Fellow Dame Helen Mirren.
---
An Interview With Peter Greenaway
Artist, visionary, provocateur – all have been used to describe this year's Special Award recipient, filmmaker Peter Greenaway.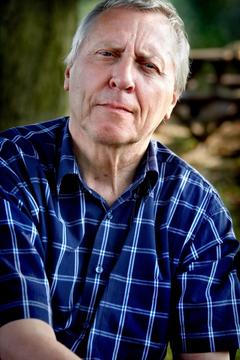 BAFTAI know nothing about you, but I do know two things – two people fucked to make you and I'm sorry, you're going to die," smiles filmmaker Peter Greenaway. The recipient of this year's BAFTA for Outstanding British Contribution To Cinema has always been a forthright, singular artist, a Welsh-born iconoclast known for his painterly cinematic style and penchant for pushing boundaries. Indeed, his to-the-point analysis of all of us reflects his ongoing fascination with sex and death – the twin forces of Eros and Thanatos from Greek mythology – that permeates his work. Even a cursory familiarity with his films – with the prime example being (1989) – exposes Greenaway's examination of what he refers to as the very beginning and the very end. "We're all extremely, deeply fascinated – whether you're a nun or a serial killer – with these issues," he explains. "A novelist like Balzac might have said that money was important, but money's only there to manipulate the sex and the death anyway. You could say that Shakespeare's plays are about power, but that power is circulating around notions of beginnings and ends, starts and finishes." Going back to his own start, Greenaway hails from Newport in Gwent, and began his artistic life as a painter before branching out into film in 1966, making his striking debut, , in 1980, followed by his first traditional narrative feature, , in 1982. What followed was a run of richly creative, visually arresting and thematically challenging films that, he says, "push the edges", from (1985) and (1987) through to (2007) and (2012). Plenty of sex and death is explored to be sure. "Somebody once asked me, 'Why, Mr Greenaway, did you move from painting to cinema?' and rather cheekily I said, 'Paintings don't have soundtracks,'" he laughs. "That's a simplification because cinema has so many elements, but it's basically true. I was often criticised in England for being far too concerned with form and not content, but for a long time the French have said there's no such thing as content anymore – the language is the content. I always have this eye for the emotion of the pictorial image and try very, very hard to use all the contemporary gizmos I can – there's practically a new one every afternoon now – to expand filmmaking language." Receiving an award like the Academy's Outstanding British Contribution To Cinema can be misconceived as the bell tolling at the end of a career – or even a life, given Greenaway's obsessions – and this immediately occurred to him upon hearing about the award.
I always have this eye for the emotion of the pictorial image and try very hard to expand filmmaking language.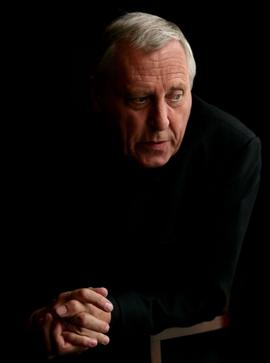 BAFTA"Didn't David Hockney say that if you're English and you can still boil an egg when you're 70, they'll give you a medal?" he says, wryly. "But it sounds rather grand. I was a little surprised. I'm a bit of an outsider as a filmmaker. I haven't lived in England now for about 20 years. I live in Amsterdam and I feel like a European now. I'm at an age that my next great adventure must be death, though the last three films I've made are not inherently about that, they're more about notions of immortality through art. Although, if you seek immortality, you shouldn't be a filmmaker. Cinema is very ephemeral, it needs so much technology to reproduce it. The first 30 years of cinema was silent and who watches silent cinema anymore?" So how does he feel he'll be remembered for his work? "Journalists have often said that you're only allowed to make three good films," he smiles. "I hope I have a bit more time to make those good three films, but that's probably not true anymore. So I think my reputation will probably be associated with , , and . But I have made 15 films and we're working on the 16th now. Cinema's a lottery – you can have a great script, great actors, everything you need; put it in the oven; take it out and…" A lot of Greenaway's recent output has been outside of conventional cinema, including exhibition and installations in Venice's Palazzo Fortuny, Barcelona's John Miro Gallery and the Louvre in Paris, and he believes this reflects the changing nature of how we consume and create images.
Journalists say you're only allowed to make three good films. I hope I have a bit more time to make those three good films.
"Our ability now to make and manipulate images is much more profound," he says. "I don't think it belongs in dark cinemas anymore. Man's not a nocturnal animal. The developments outside of cinema are far more exciting than those in it. If you think, as many do, that cinema is the seventh art – that comes with a responsibility. Most films stay within the aegis of simply being a film. But we're moving into new ground now – our grandchildren will say, 'Cinema? What on earth was that?'" Greenaway is, as he says, "busier than I've ever been," and it's not coming from established cinema either. "It's from institutions all over the world that view the moving image as an extraordinary tool," he explains. "There are certain freedoms and opportunities – multiple screens, technology associated with the theatre and opera house – that I'm making use of. We're producing a lot more entertaining, exciting and cutting edge work than when I was associated with orthodox cinema." But that doesn't mean Greenaway has left cinema behind – if anything he's looking back at its past through the prism of modern technology. He has three new films planned, including his current project, which he's working on in Mexico. This film is about the pioneering Russian director and film theorist Sergei Eisenstein, which he describes as being "about understanding the end, understanding notions of mortality. I've put my own doubts in Eisenstein's mind, with a certain sense of circumspection and an amount of arrogance."
I want to come to a film with as much enthusiasm, excitement and openness as I can.
Eisenstein, often credited as the father of montage, is a fellow filmmaker that Greenaway clearly admires. Indeed, he describes him as "one of the few visionary minds in the whole history of cinema," adding, "Cinema is dying, so maybe now is the time to celebrate its greatest exponent." Greenaway is very clear that he means the death of "cinema", not the death of visual storytelling – far from it. He simply believes that the moving image cannot and should not be constrained by the format. "There's only one good seat in a cinema and it's where the pictures were taken," he explains. "When I watch, I don't want to be interrupted by somebody else, I don't want to share an emotional involvement with anybody else. I want to make direct contact with the imagination of the filmmaker. I want to come to a film with as much enthusiasm, excitement and openness as I can. I want to learn something, to have a sensual, emotional and intellectual experience in a way that I have always assumed that serious filmmakers would want me to." At 71 years old, Greenaway wants you to engage with his work in that intense way and he'll keep pushing the boundaries of how we consume the moving image to do it. His contribution to cinema is far from over.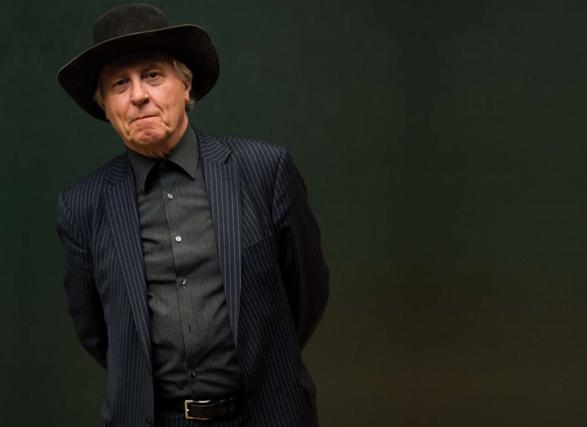 BAFTA
---