The EE BAFTA Film Awards will be broadcast on Sunday 19 February 2023.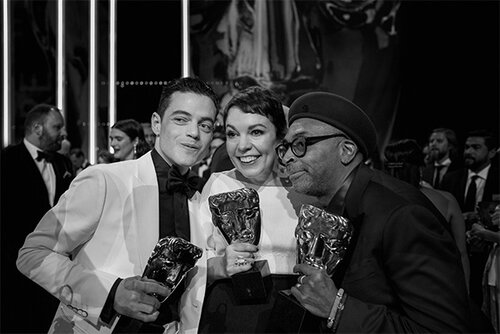 Red Carpet
Follow all the action on BAFTA's social media channels @BAFTA on Twitter, Instagram, Facebook, YouTube and TikTok.
Film critic Ali Plumb and presenter Vick Hope will take over BAFTA's legendary red carpet. See them on BAFTA's YouTube Livestream on Sunday 19 February 2023.
You can also join Sarel Madziya (@CocoSarel) live from the red carpet exclusively on BAFTAs TikTok channel at 4pm GMT.
Awards Ceremony
If you live in the UK, the Awards will be broadcast on the BBC. You can also watch it online or catch-up on BBC iPlayer. Make sure to keep up with all the winners as they're broadcast on BAFTAs social media channels and on our website.
The Awards are broadcast live internationally. Note that transmission times may vary, so always check your local listings. 
TERRITORY
BROADCASTER  
RED CARPET PROGRAMME 
CEREMONY PROGRAMME 
Australia and New Zealand
BBC Australia
N/A
Yes
Greece and Cyprus
Nova
Yes
Yes
France, French Guiana, French Polynesia, Mayotte, Reunion, Guadeloupe, Martinique, New Caledonia, St. Pierre & Miquelon, Wallis & Futuna Islands and French Antarctica) and French speaking Switzerland , Monaco, Andorra, French speaking Belgium, Luxembourg
Canal+
Yes
Yes
USA and its territories (American Samoa, Guam, the Northern Mariana Islands, Puerto Rico, and the U.S. Virgin Islands)
Britbox
Yes
Yes
Canada
Britbox
Yes
Yes
South Africa
Britbox
Yes
Yes
Denmark, Finland, Norway & Sweden and their territories (Greenland, Åland, Jan Mayen and Svalbard)
Britbox
Yes
Yes
Australia 
Britbox
Yes
Yes
Bulgaria
Nova
Yes
Yes
India + Subcontinent (Bangladesh, Bhutan, Maldives, Nepal, Sri Lanka, Pakistan), Philippines & Indonesia
Lionsgate India
Yes
Yes
Spain and Andorra 
Turner
N/A
Yes
Malaysia and Brunei
Astro/ PRIMEtime
Yes
Yes
Argentina, Bolivia, Chile, Colombia, Ecuador, Mexico, Paraguay, Peru, Uruguay and Venezuela;
Anguilla, Antigua & Barbuda, Aruba, Bahamas, Barbados, Bermuda, British Virgin Islands, Cayman Islands, Curacao, Dominica, Dominican Republic, Grenada, Guadeloupe, Haiti, Jamaica, Montserrat, Martinique, Saba, Saint Eustatius, St. Maarten, St. Kitts & Nevis, St. Lucia, St. Vincent and the Grenadines, Saint Martin, Trinidad & Tobago and Turks & Caicos Islands. 
DirectTV
N/A
Yes