14 January 2020

BAFTAs For the Love of Film competition is a nationwide search for people whose passion for film makes them legendary in their communities.

Whether they have renovated an abandoned movie palace, run a mobile film club for rural communities or served popcorn for 30 years at their local cinema, these are the people who have done something extraordinary to benefit others and enrich their experience of film.

Discover previous For the Love of Film winners below. 
FOR THE LOVE OF FILM WINNER 2022
---
DION WYN HUGHES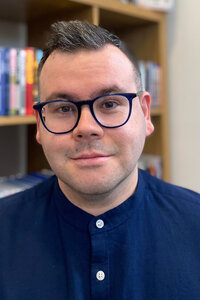 BAFTADion Wyn Hughes (Bangor, Wales) was chosen as this year's winner due to his passion and enthusiasm to get young people involved in the arts. Dion works voluntarily with a wide range of organisations and groups across North Wales, including Wicked Wales, Into Film Cymru, Film Hub Wales, Ffilm Cymru, Bangor University and BFI Academy. His work helps to spread the joy of filmmaking within his community, and nurture future industry professionals. Dion also coordinates the only Welsh language film festival in the world. 
Over the past 12 months, Dion has coordinated Ffilm Ifanc, a young programmers initiative across Wales which aims to get those aged 18-26 more involved in the industry, they receive training from industry professionals, and have recently run a showcase of films across several Welsh cinemas. 
---
Dion was selected as our winner by an expert industry panel including BAFTA-nominated filmmaker Edgar Wright, BAFTA-nominated comedian Aisling Bea, Film and TV Critic Amon Warmann, and arts broadcasters Grant Tucker and Rhianna Dhillon
FOR THE LOVE OF FILM WINNERS 2020
---
JANET DUNN & MARTIN FOL
| | |
| --- | --- |
| | Janet Dunn and Martin Fol (Liverpool) fund and operate Liverpool's Plaza Cinema, run predominantly by volunteers. The community cinema offers dynamic film-based educational programmes to schools, the volunteer sector and the general public. The Plaza has been an integral part of its local community since its opening in 1939.  When the cinema was threatened with closure in 1995, Janet stepped forward to secure a 10,000-signature petition to save it. The Plaza Community Cinema re-opened on July 18th 1997, building |
a team that included Martin initially as a duty manager in 1999 and then as cinema manager in 2011.  The Plaza's programme includes organising various film courses for young people aged 13-19, helping to train them in film production and giving them the opportunity to experience the magic of showcasing their films on the big screen of the Plaza itself. The cinema also hosts autism and disability-friendly and dementia-friendly screenings. In the decades since its reopening in 1997, the Plaza has provided a safe, welcoming and affordable hub for its local residents and is a totally inclusive space for all. 
---
LIZZIE BANKS
| | |
| --- | --- |
| | Lizzie Banks (Brighton) is the producer of Oska Bright Film Festival, the world's biggest festival of short films made by and for people with learning disabilities, autism and Asperger's. Lizzie has overseen the development of the festival from a one-day event to an international four-day celebration of films that show a different outlook on life. Oska Bright is planned, managed and delivered by a learning-disabled team supported by Lizzie. The festival is funded by the BFI and has BAFTA qualifying status. She secures screenings for films around the country with  |
partners such as London Short Film Festival, Encounters and Aesthetica and lobbies TV and film execs to make the industry fully inclusive. Oska Bright 2019 screened 99 films from 17 countries. Lizzie has just joined the ICO's Women in Leadership programme and is ambitious for the festival and its film makers.
---
Janet, Martin and Lizzie were selected as winners by an expert industry panel including BAFTA-winning director Amma Asante, broadcaster Edith Bowman, four-time BAFTA-winning writer/director Paul Greengrass, filmmaker and content creator Jack Howard and Andrew Orr of BAFTA's Film Committee. 
Discover all 9 incredible finalists of the For the Love of Film competition here.
FOR THE LOVE OF FILM WINNERS 2019
---
IAIN MACCOLL
| | |
| --- | --- |
| BAFTA/Dana Thompson | Iain MacColl is the Senior Operator of the Screen Machine, the UK's only fulltime, self-contained mobile cinema, serving over 40 communities across the Highlands and Islands of Scotland. Iain has been with the service since it was launched in 1998, and his total dedication has ensured that the Screen Machine continues to visit many of Scotland's smallest and hardest to reach communities, including some 20 islands across the Hebrides and Orkney, bringing the latest blockbusters and arthouse films, projected to the highest technical standards. The majority of Screen Machine's funding is from Creative Scotland. |
---
DAN ELLIS
| | |
| --- | --- |
| | Dan Ellis is the Founder and Managing Director of Jam Jar Cinema in Whitley Bay, Newcastle. Jam Jar Cinema was born out of Dan's desire to bring cinema back to a British seaside resort. Named after the historic Tyneside tradition of being able to get into the pictures with a Jam Jar, it was established as a social enterprise to be affordable and to help bring about change to the town. |