22 January 2013
An interview with 2013 Academy Fellow and multi-BAFTA winning filmmaker Sir Alan Parker.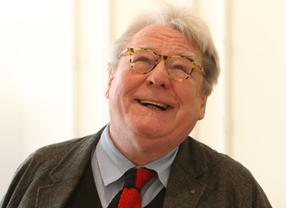 For a filmmaker already among the most garlanded in BAFTA history, the ultimate award of this year's Fellowship to writer-director Sir Alan Parker still somehow manages to take his breath away.
This will be the seventh award from the Academy in a career, which has spanned more than four decades and 14 features. Four have cited his work on the films Bugsy Malone (1976), Midnight Express (1978) and The Commitments (1991), while a fifth, presented in 1985 when Parker was barely 40, acknowledged his "Outstanding British Contribution to Cinema".
"When it was first mooted I might get the Fellowship, I thought about what I might say…you know, the beginnings of my speech. Then 10 years passed…" laughs Parker with a great, disarming roar. "It's as important as anything I have ever been awarded. It means an enormous amount to me."
His shelf of BAFTA trophies doesn't even begin to convey the breadth of Parker's other film-related activities, which include stints as Chairman of the British Film Institute and as inaugural Chair of the British (later UK) Film Council. A knighthood for services to the film industry in the New Year Honours list of 2002 followed his CBE in 1995.
But, it is for his work behind the camera that Parker has created, at 68, his most enduring legacy. There are two distinct strands in the bulk of his filmography: the "issue" drama, exemplified by Mississippi Burning (1988) (civil rights) and The Life Of David Gale (2003) (capital punishment), and music, as portrayed so popularly in five of his films, including Bugsy Malone, Fame (1980), Evita (1996) and The Commitments. A fifth, Pink Floyd – The Wall, directed in the same year as Shoot The Moon (1982), his most "personal" film, arguably created the template for the succeeding onrush of innovative music promos.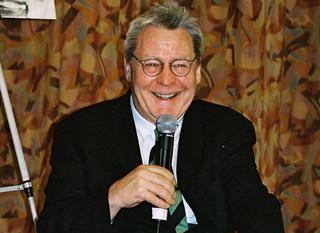 BAFTA Los Angeles / Adrian CarrAlan Parker at a BAFTA Los Angeles Screening in 2003Yet his entry into directing arrived more by good luck than judgement. As a young copywriter who'd entered advertising straight from school without any real qualifications, he had already written yards of commercials, and begun honing his cartooning skills, before joining one of the most successful agencies, Collett Dickenson Pearce (CDP) in his early 20s, where the likes of David Puttnam and Charles Saatchi were already employed.
After creating a stir with a newspaper ad for sherry – leading one of his bosses to exclaim, amusedly, "Alan, in all these years of putting Harvey's Bristol Cream on a pedestal, you come along and sell it off a barrow" – Parker asked if he and a skeleton team could have some money "to experiment" making TV commercials, then still in their infancy.
His request was granted, so with someone operating a 16mm camera, another art directing and a third working the Nagra tape recorder, that left Parker, 23 at the time, "as the only one who couldn't actually do anything. So they suggested I'd better be the one who said 'Action!'" The resulting experiments impressed his bosses, who asked him to start up his own production company with a generous, interest-free loan.
He poached Alan Marshall, "the best producer in the agency", and together with a secretary, they set up shop in Soho. "Probably 90 per cent of our work was for CDP at the outset, and in that first year, we won just about every award going," recalls Parker. Marshall would, of course, become Parker's strong right-arm, first on a series of shorts then on seven features over the next dozen years.
However, before they embarked on Bugsy Malone in 1976, Parker's own full-length debut was with Jack Rosenthal's The Evacuees (1975), which earned him his first BAFTA for Best Single Play.
Despite early admiration for the Hollywood movies of the likes of Elia Kazan (On The Waterfront) and Fred Zinnemann (High Noon), his main inspirations were strictly domestic, small screen affairs, such as Ken Loach's Cathy Come Home and Ken Russell's Elgar. The beginning of his own awards trail in TV was clearly rather poignant.
I've always said that you can't make films about a life unless you live a life
"I was obsessed with how brilliant Loach and Tony Garnett were when I was a young filmmaker and I remember asking them how they did it. They replied: 'Stop asking us how we did it and ask instead, why we did it?' That's something I've carried over into lectures I give when I go to film schools and the students tend to go on about the technical stuff. I tell them it's what you say, rather than how you say it."
The aforementioned Zinnemann would become a rather unlikely mentor. "He seemed to take a shine to me and my work, and I used to go to his office and show him my films before anyone else. He loved Birdy (1984). But when I showed him Angel Heart (1987), he told me afterwards, 'Alan, being a film director is an incredible privilege; don't waste it.'"
Although he still works "on something everyday" – there have been screenplays for, among others, Coram Boy and Blood Brothers, as well as a novel, The Sucker's Kiss – Parker hasn't actually made a new film for 10 years.This doesn't faze him, although he admits he misses the "camaraderie and madness of the film set".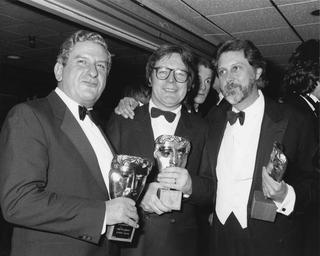 Parker at the 1985 Awards where he received his Outstanding British Contribution to Cinema AwardHe continues: "I started when I was 23 and haven't really stopped. Writing a screenplay is a bit like making a film but without the camera. It gets very tiring. I'm also proud of what I've done. I've always said that you can't make films about a life unless you live a life, and too many directors spend all their lives on film sets and in editing rooms."
Parker certainly doesn't rule out a return to filmmaking. But, of the gruelling, time-consuming process, he says he's reminded of a quote by the late, great Mario Zacchini, the original circus cannonball, who "wisely said that the blast of the cannon ejecting him into the air at 90mph was nothing compared with the rough part, which was landing in the net the other end."
---
---