7 December 2018

BAFTA-winning producer Clive Juster is honoured with the Special Award at the 2018 British Academy Children's Awards

Mr Benn catapulted editor, director and producer Clive Juster into a lasting career in children's media, first through the joint launch of independent production house King Rollo Films and then via intellectual property rights. At the Children's Awards in 2018, Juster was the recipient of the Special Award, one of BAFTA's highest honours. Words by Rich Matthews. 

Never underestimate the power of three and a half hours of children's television. That's all that was made of iconic BBC series Mr Benn, yet the character has shaped childhood imaginations for nearly 50 years (first broadcast in 1971). Along with creator/artist David McKee, Mr Benn launched editor, director and producer Clive Juster into a lifelong career that saw him become part of the vanguard for a growing aspect of children's entertainment – licensing of intellectual property.

Prior to working in children's media, Juster, like Mr Benn, tried out many different roles. "I planned to be an architect," he says. "But I had a hobby making 8mm films, so after doing various jobs I eventually decided on film. I tried the major studios but didn't have any luck. Most people suggested I go to college, so I started all over again at the National College of Art, then the Royal College. From there I got into the BBC."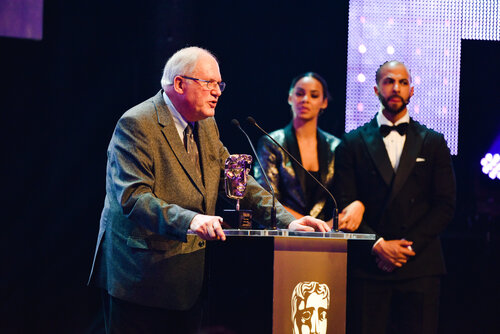 BAFTA/Ricky Darko
"Even now people respond warmly to Mr Benn; I get correspondence that makes me realise the impact it had."
Working at BBC Ealing Studios in the late 1960s, Juster's nascent career took an unexpected turn when he took on editing duties for Play School and Blue Peter. "I took over editing Mr Benn and immediately became really good friends with David [McKee]. Even now people respond warmly; I get correspondence that makes me realise the impact it had."
In 1978, Juster, McKee, and Leo Nielsen set up King Rollo Films, marking the beginning of one of the UK's first independent children's animation production houses. It would produce such shows as King Rollo, Towser, Spot the Dog, Maisy and Paz. Maisy would win the company a BAFTA for Children's Pre-School Animation in 2000, topping 1999's nomination for Spot in the Children's Animation category. Paz, meanwhile, would earn the production team two Emmy nominations for Outstanding Children's Pre-School Series in 2006 and 2007.
After many years working the production side, Juster ultimately became guardian of King Rollo Films' character licenses. "That side of things always interested me," he explains. "There's a shop in Covent Garden selling Tintin merchandise and it's absolutely beautiful. David and I see it as the shining example of keeping an evergreen property alive. In 2004, we created Rollo Rights to look after the IP. Leo took over the production side and is still going strong. We eventually sold Rollo Rights to Factory about 18 months ago, because I'm knocking on a bit – David more so."
Which makes it all the more appropriate to receive a BAFTA Special Award for a life devoted to children's television. "I'm honored, but I've been lucky," Juster says. "I've had some of the best people around me. In this business, it's teamwork that gets results. But if I've learned anything, it's to never give up."
While accepting the accolade at the Awards, Juster said: "The most important thing of all is teamwork. These projects we're all involved with is rarely the work of one person. In my case, I've been lucky enough to work with some fabulous people. Not only David and Leon, but the lovely Lucy Murphy, who built up and managed our international distribution business so successfully, and a great team of talented people who worked with us at King Rollo Films. Then there are all the fantastic people we've been lucky enough to work with either as talent, clients, co-producers, broadcasters, licensees and so on. I've been truly blessed."
Read the original feature in the Children's Awards brochure here.