10 January 2023
BAFTA HQ opened its doors at 195 Piccadilly on 26 & 27 November 2022 to celebrate the nominations for the Children & Young People Awards and inspire a younger audience to get creative themselves. 
BAFTA/Trevaughn Omari
Hosted by Alishea Campbell-Drummond and Ben Shires, the sessions, all open to the public, launched with a nominee showcase in the Princess Anne Theatre. A range of speakers included actors, animators, directors, presenters, producers and writers, covering 11 of the 14 Award categories.  Talent shared the creative process across a range of titles including feature film Wolfwalkers; pre-school shows Hey Duggee, Pip & Posy and Lovely Little Farm; dramas Dodger, Jamie Johnson and Silverpoint; news show FYI; and animation special The Snail and the Whale.  Young Performers Keaton Edmund (Jamie Johnson) and Taiya Samuel (JoJo & Gran Gran) shared their experience and advice for getting started in acting and Braydon Bent shared his journey from winning BAFTA's Young Presenter competition in 2017 to being nominated in the Presenter category for FYI Investigates: Brazil - Children Caught in the Crossfire.  
The talks were followed by a range of interactive activity based around BAFTA's three year-round initiatives for Children and Young People. In the Young Game Designers Zone, guests were able to play Award nominated and YGD winning games as well as come up with a game concept of their own with expert advice from the Tt Games team. In the Young Presenters Zone, Sky Kids FYI presenters Braydon Bent and Scarlett Archer helped guests with their interview techniques and to use a professional autocue set up. Finally, in the Young Creators Zone, guests created their own character designs for a drawing competition and expert feedback and also had the opportunity to chat with nominees 1-on-1.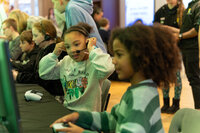 BAFTA/Trevaughn Omari
On Sunday afternoon, over 60 students from local primary schools were invited to join an exclusive session as part of BAFTA's long running partnership with children's mental health charity Place2Be. Alongside the interactive zone activities, students also took part in an exclusive Presenting Masterclass with hosts Ben and Alishea and special guest Scarlett Archer.
With thanks to our Official Supporters to BAFTA's Children and Young People Festival: BBC Studios, Cartoon Network, Moonbug Entertainment and Nickelodeon.