The following interview appeared as an extract in BAFTA's official 2022 Awards brochure, which is now available on Issuu.
In a perfect world, words like 'inclusion' and 'representation' would not be a thing. Jobs would go to the person most suitable, with judgements based on talent and performance, not background or connections. Sadly, we don't live in that world yet, barriers do exist and the playing field is not flat. But we're working on it...
INTERVIEW & WORDS: Toby Weidmann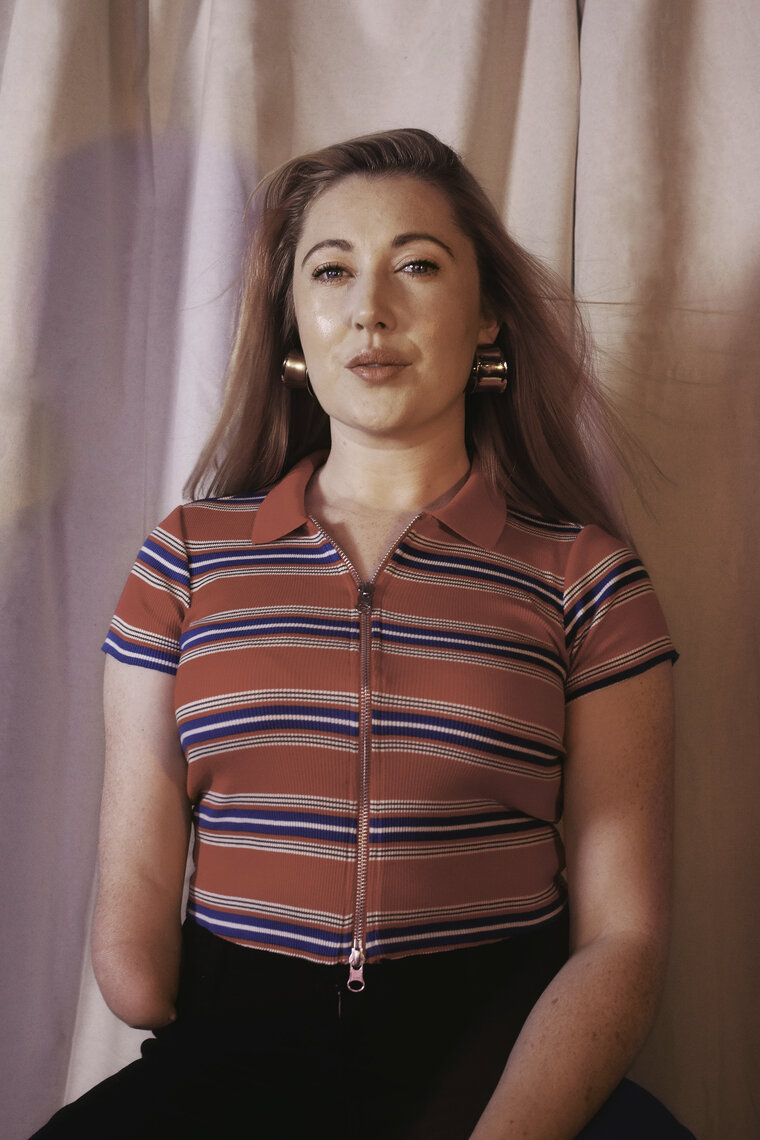 BAFTA/Misha Meghna
"It's not about equality of outcome, it's about equality of opportunity," says actress Melissa Johns, star of Coronation Street (2017-2019), Life (2020) and Grantchester (2021). Melissa was one of the 21-strong cohort of actors selected in 2019 to benefit from BAFTA Elevate, an initiative supporting talented individuals from underrepresented backgrounds to reach the next stage of their career. "If we have equality of opportunity, then surely you will get the best person for the job," she continues. "But, until those casting doors are open for everybody, you will never know if that's truly what you have." 
Melissa is in a strong position to comment. Born without her right arm below the elbow, she has not only had to overcome intolerance in her everyday life, but also face her own insecurities about her body, all while trying to forge a career in a profession that is renowned for receiving many more rejections than successes.  
Melissa explains that she caught the acting bug early, despite her family having no connection to the profession. Her background is very much working class, she proudly admits. She attributes her love of storytelling to her father, who is Romany Gypsy, so "It's deep-rooted in my DNA." Her mother was not Romany, but had left school at age 15 to work in the local jam factory alongside the rest of her family. For them, getting off the factory line to work in the offices was seen as making a success of yourself.  
 "When I was 13, I overheard my mum saying she thought I was going to end up working in reception because she thought I had 'a good telephone voice'," she notes. "I remember thinking, 'Oh my god! She thinks I'm good enough to work in the offices.' That was our version of someone believing in you." 
However, by age 10, Melissa had discovered acting through her local amateur dramatics club and she auditioned for a role in a play by Barbara Jones (Through the Dark Clouds Shining) that was playing in a small theatre in Ledbury. "What's so lovely about that, when I think back on it, is the purity of never thinking my arm, or that I looked different to every other child, would be a problem," Melissa recalls. "I just knew that I could do it and that was the only thing that mattered." 
Barbara, who was in her early 60s at the time, took the young Melissa under her wing, not only casting her in the part but subsequently taking her to every theatrical production she could in the area. "My parents didn't go to the theatre," explains Melissa. "They just thought it wasn't a space they were allowed to go into, although I think we're a lot better at welcoming very working class families now. I think Barbara just saw this opportunity to take me to operas and dance shows and contemporary shows and classical shows. I was just completely wrapped up in it. I absolutely loved it. She opened my eyes to live art." 
It soon became obvious that Ledbury's jam industry would be losing a well-spoken receptionist forever. Melissa attended the East 15 Acting School in east London, but by now she had become self-conscious about her physical difference to others. "It never stopped me from wanting to be on stage in front of people," Melissa notes, "but it did stop me from moving freely. I was very aware of how I was standing or sitting, what clothes I was wearing, which way I was facing. There was this constant awareness." 
Melissa says she spent all of her time trying to make sure everyone around her was comfortable and became "sickeningly good" at manipulating situations so that people wouldn't notice her arm. "I was 100 percent acting in real life," she says. "I just loathed the body I was given. The one-woman show I'm doing right now, Snatched, very much explores all of this." 
It's possible she would have gone on hiding her true self, despite, as she readily admits, the mental strain it was having on her. An abhorrent invasion of her personal privacy would forever change things. It was 2017, Melissa had just landed her highest profile television role to date, as Imogen Pascoe on Coronation Street, when her iCloud account was hacked and naked photos and videos were stolen and uploaded to the internet. When a tabloid newspaper got hold of the story, Melissa made a courageous decision – she decided to use this intrusion to "break down the barriers of what certain people think is normal and to talk openly about sex and disability."  
She adds: "I decided I'd rather not waste my energy tearing down the people who had done this, but instead build up the next generation of girls and boys to feel empowered by the bodies they've been given. Our bodies are the most precious thing we own, but society has made us think that if it doesn't look a certain way then it's not worthy." After working up to it, Melissa took to social media and for the first time posted a photo of herself where she wasn't hiding her arm. The response was overwhelmingly positive. 
I didn't see anybody on my television screen that looked like me. That's why BAFTA Elevate is so important.
While she admits there are still bad days, when she catches people staring, this moment was incredibly liberating. Melissa believes there's a good reason why she felt fear over how people would react to her. 
"I didn't see anybody on my television screen that looked like me when I was growing up," she explains. "That's why such schemes as BAFTA Elevate are so important... We can't deny barriers are there, we know they're there. What's so useful about Elevate is it looks that straight in the eye. It brings such an awareness to it." 
Rather than representation being the driving force, why can't it be the by-product?
She continues: "We have to represent the world we live in. I do worry that we, as disabled actors or any underrepresented group, have ended up saying 'representation' so much now that it's seen as the only thing we offer. What we need to remember is that we are as worthy of getting roles and being in this industry as anyone else. Our industries will always be richer with more voices. We can tell stories that take our lived-in experiences into consideration and portray characters in a completely different way. That's what we bring to the table. Rather than representation being the driving force, why can't it be the by-product? Our talent should get us to where we need to be." 
It's for this very reason that BAFTA launched the Elevate initiative in 2017, a bespoke programme that aims to support practitioners from underrepresented backgrounds. The inaugural year focused on female directors, then it was screenwriters, Melissa's year was actors and, after a short hiatus due to the pandemic in 2022 it's the turn of producers. 
I see BAFTA as an organisation that's going to be one of the biggest players in levelling out this industry. 
"We have to get to a place where decisions are made more organically," Melissa says. "Until that day, there has to be something in place that gets us closer to it. None of us are playing on a level playing field until the machinery comes along to flatten it out... I see BAFTA as an organisation that's going to be one of the biggest players in levelling out this industry for those of us trying to make it." 
BAFTA and various other industry bodies have also been working with Melissa in her role as co-founder of TripleC, which runs DANC (the Disabled Artists Networking Community). "As an actor, BAFTA encourages me, empowers me and celebrates me in my own right," she says. "But I also see the work they're doing with my organisation towards making long-lasting changes. BAFTA has all the ingredients to be one of our biggest gamechangers and champions for upping the employment of deaf, disabled and neurodivergent artists." 
Melissa adds that one of the aspects she really likes about BAFTA's work with Triple-C is that it is willing to admit it doesn't have all the answers but wants to help. "That's all you need," she concludes. "We love that BAFTA came to us and said, 'You're the experts, we'll take your lead.' If any organisation is happy to say, 'We don't know,' you know you're onto a winner because it shows a willingness to learn." 
---
Discover more about BAFTA Elevate here