The following interview appeared as an extract in BAFTA's official 2023 Awards brochure, which is now available on Issuu.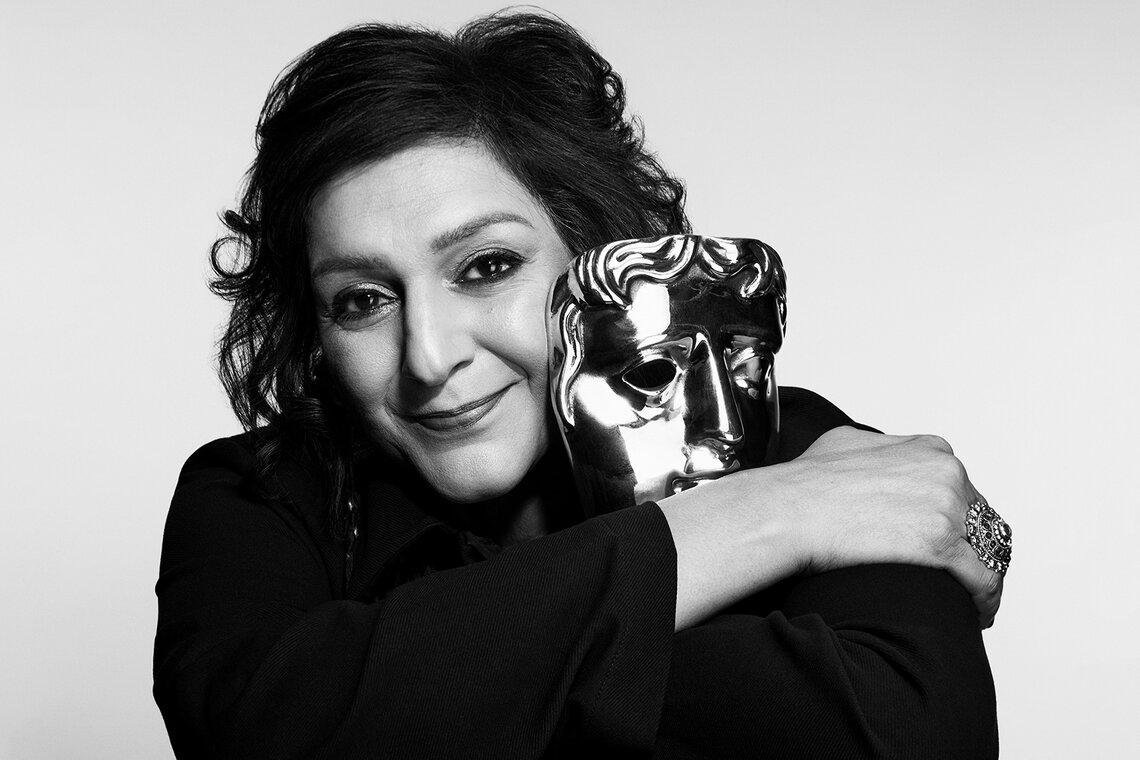 BAFTA/Rachell Smith
Portrait: BAFTA/Rachell Smith
Comedian, actor and writer Meera Syal's exceptional work entertaining the nation – including as Queen Elizabeth II's favourite, Granny Kumar – earns her BAFTA's highest recognition.
Television is escapism. In the 1970s, sat cross-legged in front of the television, the world that a young Meera Syal saw and heard included The Black and White Minstrel Show, Til Death Us Part and Love Thy Neighbour. "Oh my god, it was such a car crash. You would be shocked at what passed as entertainment," gasps the 61-year-old writer, comedian and actor. "This was my childhood." Despite people of colour's "tiny presence" on television being frequently offensive and stereotypical, the young Syal still almost felt grateful. "At least people acknowledged we were here and we were breathing."
It was not just how society viewed those who are visibly different but also how those communities view themselves that left an imprint. Growing up in an Indian Punjabi family, Syal moved from Essington in Staffordshire, a mining town in the midlands, to nearby Bloxwich. As a third culture child, not only did she give up on her hopes of feeling like a typical local, she also felt "too western, too tomboyish" for traditional Indian expectations, too. "Of course, you become a performer. You're changing masks all the time just to fit into whatever environment you're in," she laughs.
Her heartening 1996 novel, Anita and Me, which she calls "semi-autobiographical", harks back to this time. There are many similarities between the protagonist and her own formative years. "A lot of PoC women of my generation went through [similar delusions] because we were so invisible. We didn't see our beauty reflected anywhere. So, we thought the ultimate accolade was to be blonde and bad like Anita was. It's a story of female friendship and heroine worship and all of that, but it's also the story of someone actually learning to love who they are, put in a very crude way."
That emotional journey underpins her own illustrious career. Syal is so assured of her creative mission, of her love of community and of her place in an industry that can be difficult to navigate. Whether it was writing the script for Bhaji on the Beach (1993) with legendary director Gurinda Chadha or appearing in the recent Roar (2022) via Apple TV, Syal's power lies in her crucial decision to reject being the butt of the jokes or be rendered voiceless when she has such a unique and vibrant sense of perspective. Now she boasts both an MBE and CBE for her services to drama and literature, and is all set to receive BAFTA's highest honour, the Fellowship, at this year's BAFTA Television Awards with P&O Cruises.
The way that the world makes sense to me, and how to claim my place in it, is to tell my stories.
Syal initially studied English and drama at the University of Manchester where she became "politicised", learning about her history and culture and becoming empowered. "Actually, the way that the world makes sense to me, and how to claim my place in it, was to tell my stories," she notes. "It changes the way people see you. They don't see you as 'other' if they can stand in your shoes."
By the late 1980s-early 1990s, the landscape was changing. A new generation was finding its voice to lift the lid on modern British life through their own lens. Syal became inspired by the likes of comedian Victoria Wood creating comic characters and using the power of observation to shine a light on the ludicrous experiences of northern working-class women. Syal found herself imbued with a hunger to do the same, so she joined the ensemble for BBC's The Real McCoy (1991-1996), a predominantly Black comedy show featuring the likes of Ian Wright, Linford Christie and Richard Blackwood. Then, through Anil Gupta, a writer on the show, she found the cast of Goodness Gracious Me (1998-2000).
"I was always this lone person in the corner giggling my head off at some of the absurdities I saw. These two great cultures, clashing all the time and I was right in the middle of it," she says. "But then I found a tribe, I found my people. It was so joyous because we had this shorthand for a dual cultural heritage that no one really had explored."
The BAFTA-nominated Goodness Gracious Me included sketches of raucous friends going out on a Friday 'for an English' and garbling the names of their cultural dishes; Asian Top Gear, where the car being analysed contained a decorative tissue box and a shrine in the glove compartment; and also girlie phone calls about an interracial relationship where a friend asks another if they had "switched from roti to white bread".
Sanjeev Bhaskar from Goodness Gracious Me joined Syal as a cast member on her next venture, The Kumars at No. 42 (2001-2006), where he played television presenter-wannabe Sanjeev with Syal portraying his blunt grandmother, 'Ummi' Sushila. The comedy was a runaway hit, becoming one of Queen Elizabeth II's favourite shows, as confessed on occasions where she met Syal. "She was really lovely about the show, and she clearly had watched it because she could quote bits of it," she explains. "I think she was drawn to an older woman being the naughtiest person in the room."
The show's penchant for improvisation led to international success. It won an International Emmy for Best Comedy Series in 2003 and at one point the team even went to number one in the music charts after providing vocals to Gareth Gates' charity cover of 'Spirit in the Sky'. The show also earned five BAFTA nominations, including one each for Syal and Bhaskar for Entertainment Performance in 2003.
It's such a weird, unpredictable, insecure and complex job that it's nice to have someone who absolutely gets it.
Bhaskar and Syal have experienced huge wins from their creative partnerships and it was during this period that the pair fell in love and married. "Actors say don't marry another actor but it's such a weird, unpredictable, insecure and complex job that it's nice to have someone who absolutely gets it and supports you," she says. 
Other pivotal collaborators have included the likes of casting directors Shaheen Baig, Lisa Makin and Lucy Bevan. "They've opened doors because they believed in me and they thought outside the box. I think casting directors fully deserve their own awards category [BAFTA introduced Scripted Casting at the Television Craft Awards in 2020 – ed]. They can change the trajectory of an actor's life and have huge courage and foresight and take risks for people."
Syal's also a part of the Lady Curry Club, a group of South Asian women that includes the journalist Anita Anand, Anita Rani, who has presented the likes of Countryfile (2015-) and Fastest Finger First (2022), and BAFTA-winning producer Aysha Rafaele (Life and Death in the Warehouse, 2022; The Left Behind, 2019). They cook each other dinners and support each other via a WhatsApp group chat.
"We celebrate each other, we moan, we know that we're here for one another," she says. "If you haven't found your tribe or your network then find it. There's strength in numbers and you can generate work together seeking out South Asian producers and writers to create projects."
Syal's thankful for her journey so far and that she has so many projects she's proud of on her impressive curriculum vitae. With the advent of streaming, and with projects that have proven the success of autonomy for creators from a working-class background and underrepresented ethnic groups, she's also hopeful for the future.
"We're getting there but there's still a lot of work to do," Syal says. "We can build pressure together and change things."
---
Words: Kemi Alemoru